Venture to the Miniatürk model park and see views of the Golden Horn during this 3-hour guided tour of Istanbul's European side. You will explore the famous Eyüp Sultan Mosque and cruise up to Pierre Loti Café on board a vintage cable car. With your expert guide, discover the beautiful natural harbor of the Golden Horn and marvel at the intricate models of Turkey's iconic monuments at Miniatürk.
Highlights
Explore the European side of Istanbul on a 3-hour tour
Visit Eyüp Sultan Mosque and see the tomb of Eyüp El-Ensari
Ride up the Eyüp cable car to the famous Pierre Loti Café
Admire bird's-eye views of Istanbul's Golden Horn – the world's largest natural harbor
Stroll around Miniatürk and see miniature replicas of famous Turkish buildings
What You Can Expect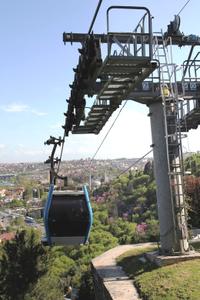 Meet your guide and minibus at your hotel or in Istanbul's city center for your pickup and then drive to the neighborhood of Eyüp. Head to Eyüp Sultan Mosque and visit one of Istanbul's most important religious locations. Enter this colorful holy building where thousands visit daily and treasure its spiritual atmosphere.
As you explore with your guide, hear how a close disciple of Prophet Mohammed, Eyüp El-Ensari, was buried within these walls. Following your tour of the mosque, walk with your guide to Eyüp's tomb and learn about his importance to Turkey's religious people.
Next, stroll to the Eyüp cable car and enjoy a tram lift to a popular vantage point of the Golden Horn at Pierre Loti Café. Relax here and share the same stunning views as the French poet Pierre Loti who once wrote some of his best pieces here. After savoring this famous lookout point, where Europe's coastline diverges, head back to the cable car for a short ride to Miniatürk.
At last, admire Istanbul from a totally different angle at this quirky yet interesting museum that demonstrates Turkey's iconic monuments. See hundreds of replicas of buildings that showcase Turkey's pride filled culture and an abundance of figurines that display the intricacies of everyday Turkish life such as: Muslims praying, flower sellers, and even Jews at a mosque. There's loads to see at the miniature park.
Continue to walk through the park at your leisure or explore the souvenir store for something to purchase. Finally, hop back aboard your coach and return to your hotel or central Istanbul.
March 2013
I enjoyed this tour very much. We had a good tour guide, and the sites we visited were very interesting. Would recommend this tour.
September 2015
Very good organisation of pick up from the Hotel.
The guide was informative funny speeching French and English very good.
Interesting sites

August 2015
Nice and light tour. Our children loved the Miniaturk Park
November 2013
Miniaturk, Eyup Sultan r.a.'s shrine and mosque as well as Pierre Loti Hill are sites not to be missed. It was nice day!
May 2013
Enough time to wonder around the miniaturk park. Excellent guide with knowledge of history when visiting Eyub Al Ansari mosque and tomb.

Robyn C Australia
August 2014
Miniatures are presented well and of an excellent likeness.
November 2013
I enjoyed the places visited on this tour, but found the tour guide indifferent in the extreme. He appeared not at all interested in us or any of the site we were visiting. getting information required pulling teeth.
September 2015
Je ne suis pas satisfaite de cette excursion.En effet, le transport etait mal organisé.On a perdu beaucoup de temps plus d'1 heure ce qui a eu comme consequence la visite de Miniaturk en à peine 1 heure!
De plus l'excursion etait en français et en anglais.
La visite de la mosquée etait aussi moyenne. Aucune emotion.
Par contre le Miniaturk est excellent et super.trop court dommage.

September 2013
i couldnt go on this tour as there werent enough people to fill it. I got a replacement day for it but this was on the same day i was doing the Istanbul in one day so was unable to make it and therefore cant comment on it.
Advertisement
Advertisement