Experience Turkey's Ottoman and Byzantine eras during this full-day guided Istanbul city tour in the Sultanahmet district. Aboard a comfortable coach, head to top attractions like Topkapi Palace, Blue Mosque, and the UNESCO-listed museum Hagia Sophia. Witness the lively atmosphere of one of the world's largest covered markets - the Grand Bazaar. Prior to lunch, enjoy engaging stories about sultans and their harems and other Istanbul lore from your friendly local guide.
Highlights
Full-day Istanbul sightseeing tour with an expert guide and lunch included
Visit Hagia Sophia, a UNESCO World Heritage Site, and marvel at its Ottoman and Byzantine architecture
Walk around the Blue Mosque and then visit Topkapi Palace

Pass top Istanbul attractions like the Hippodrome and the Golden Horn
Explore the Grand Bazaar
Transport by luxury air-conditioned coach
What You Can Expect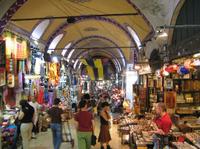 Meet your guide for either a hotel pickup or in the Istanbul neighborhood of Yenikapi for your city tour. Hop into a coach and head to the neighborhood of Sultanahmet which is brimming with Istanbul's finest attractions. Enter the iconic Hagia Sophia which was originally constructed as a church, then converted to a mosque and is now a must visit museum. Gaze at its magnificent architecture built in the 6th century and learn about its Byzantine and Ottoman influences.
Next, follow your guide through Istanbul Hippodrome towards the Blue Mosque. On the way, see the epicenter of political and sporting activity during Ottoman Empire rule. Hear stories about the epic chariot races and riots that once took place here. Then, approach the Blue Mosque and marvel at the six towering minarets that outline Istanbul's famous skyline. Continue into the mosque with your guide and admire its dome decorated with vibrant blue Iznik tiles which are connected to its etymology.
After leaving the Blue Mosque, stroll to the colorful and lively Grand Bazaar to witness this eclectic covered market. Explore frankincense-laden alleys with stalls and shops overflowing with Turkish rugs, intricate wares, and even tasty kebabs. Revel in the exciting atmosphere, but stay close to your guide as this hectic market can be difficult to maneuver.
Break for a bite to eat at a restaurant before you voyage by coach to one of the largest and oldest palaces the world has ever known - Topkapi Palace. One of Turkey's most important museums, see ancient relics and elegant artifacts. Walk through the beautiful courtyards that overlook the Bosphorus Strait and hear lore about sultans and the harems they once operated 500 years ago.
Exit the palace and return by coach to your hotel where your tour ends.
Please note: Grand Bazaar is closed on Sundays and will be changed to authentic shops. Sultan Tombs will be changed to Little Hagia Sophia (Bacchus & St. Sergius) on Mondays. On Tuesdays, Topkapi Palace will be swapped with a visit to Byzantium and due to noon prayer on Fridays, the Blue Mosque will be observed from the outside only.
December 2015
We were very lucky to have the same tour guide for this tour, once again his knowledge about Istanbul was outstanding, we learned a lot and we are making plans to return to Turkey again.
September 2015
enjoyed istanbul's major sights. knowledgeable guide Ike. will recommend to friends.
September 2015
Very good tour. Guide was very knowledgeable. Food was also quite good with vegetarian options. I would recommend this very much.
June 2015
June 2015
THE TOUR WAS PERFECT, THEY PICKED US AT THE CONCERTED TIME, OUR TOUR GUIDE MURAT IS EXCELENT, HE KNOWS HIS JOB,AND IS VERY KIND TO HELP WITH QUESTIONS,
THE FOOD OF THE LUNCH WAS GOOD. WE REALLY ENJOYED IT. HIGHLY RECOMENDED
May 2015
We were picked up promptly at our hotel. Our tour guide was very knowledgeable and we enjoyed the tour very much because of his expertise. Our lunch was delightful. It was a great tour and I would recommend it to all.
Ginny Mangum

April 2015
Sadat the tour guide makes this an unforgettable experience. Definitely a tour to book when going to Istanbul.
March 2015
This is a must do in Istanbul and our guide made it all come alive!!! Loved it in spite of the pouring rain! Lunch was ok.
October 2014
January 2014
great toiur ..we really enjoyed though it was freezing cold . will come another time in a better weather. but the tour was very informative and the guide was very knowledgeable . would recommend this !
Advertisement
Advertisement