Uncover the past of Ottoman sultans on this 3-hour guided tour of Topkapi Palace and Hagia Sophia Sultan Tombs in Istanbul. Immerse yourself in the lifestyle of sultans as you discover their home for four centuries, Topkapi Palace. Within these storied chambers and courtyards learn about its history that's brimming with scandals and executions. You will see the palace's Treasury where holy relics, robes, jewels and other priceless artifacts are kept. Then, head to Hagia Sophia and visit the extravagant mausoleums to see the tombs of five sultans.
Highlights
3-hour sightseeing tour showcasing the best of Istanbul's Ottoman relics
Explore the Topkapi Palace to see its Ottoman art and treasures, including priceless relics of the Prophet Mohammed
Step back in time at the ornate Sultan tombs of the Hagia Sophia
Admire the stunning 16th-century tiles of the mausoleums, where five sultans are buried
Learn about the gilded lives and riches of the Ottoman sultans
Opt for a pickup and drop-off from your centrally located European side Istanbul hotel
What You Can Expect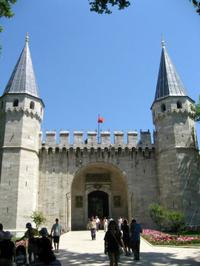 In the afternoon, either meet your guide close by in the district of Sultanahmet also known as the Old City or enjoy a pickup at your central Istanbul hotel.
Aboard an air-conditioned coach, take a short drive to Topkapi Palace which claims some of the city's best views of the Golden Horn. Step through the imperial gate into this former home of Ottoman royalty and observe its cylindrical turrets and beautiful courtyards.
Alongside your guide, learn about the generations of royal families that lived here from 1453 to 1839. Then, enter the Treasury and admire the priceless relics and variety of stunning weaponry. See the emerald-encrusted Topkapi Dagger, huge candlesticks decorated with diamonds, and holy artifacts like a footprint set in clay belonging to Prophet Mohammed. Continue from here and admire an array of literature and robes, plus enjoy a visit to the great kitchens.
After leaving Topkapi, take a short stroll to Hagia Sophia's courtyard and explore the rebuilt mausoleums of five sultans. With your guide, explore the tombs of Sultans Mehmed III, Murad III, Mustafa I, Selim II, Ibrahim I and their families. Head inside and ogle the 16th century tile floral designs that saturate the interior in a variety of vibrant colors. Enjoy an opportunity to observe the remains of each sultan's garb and fragments of authentic tapestries that came from Kaaba in Mecca.
When your tour ends, leave Hagia Sophia Tombs and either continue your day in Sultanahmet or return by coach to your hotel.
Advertisement
Advertisement