Travel back in time to the days of the Ottoman sultans on this 3-hour sightseeing tour of Istanbul's Topkapi Palace and Sultan Tombs! Listen to tales of the extravagant sultans as you explore the spectacular Topkapi Palace, home to many of these gilded rulers for more than 400 years. Marvel at the priceless hauls of jewels, weaponry, robes and sacred Islamic relics in its Treasury and see its ornate courtyards and chambers. Finish with a visit to the opulent mausoleums at the Hagia Sophia where five sultans are buried.
Highlights
3-hour sightseeing tour showcasing the best of Istanbul's Ottoman relics
Explore the Topkapi Palace to see its Ottoman art and treasures, including priceless relics of the Prophet Mohammed
Step back in time at the ornate Sultan tombs of the Hagia Sophia
Admire the stunning 16th-century tiles of the mausoleums, where five sultans are buried
Learn about the gilded lives and riches of the Ottoman sultans
Opt for a pickup and drop-off from your centrally located European side Istanbul hotel
What You Can Expect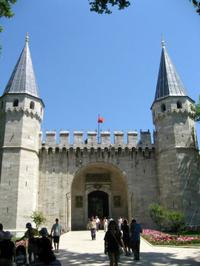 Start your tour in the early afternoon with a pickup from your centrally located Istanbul hotel or meet your professional guide near Istanbul's Old City (Sultanahmet).
Travel by air-conditioned coach to the Topkapi Palace, overlooking the Golden Horn. This former residence of the Ottoman sultans makes a magical sight with its cylindrical turrets and imperial gate.
Head inside with your guide and hear about the sultans who lived here with their families between 1453 and 1839. Wander around the chambers and courtyards, and visit the eye-popping Treasury. Here, marvel at the arrays of priceless objects on show: they include everything from enormous diamond candlesticks to the famous, emerald-encrusted Topkapi Dagger and sacred Islamic relics such as the Prophet Mohammed's footprint set in clay. Other must-sees include the great kitchens and collections of imperial robes and manuscripts.
Next, follow your guide to the courtyard of the nearby Hagia Sophia. Here, view the five recently restored mausoleums of the Sultans Mehmed III, Selim II, Murad III, Ibrahim I and Mustafa I and their families. The interiors are adorned with 16th-century tiles painted with vivid purple, red, green and blue florals. Also, approach the tombs themselves to see priceless fragments of each sultan's robes and parts of the original rugs of the Kaaba in Mecca.
Return to your coach for a drop-off either at your hotel or the starting point near Istanbul's Old City (Sultanahmet).
March 2015
September 2014
Guide was enthusiastic although not terribly full of information. The written description made it sound like the Hagia Sophia SultanTombs were different from Hagia Sophia Museum and failed to point out that like Hagia Sophia Museum, the Tombs are not open on Monday.. So we went instead to another mosque.
May 2015
The tour of the Tombs was somewhat of a waste of time. It was a room full of boxes with fabric covers. Who knows? Could have been orange crates. The local tour guide called in the tour of both the Topkapi Palace and the Tombs.
Advice to the new traveler: do not take either tour. It doe not save you from any line other than the main gate at Topkapi Palce. All other sites have separate entrances.
Go on your own .... a complete waste of US .
November 2014
Worst tour I have ever been on and I have been on numerous. We spent an 45 minutes on the bus as they went around picking everyone up and then sat for another 15 at their office as they transferred people on our bus. Our guide was not friendly and seemed to rush everything. We would have had more time to visit the sites if we wouldn't have had to sit on the bus forever. The guide conducted two tours at once. One in English and one in German which was very distracting. Our guide was in such a hurry due to closing times that he left three gentlemen at the tombs without trying to go and find them. Once we got to the palace he spoke briefly (10 minutes on the Palace then told us to go off by ourselves to finish the tour. I paid for someone to explain things and guide us around. I will never book another tour with Viator as we felt like cattle. I would highly recommend "My Local Guide Istanbul." They know how to conduct a great tour.
October 2014
I'm sorry to say this Tour was very disappointing and not up to our previous excellent experiences with Viator. We were staying in central Istanbul, 10 minutes walk from the Hipperdrome. After a shambolic start which involved 2 bus rides and waiting 30 minutes to meet up with other tourists who had been delayed, from a cruise ship I think, we started the Tour 45 minutes late. We were given no information at the time as to why we were waiting. However, the most disappointing aspect by far was the very inappropriate unprofessional guide. He spoke ridiculously quickly, firing off facts that people couldn't follow. He also wasn't open to questions and didn't engage with the Group at all. He really seemed to be looking to get the Tour over and done with as quickly as possible. However, the biggest disappointment was at Topkapi Palace which is spread out over a large area. We were again given many facts at a 100 miles an hour before being released to do our own thing for the rest of the Tour. Although Topkapi Palace is a very large and crowded venue, we weren't given anything on paper to take with us, not even a map ! It was all so very very disappointing. I really hope Viator is able to pursue this with the tour operator, identify the offending guide and ensure this cannot happen again. Such an experience is unfortunately very damaging to Viator's image.
Advertisement
Advertisement