Special Offer
Book by July 31, 2016 to save 20% off our previously offered price, for all of 2016!
Discover Ottoman history at the Blue Mosque and the illustrious Topkapi Palace during this guided morning tour in Istanbul. See Istanbul's most famous monuments and enjoy a visit to the Hippodrome once the heart of Constantinople.
Highlights
Four-hour morning tour of Istanbul's most famous Ottoman relics
Hippodrome and Obelisk
Ottoman architecture and museums of Topkapi Palace
Shopping for bargain souvenirs in the Grand Bazaar
English-speaking guide
Pick-up and drop-off from central Istanbul hotels
Recent Photos of This Tour
Istanbul Ottoman Tour: Topkapi Palace and Blue Mosque
What You Can Expect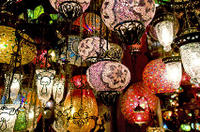 Meet your guide at your central hotel in Istanbul and begin your tour of the Blue Mosque and Topkapi Palace. Hop aboard your convenient ride and head to the Blue Mosque (also referred to as Sultan Ahmet Mosque) one of the premier attractions in Turkey and an important Islamic monument. Built during Ottoman rule under the direction of Sultan Ahmet, admire the six minarets that tower over the dome structure. Then, observe the main chamber's 20,000 Iznik tiles that are illuminated by 260 windows.
Next, head to Topkapi Palace, the illustrious pinnacle of the Ottoman Empire. Visit one of the world's oldest and largest palaces full of elegant chambers and heirloom treasures. Stroll with your guide and delve into the interesting history of this palace that sits along the coastline of the Golden Horn.
Continue from Topkapi Palace to the former heart and soul of Constantinople's sporting and political center, the Hippodrome. Learn about this lively area which for 500 years was home to Ottoman sports and even riots! Now a city park called At Meydanı (Horse Grounds), hear how it drew its name from former chariot races. Then, walk with your guide to the ancient granite Obelisk and discover how it was transported from Egypt to Constantinople by Emperor Theodosius in the late 4th century.
Finish your tour with a ride back to your Istanbul hotel.
Please note: On Fridays the Blue Mosque will be closed until 2:30pm for prayer, entry will not be permitted and on Tuesdays Topkapi Palace is closed.
October 2015
Excellent informative guide
May 2015
Great experience. This was a small group of 10, picked up on time and spent a half day in Istanbul. Great service from our guide gudyi and very interesting to visit the mosque and palace. Have a guide and tickets got us through the long lines easily. We would recommend this for anyone visiting Turkey.
September 2014
We had a great guide who arrived promptly to pick us up and was very professional in giving commentary. We have been happy with Neon Tours in Turkey.
July 2014
This tour was great! The tour guide Sevilay was fantastic and informative..the pick up and drop off were perfect and it made life much easier in this busy crazy city..also skip the queues that you may spend hours in otherwise!!
May 2014
We arrived in Istanbul late on Sunday. Unbeknown to us our hotel had been changed without us being notified so the tour group running your tour, had the wrong hotel for pickup on Monday morning. We tried both numbers you had given us to contact them but neither were answering on Sunday.. Early on Monday morning a hotel staff member phoned them for us and was told that our hotel was too far out for them to pick us up and we would have to make our own way to the pickup point in the old town half an hour away and pickup time was in half an hour's time.A very quick taxi ride at peak hour, 8am, got us there with minutes to spare. However, the bus did drop us off in the afternoon. The tour itself was wonderful and the guide excellent. Shirley

April 2014
Our guide was brilliant, funny and a good advisor on the things we need to look out for. This is a must-see tour in Istanbul, not to be missed!
March 2014
It was an amazing experience with professional and responsible team

January 2014
The tour guide was very knowledgable about the blue mosque's history and architecture. It is unbelievable how those people built this magnificent building during their time. In the Topkapi, the tour was packed because there was too many interesting small museums, but it was fantastic to see ancient armoury and clocks and watches, so engaging that we feel not enough time in this half day tour.
Margaret F Ireland
January 2010
Myself and my husband were the only 2 on the tour and our guide was wonderful! Very informative and a lovely friendly fellow. The palace was wonderful, and we visited the Blue Mosque instead of The Mosque of Soleman, as it was closed on the day. After the tour ended our guide offered to walk us through Taksim Square. It was really enjoyable! I would definitely recommend the tour for value for money, excellent tour guide and transportation provided.
Rory M Ireland
October 2008
Really good. Had a guide, a Merc minibus and driver just for the two of us. Our "half day tour" was from 1pm to about 7pm and even then the guide was in no hurry home. In the end we felt guilty had to tell him to go on home! He was really excellent. Much better than the Ship organized tours which are twice the price, shorter and much less personal.
Special Offer
$45.00 Save $9.00
Advertisement
Advertisement