Tour code:
5744ISTFULLWALK
Head back in time and discover the old world of the Sultanahmet area during this full-day small-group guided walking tour in Istanbul. This tour explores the amazing UNESCO World Heritage-listed Hagia Sophia Museum and the Blue Mosque which exemplify why Istanbul is the city where east meets west. Enjoy a walk through the famous Topkapi Palace where Sultan's roamed and harems flourished. Plus, spend time observing the Hagia Irene's Byzantine architecture and stroll through the Grand Bazaar to witness handicrafts created by local artists.
Highlights
Small-group walking tour of Istanbul's top attractions with lunch
Explore Hagia Sophia and admire its Ottoman and Byzantine architecture
Stroll around the Blue Mosque and learn about Sultan Ahmet I with his extravagant tastes
Visit Topkapi Palace Museum and see the ornate treasury in the third courtyard
Pass Hagia Irene and then watch a handicraft demonstration in Istanbul's Grand Bazaar
Small-group tour with a maximum of 15 people ensures a more intimate experience
Recent Photos of This Tour
Istanbul Small-Group Walking Tour: Hagia Sophia, Blue Mosque, Topkapi Palace and Grand Bazaar
What You Can Expect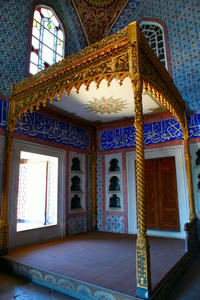 Enjoy a pickup by minibus at your central Istanbul hotel and cruise to central Istanbul to meet your guide for your small-group guided walking tour. Begin with a walk to the stunning Hagia Sophia. Learn how this monument began as the world's largest church, converted to a mosque, and in the early 20th century became a museum, its present form. Marvel at the incredible architecture that supports the Hagia Sophia's immense dome and learn about its Byzantine and Ottoman influences.
Next, head across Sultanahmet Square to admire the German Fountain, a 19th century tribute from General Emperor Wilhelm. Onward to the location of political and sporting life, the Hippodrome. Learn about the chariot races and riots that once took place here during the Ottoman Empire's reign.
Walk to the nearby Blue Mosque and admire the six towering minarets that add to Istanbul's fantastic skyline. Then step inside the mosque and listen to stories of Sultan Ahmet I, who at a mere 19 year's old delegated the construction of the mosque. Alongside your guide, stare up at the detailed blue Iznik tiles that cover the ceiling.
Afterward, break for a tasty Turkish lunch and enjoy meze style plates. Then, traverse Sultanahmet's beautiful landscape on foot to Topkapi Palace Museum. Not only is this one of the world's oldest and biggest palaces, but it's also Turkey's most popular museum. Step inside and move through its four courtyards to observe historical artifacts and antiquities. Hear lore of the sultans who resided here from the 15th and 19th centuries and observe the elegant Fountain of Sultan Ahmet III.
Following your 2-hour tour of Topkapi Palace continue on to the once Eastern Orthodox church - Hagia Irene. Ogle its beautiful architecture as you gain insight about Istanbul's oldest Christian place of devotion. Finally, visit the largest covered market in Turkey and one of the largest in the world, the Grand Bazaar. As you roam with your guide and pass bustling shops and stalls, witness local artists create traditional crafts. Then return to central Istanbul where your tour ends.

July 2015
Oh what a day it was. Our guide Muharrem was an immensely charming fellow. Always smiling and ever ready to answer any question. The tour covered a lot of ground and included a yummy local lunch and a visit to a Turkish Carpet factory. You get hardly half an hour at the Grand Bazaar though, so treat this tour as a refresher introductory visit to Grand Bazaar and plan a later trip by yourself if you want to shop. Over all, I had a great experience thanks to Muharrem and the well planned itinerary.
p.s. - wear the best and the most comfortable walking shoes you can find.
January 2015
We had a great great time! Abdullah was a really nice, relaxed, and knowledgeable tour guide. We happened to be a very mixed group with people from India, Brazil, Nigeria and us from Honduras. Delicious food and would highly recommend it!
May 2014
Our guide was wonderful. His knowledge of the subject matter was impressive and he was easy to understand.
David P Australia
December 2013
Great tour if you have very little time in Istanbul and want to see the major sites in Sultanhamet in one day. Our guide was very good, had all the answers to our questions and really knew his history of all the major sites.Made the history come to life. Lunch was very nice at a restaurant within walking distance of our hotel. It is a long day so be prepared to be on your feet for most of the day but it is not strenuous at all. Highly recommend this tour.
July 2013
The guide was amazing, she was knowledgeable and friendly, always a smile and went beyond where most guides go to explain the history, politics and religion of each location in a friendly and easy to understand manner. I would take another tour with her again when I go back to Turkey.
July 2013
This tour was wonderful led by a very lovely, informative and professional guide named Yuke. Yuke led our small group of five in and out of the major Istanbul sites displaying her love and enthusiasm for this wonderful city. She provided us with historical information as well as her own insights. Her dialogue was not a memorized set of facts it was a conversation with us, always welcoming our questions and input. The restaurant she took us to for lunch had a wonderful view and delicious food. This tour was terrific.
April 2013
This was probably the best tour of the ones I did on my trip to Istanbul and Athens. Our tour guide was beyond friendly and excited about showing us all of the cool sites that we were going to see in our full day. The small group walking tour was great because it was limited to a certain number of people so it was easier to follow and listen to our guide with no problems at all. We got to see and tour the Hagia Sophia, the Blue Mosque, the Grand Bazaar and the Topkapi Palace. The tour also included lunch at a great restaurant in the middle of the day. Our guide was very friendly and very gracious and warm with all of our questions and observations on the trip, even helping to take photos for people who wanted to remember the amazing sites that we were visiting. I have done a number of Viator tours and this one was probably the best one because the guide was so great. She really had a great deal of knowledge to past and when I even brought up a story that another guide had mentioned, she didn't shoot my story down but rather seemed genuinely interested in learning this new information and excited to research it as she might have learned something new herself. I would say that if you go to Istanbul you absolutely must do this tour because it covers four of the most visited sites in Istanbul in great detail and its so helpful to have someone showing you around and explaining what it is you are looking at, especially in the Topkapi Palace which has so many parts and rooms and things to look at. I would highly recommend this tour and hopefully you end up with the great tour guide that we had.
April 2013
This tour was sensational. Our guide Yuke was so knowledgeable and took such time and care to explain and show everything to us. I would highly recommend doing this tour!

Blanca United Kingdom
January 2013
I really enjoyed this tour, which was the perfect introduction to Istanbul, including all the top attractions which can´t be missed! I was really impressed by the Blue Mosque, it was probably my favourite. And Topkapi Palace and the Hagia Sophia were also definitely worth seeing. The guide was really knowledgable and made the tour and explanations very interesting. We were in a very small group, which was great as it almost felt private! Really recommend this tour!
November 2015
Advertisement
Advertisement