Admire beautiful architecture and capture stunning views of illustrious palaces during a full-day tour in Istanbul including a Bosphorus cruise. Aboard a cozy coach explore the highlights of Istanbul including the Walls of Constantinople, views of the Golden Horn and witness the lively Spice Bazaar on foot. You will then experience a must-do in Istanbul, a Bosphorus Strait sightseeing cruise. The cruise concludes with a visit to the beautiful Dolmabahce Palace where Istanbul's late sultans once resided. Plus, you will gaze over this east-meets-west city for eye-popping views at Yeditepe or Çamlıca Hill.
Highlights
Full-day Istanbul sightseeing tour including a Bosphorus Strait sightseeing cruise
Explore the city by coach, seeing top Istanbul attractions like the Golden Horn and the Walls of Constantinople
Walk around the Spice Bazaar with an expert local guide
See Rumeli Fortress and Bosphorus Bridge on a sightseeing cruise on the Bosphorus Strait
Discover the magnificence of Dolmabahçe Palace on a walking tour
Admire incredible panoramic city views from Çamlıca Hill or Yeditepe
Recent Photos of This Tour
Istanbul Tour with Bosphorus Cruise and Dolmabahce Palace
What You Can Expect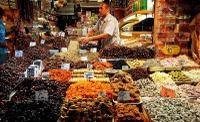 Meet your coach at your centrally located Istanbul hotel and begin your tour with a drive along the Golden Horn which converges with the Bosphorus Strait to connect Europe and Asia. Continue on to Balat, a Jewish neighborhood, and observe the memorable cast iron church of Stephen of the Bulgars. Nearby, marvel at the historical Byzantine Walls of Constantinople. Next, let the fragrances of the Spice Bazaar (Egyptian Bazaar) fill your nose as you stroll past shops selling spices, draperies and an abundance of diverse goods.
Journey to the coast and board your Bosphorous boat for a cruise that encompasses Istanbul's best waterside sights. Let the city's charm sink in as you view Ottoman-era timber chateaus that rest adjacent to stunning marble etched palaces. Enjoy sights of the Imperial Gardens of Royal Yildiz Palace, the historic Rumeli Fortress, and gaze up at the vastness of the Bosphorus Bridge.
Disembark from your ship back ashore and (time permitting) head to one of Istanbul's prominent leather stores to observe handsome leatherwork. Relax for lunch at a restaurant serving classic Turkish fare and then continue on to your walking tour at Dolmabahçe Palace.
Step into this regal establishment and see how the Ottoman Empire constructed their last palace. Observe the confluence of European Neoclassical and Ottoman architectural styles as you walk alongside your guide. Revel at the opulent Victorian furnishings that blend in with the glossy marble and copious number of stunning chandeliers. Then explore the best of the palace including the Crystal Staircase, Secretariat's Rooms, and the Medhal Hall.
Exit the palace and hop back aboard your coach for your last cruise through Istanbul. Finally, pass over the Bospohorus bridge and head up to Yeditepe or Çamlıca Hill (pending day of traffic conditions) for a memorable vantage point of the city.
As dusk sets in, return to your centrally located hotel where your tour concludes.
Note that Dolmabahçe Palace is closed on Mondays and Thursdays and will be changed to Pierre Loti Coffee House, Eyüp and Miniatürk.
January 2016
The guide was informative and the tour was appropriate in length. It was a great way to see Istanbul from the water. The Dolmabahce Palace was great. We have toured several of the great palaces of Europe. It ranks up there with the best of them.
December 2015
The palace is incredible with all the history, the art, and the treasure.
November 2015
Interesting, beautiful view, very knowledgebile Guide, well organized.
May 2015
Excellent tour and guide .
May 2015
Enjoyed this tour the most of the tours we did in Istanbul. The Spice Markets are incredible, smell, noise, soak it up whatever you do. The palace you have enough time to see the must see and you have the option of staying if you want to see more. Probably could have left the tour there, but if you want to see the Asian side definitely go.

Housewifetravel United States of ...
April 2015
Great job of our guide. All day tour and nobody felt tired. Very intelligent , calm and knows 3 languages . Polite. Planed to write more, but time pass, cannot remember details.
February 2015
Perfect, even if the weather wasnt! Knowledgeable and friendly guide, excellent transportation.
October 2014
Very nice tour, the full day so one must be prepared to walk and see a lot. 99.9% walking tour.
September 2014
This was a good tour, and our guide was very knowledgeable and made it very entertaining. We enjoyed the tour to the palace most of all. Will recommend. The only minor reservation was that we were joined by German speaking tourists, so the guide kept switching from English to German constantly.
September 2014
Advertisement
Advertisement