Explore the fascinating history of Hagia Sophia, Basilica Cistern and Grand Bazaar during this half-day privately guided tour of imperial Istanbul. Discover the ancient church, former mosque and now internationally famous museum, the Hagia Sophia. This tour will wind you through the Grand Bazaar where you can haggle for Turkish treasures and then take you 500 feet below ground into the historic Basilica Cistern where a James Bond once thwarted evil plans.
Highlights
Private half-day sightseeing tour of Istanbul's imperial sites

Visit Hagia Sophia
Shop in the Grand Bazaar
Visit the Underground Cistern or Nakkas Cistem

Entrance fees included
Recent Photos of This Tour
Private Half-day Tour: Imperial Istanbul - Hagia Sophia, Basilica Cistern and Grand Bazaar
What You Can Expect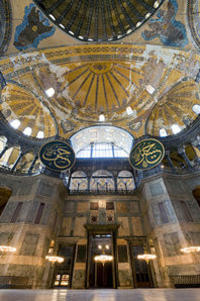 Meet your private guide at your centrally located hotel in Istanbul (European side only) for your half-day tour of Hagia Sophia, Basilica Cistern and Grand Bizaar. Start with a short drive to the 6th century church and now museum, the Hagia Sophia. Built by the Roman Emperor Justinian, learn how Hagia Sophia remained one of the largest Basilicas until Ottoman rule when it was converted to a mosque. Then, stroll with your guide and observe the beautifully detailed Byzantine mosaics. (Closed on Mondays from October 20, 2015; this attraction will be exchanged with the Chlora Museum)
Continue to the underground Basilica cistern also referred to as the "Sunken Palace" (Turkish: Yerebatan Sarayi). Constructed below the famous peninsula of Sarayburnu by Byzantine Emperor Justinian in the 6th century, learn about this cistern's massive size, the largest of hundreds in Istanbul.
Next, surface from the cistern and head to the Grand Bazaar. Famously in operation for over six centuries, wind your way along its 58 corridors and marvel at one of the largest covered markets on the planet. Peer into some of the 4,000 plus shops and see ornate jewelry, leather goods, spices and colorful carpets. (Closed on Sundays; extra time will be dispersed over the other locations.)
July 2015
Really great tour - our tour guide was highly knowledgeable and very friendly - I even got a lovely bracelet from her which she got from a local street artisan, which was so sweet and thoughtful. She answered all of our questions and made the entrance into the sites visited very smooth. It was a great introduction to Istanbul as we were only there for a limited amount of time. Highly recommend!
June 2015
May 2015
Excellent guide. Helped us two seniors' navigate the stone walks and hills. Took us to a spice market,where we were treated quite fairly. Also to the carpet display, which was more informative than others I have visited in Morocco.
I've always had good tours with your organization and will use again. Pick up at ship instead of a hotel went smoothly.

May 2015
Absolutely loved this one, such a great tour, taking in all the best spots of Istanbul. Hagia Sophia was just magnificent. Katarina was such a wonderful guide, informing us of so many different aspects and whatever we asked - she had an answer for. If you can ask for a particular guide - Katarina is my recommendation - you won't be disappointed.
April 2015
Absolutely loved our guide she was very accommodative and was a pleasure she went out of the way and accommodated us to see another place of interest since the grand bazar was closed ..over all excellent

March 2015
Wow. This was a great tour. We learned the full history of Hagia Sophia. Our guide, Gülay knew every date and every detail. The Basilica Cistern was much different than I expected and enhanced by the knowledge of our guide. We had the opportunity to go to a private pottery showroom and have a personal demonstration. My favorite, was the Grand Bazaar. It is overwhelming, but our guide had a good knowledge of which vendors were reputable and helped us navigate. She should do shopping tours!
September 2014
Excellent day! We enjoyed our tour and learned a lot about the history of these amazing places. Our guide was good and had provided us with sufficient information. We have felt a bit rushed as he always was ahead of us and we needed to catch up to him most of the time.
August 2014
Interesting and knowledgable guide. Very friendly. Well organised tour. Fascinating insight into main attractions of Istanbul. Highly recommend tour and our guide was lovely and patient with us stragglers.
June 2013
Our guide was wonderful! She was on time and really knew the history of Istanbul. She answered all of our questions. Best of all, she took extra care to make sure we were happy with our overall experience of Turkey!
KAREN S Australia
July 2012
This private tour was excellent. However, once again the description of the tour was insuffiicient. As above is advertised as Hagia Sofia and Grand Bazaar, however, it would have included the blue mosque but since it wasn't mentioned in the description, we went to see it the day before by oursselves. A waste of our precious time in Istanbul!!!
Advertisement
Advertisement