Experience the Spice Bazaar and a Bosphorus cruise during this private guided tour in Istanbul. Explore the lively bazaars of Istanbul and discover their fascinating history with the full attention of your private guide. Plus, you will cruise the famous Bosphorus Straight to see stunning mosques and bridges spanning two continents along the historic waters.
Highlights
Private sightseeing tour of Istanbul

Cruise down the Bosphorus, admiring the sights along the shore
Explore the Egyptian Bazaar
Choice of two departure times
Recent Photos of This Tour
What You Can Expect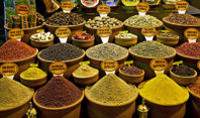 Start your Bosphorus cruise and Egyptian Bazaar tour by meeting your private guide for a pickup at your Istanbul hotel (European side only). Then, set off in your vehicle to the Spice Bazaar and witness this 17th century lively marketplace chalked full of colorful shops.
Next, coast to the beautiful Bosphorus River for a serene cruise along the famous strait that connects Europe to Asia. During your ride, admire majestic mosques, expansive bridges and other monuments spotting the verdant coastline. See the grandeur of Rumeli Hisari, a fortification erected by Fatih the Conqueror in a mere three months. Learn how Faith had hoped to crush Istanbul's Ottoman aristocrats and their 19th century mansions, hunting lodges as well as the Sultan's fanciful gingerbread palaces.
Continue on to the Egyptian Bazaar and wander with your guide past stalls experiencing alluring aromas of caraway, cinnamon, mint, saffron and thyme. Learn how this astounding dome structure was constructed in 1660 using taxes raised from the spice trade with Egypt.
Finally, visit Rumelihisar Fortress, a castle nestled along the narrowest juncture of the Bosphorus, built by Sultan Mehmet the Conqueror in 1452. Listen as you guide explains how the castle's location was strategically placed here to isolate Istanbul from invaders until 1453 when Istanbul fell and the north tower was converted to a prison.

June 2016
Highly recommended, so much better than a group tour !
November 2015
Excellent!!! Our 2 days spent with Hakin was perfect!!! He answered all of our questions and was pleasant to be with. He was professional, knowledgeable and delightful. We saw everything that we wanted to see and felt very comfortable at all times. The van and driver was 5 star as well. I highly recommend Viator and will definitely use them again! our tour and guide went beyond our expectations!
September 2015
Our tour guide was ilker ulus. He is very personable and is English was very easy to understand. His knowledge of the the sights and local culture is excellent. It provided us with an in depth knowledge of istanbul that we could not have gotten on our own. I would highly recommend ilker as your tour guide while traveling in istanbul.

March 2015
This was an exceptional tour and our guide, Gülay was amazing. She knew every detail, every date, and the full history of every landmark on the cruise. She guided us where to sit on the boat for the best view of everything. The length of the cruise was just right. Honestly, I enjoyed the Egyptian spice bazaar just at much. Our guide knew the booths to take us to that were reputable and had quality products. It was a leisurely afternoon. We stopped for lunch at a small place recommended by Gülay. It was tasty, quick, and very reasonably priced. I'm a woman, so my favorite part was the shopping and Gülay was great with knowing the best spots for what I was looking for and talking to those shop owners who were no English-speaking.
May 2014
This was a great day out and good value for money. Picked up from our local hotel and dropped back after the afternoon cruise and spice market visits.
January 2013
This tour was actually great! We took other tours with the same group after the Viator booking and it wasn't as trustworthy or safe as the one we book through Viator. In the future, I would advise people to book through this channel only.

June 2012
Visited amazing places without having to wait in any lines with a fantastic guide (Onur) who was very knowledgable, competent and friendly. It was like having a good friend show you around his town. Very impressed and our family of three could not have asked for more.
May 2012
Our tour guide was very attentive and informative. We loved the slower pace of this tour and the relaxing ride down the Bosphorus.

November 2012
It was exccellent except that we couldn't visit the Egyptian Bazaar I don't know why maybe our guide was in a hurry
October 2012
The tour was very interesting and the guide was certainly knowledgable. We bought some very tasty nuts at the Bazaar.
Advertisement
Advertisement