Discover the former capital and silk trade hub of the Ottoman Empire, Bursa, during a privately guided day trip from Istanbul. Head Bursa to by vehicle and ferry and explore famous attractions to learn about ancient Ottoman history. Admire the brilliance of the Green Mosque and gain insight into the ascendance of the city's silk trade market during a visit to the Bursa Silk Market and the Koza Han building. This tour also climbs to the peak of Mt Olympus by cable car for mesmerizing panoramas of the city below.
Highlights
Private day trip to Bursa from Istanbul with an expert local guide
Learn about Bursa during its Ottoman heyday, as the empire's first capital city
Visit the Green Mosque and admire its array of turquoise tiles inside the domed hall
See Koza Han, a historical building inside the covered Bursa Silk Market
Ride to the summit of Mt Olympus by cable car and admire the vistas from the top
Travel by air-conditioned minivan and ferry between Istanbul and Bursa
What You Can Expect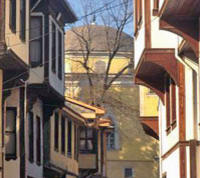 After meeting your guide at your Istanbul hotel (European side only), begin your privately guided trip to Bursa. Coast to the port and hop aboard your ferry for a relaxing cruise over the Sea of Marmara south to Yalova. Then traverse two hours on an air-conditioned minivan enjoying window views until you arrive in Bursa.
Hop off, stretch your legs and listen as your guide sheds light on the Ottoman Empire's first capital. Wander through this modern day city observing contemporary monuments but focusing on discovering its many ancient landmarks where the rich history lies.
Follow your guide to the Green Mosque (Yeşil Camii) and step inside to admire its exquisite marble archway and vibrant sapphire colored tiles that illuminate the halls of the central dome. Continue to stroll along and learn how the mosque was dedicated to Sultan Mehmet I.
Next, take a short walk to the main building in the old Bursa Silk Market (Kapalı Çarşı) - Koza Han. Learn how the ancient Koza Han building, now tea house, was once filled with silk artisans who traded caftans (long garments of clothing) with Turkish Sultans. Then, gain insight into how Bursa was the final stop on the famous Silk Road.
Take a break for lunch at a cafe and savor a Turkish kebap or try other traditional fare. Afterwards, head to Bursa's cable car and hop aboard for a climb to the peak of Mt Olympos. Stretch your eyes over expansive views of the city and enjoy some free time to capture photos. In the unlikely event the cable car is not operating, walk with your guide to a similar overlook near an old plane tree.
Finally, step back into your minivan and return to Istanbul by combination of coach and ferry. Just before dinner your tour ends with short transfer from the port to your hotel.
SUNEETI J India
December 2011
BURSA - THE OTTOMAN CAPITAL
Anne A United Kingdom
July 2010
We all enjoyed the day and having a guide made everything so much more interesting.
Jennifer S Australia
July 2010
It was a worthwhile trip, but not being a shopper I did not appreciate all the time allowed for at shops and would have preferred not to have been so rushed at the historic sites and mosques.
Advertisement
Advertisement