Experience the finest attractions in Istanbul's Sultanahmet district during this private, guided day tour of the Blue Mosque, Hagia Sophia and Topkapi Palace. Marvel at these famous monuments alongside your expert guide who will give you individual attention on this private voyage.
Highlights
Full-day private tour of Istanbul and its main attractions
Superb Blue Mosque
Historic Hagia Sophia and its Byzantine mosaics
Underground Cistern or Nakkas Cistern
Ottoman architecture and museums of Topkapi Palace
Shopping heaven in the Grand Bazaar
Lunch included
Enjoy privileged, personalized attention from your English-speaking guide on this special private tour
Pick-up and drop-off from central Istanbul hotels
Recent Photos of This Tour
Private Tour: Istanbul in One Day Sightseeing Tour including Blue Mosque, Hagia Sophia and Topkapi Palace
What You Can Expect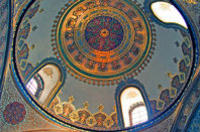 Start your private day tour with a pickup in an air-conditioned vehicle from your centrally located hotel in Istanbul (European side). Then, set off to discover the historic Blue Mosque, Hagia Sophia, Topkapi Palace and more! First, head over the Hippodrome to the Sultan Ahmet Mosque internationally known as the Blue Mosque and observe Ottoman architecture at its finest. Turn 360 degrees to see six imposing spires and 260 luminescent windows that scatter brilliant sunlight over the mosque's 20,000 Iznik tiles.
Continue to Hagia Sophia and learn how this civil engineering wonder was once the largest church in the world, then a mosque, and now the Saint Sophia Museum. Enjoy perusing through this enormous dome structure admiring the beautiful Byzantine mosaics.
Next, delve under the famous peninsula of Sarayburnu into the largest ancient cistern in Istanbul, Basilica Cistern (Yerebatan Sarayı). Located a mere 500 feet (150m) southwest of the Hagia Sophia, Experience its sheer size. Learn how it was built under the rule of Byzantine Emperor Justinian I in the 6th century and is the largest cistern in a city of hundreds.
Rise above ground and take a short walk to Topkapi Palace, the oldest and largest palace on the planet. Hear about the treasure held within its walls as you stroll through its ornate rooms. Then, cruise around its buildings to a spectacular vantage point of the Golden Horn and learn why it's considered the crown jewel of the Ottoman Empire. (On Tuesdays the palace is closed, so instead visit the Istanbul Archaeology Museum)
Onward to the center of Constantinople's sporting and political heart at the Hippodrome. Go back in time 500 years when the Ottoman empire was in power and imagine a place ruled by games and riots. Nowadays, this civic park carries on the Ottoman tradition in its name only known as the Horse Grounds (At Meydanı). Move on and admire the Hippodrome's ancient Egyptian granite Obelisk and hear how it was transported in 390 AD to Constantinople by Emperor Theodosius.
Finally, enjoy the hustle and bustle of the famous Grand Bazaar. Discover the world's largest canopied market as you stroll along peering into shops full of leather, pottery, jewelry, spices and carpets. With more than 4,000 shops on 58 streets, you'll be astounded that this market has been operating since the 14th century. (Closed on Sundays; so extra time will be spread over the other locations for a more intimate experience.)
January 2016
I can highly recommend the private sightseeing tour in Istanbul. Luck also did play a crucial part in our day as there was snow on the day of our tour, which transformed Istanbul into a winter wonderland for the day.
Our tour guide Ilker Ulus was very knowledgable and friendly and took us to see all the relevant tourist attractions such as the Blue Mosque, the Hagia Sophia and the Topikapi Palace. What was great about this tour however was the fact that we were also shown lesser known attractions such as the Cisterns- where a scene from the James Bond movie From Russia With Love was filmed and a private pottery demonstration in a family owned shop that has been around for generations.
We we're also treated to a lovely three course Turkish meal- this was one of the highlights of the day. Ilker also took us to the Spice Market in town and introduced us to some of his local friends that have one of the finest establishments in the market. We bought some of the best Turkish Delight we had ever had as well as other Turkish delicacies ask Ilker to recommend some treats!.
What made this tour great for our family was the flexibility of the tour and Ilker. We could decide what we wanted to do after seeing all the main attractions and Ilker had a great knowledge of all the things that we were interested in. Ilker ended up taking us to a leather factory store that supplies many of the famous Italian brands.
This tour is an absolute must and the guide, Ilker is also highly recommended!

January 2016
Great tour. We were able to go to front of line and was able to get most of highlights in one day.
January 2016
If you want an in-depth, personal, well researched tour of Istanbul you have found the ideal company with passionate and charismatic guides!
From start to finish our guide Hakan made this an incredible experience. A warm and friendly start to the tour, we made little use of the incredibly luxurious bus but had access to it at any point that we required it. Hakan was passionate about the city and its history, his knowledge was matched by his charisma and the ease of his manner. He fitted an incredible amount into one day without us ever feeling rushed or pressurised.
November 2015
This was an excellent tour. We had a great day with our guide Hakan. He was excellent! Lovely day.

November 2015
Very good and the guide was very helpful
Lunch was very good
November 2015
The guide was fantastic. He was very professional and personable. It was one of the best tours we have ever experienced. Well worth the money.
November 2015
Our experience on this tour with Hakin was fantastic. He was prompt, professional, knowledgeable and friendly. He answered all of our questions and was apleasure to be with for 2 days. I highly recommend Viator for private tours. The van was clean and 5 star!! Everything about our experience was perfect!

bmw123888 Singapore
November 2015
signed up for a 1 Day tour .. Tour guide assigned was a great Lady Ms Gulay Gunay.
the Bosphorus cruise tour was fabulous.. lucky to have met with a sunny day..
October 2015
The guide did a great job on the tour despite the Islamic holiday. The only problem was that the guide was sent tp the wrong hotel.
October 2015
Amazing adventure with a phenomenal guide named Borak. Luckily we were the only two who toured with him that day. Great because our cruise cancelled their tour due to security concerns. That meant without this availability we would have been in Istanbul on our own. Face it: questions answered, history shared and skipping long lines? Priceless!! thanks so much.
Advertisement
Advertisement