19 Reviews
Location:

Istanbul, Turkey

Duration:

4 hours

(approx.)
Delve into Istanbul's fascinating Jewish history and culture on this private tour of the city's Jewish sites and synagogues. With a knowledgeable local as your private guide, stand below the prominent Galata Tower, visit the Ashkenazi Synagogue and Etz Ahayim Synagogue, and tour the Jewish Museum of Turkey (aka the Zülfaris Synagogue). You'll cover Istanbul's extensive Jewish heritage from biblical times through the Roman, Byzantine and Ottoman empires to today.
Highlights
4-hour private tour of Istanbul's Jewish sites
Learn about the centuries-old history and culture of Istanbul's Jewish community
Admire the Galata Tower, one of the city's most striking landmarks
Visit two prominent synagogues, Ashkenazi Synagogue and Etz Ahayim Synagogue
Gain a deeper understanding of Jewish and Muslim coexistence at the Jewish Museum of Turkey
Recent Photos of This Tour
What You Can Expect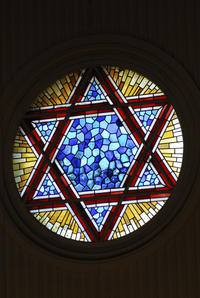 After pickup from your hotel in the morning, start your private tour with a drive to the Galata Tower, built in 1348 by the Genoese during their colonial expansion in Constantinople. Located in the centuries-old Jewish quarter of Galata, which was seized and destroyed in 1203 by the Fourth Crusade, the tower dominates the skyline and remains a symbol of the city.
Continue to the nearby Ashkenaz Synagogue, founded by Austrian Jews in 1900 for the Ashkenazi Jewish ethnic division. This is the only still-active synagogue of its kind in Istanbul. The synagogue holds weddings, bar mitzvahs and other religious ceremonies, and is open for public visits and prayers.
Also in the Beyoğlu district is the Jewish Museum of Turkey, your next stop. Formerly known as the Zülfaris Synagogue, this 19th-century religious structure was restored and remodeled as a museum in 2001 to commemorate the 500th anniversary of the arrival of the Sephardic Jews in the Ottoman Empire. Inside the museum, learn about the traditions and history of Turkish Jewry, and its coexistence with Muslim culture, as well as the historical accounts of the Jewish odyssey from Spain to Turkey.
Your last stop is the Etz Ahayim Synagogue, also known as the Ortaköy Synagogue, located in the Ortaköy neighborhood of Istanbul's Beşiktaş district. During the Ottoman Empire and the first decades of the Turkish Republic, communities of Turks, Greeks, Armenians and Jews coexisted in this area, and today it continues to show how people from multiple cultures and religions can live in harmon
After gaining insight into Istanbul's Jewish history, return to your hotel in the early afternoon.
July 2014
Very interesting and we enjoyed it a lot. It would have been even better if the guide was Jewish or knew more personally about the Jewish community, past and present, but he still did a very good job. It was great having an air conditioned car to take us around.
May 2014
Very well organised and will recommend your company to anyone who is thinking of going on a guided tour
The guide and driver were first class. Lawrence kraft
April 2014
Very interesting tour. Guide excellent. Highly recommended
April 2014
Our guide was brilliant, and the driver was polite and efficient. We could not have asked for a better introduction to Istanbul's Jewish Quarter. We loved Istanbul and are hoping to return again soon.
December 2013
We took this tour because we wanted to visit synagogues and we knew the security issues make it difficult to arrange. Apart from anything else the synagogues are not obvious even when you are standing in front of them. You need to take your passport to gain entry to the Sephardi synagogue.We saw two synagogues and the Jewish Museum; the large Sephardi synagogue (Etz hachaim) at Oberoy was particularly impressive and the museum was fascinating. Our guide (who was not Jewish) was most helpful; the minibus was comfortable and carefully driven. A very worthwhile morning and we would thoroughly recommend the tour.
December 2013
September 2012
Our guide was wonderful. He wqs very warm and inviting. It would have been better, however, if a representative from each of the synagogues we visited had been able to tell us something about the congregation and not merely ask for a donation. Speaking with a congregant would have greatly added to our understanding of the Istanbul Jewish community - their customs, issues, etc. This, however, was not the fault of our guide.
August 2011
FIrst I want to give the highest praise for our delightful,knowledgeable helpful, sweet, chic,friendly tour guide, Mine pronounced Meenay (hope her name is correct) This is a must see for anyone interested in Jewish Heritage. Our tour was half a day and fine for us.we had read of one dissatisfied traveller's opinion and were concerned. We were so interested in the three Synagogues we saw. Each with a different story. at Neve Shalom the Rabbi himself met with us. The tour for two was so well organized with our guide and driver. I don't know how much you want to read but The tour as set is wonderful and then we were given options of certain sites to see. A tour is a must as it is difficult to get from one area to another unless someone really directs you and takes you. It was surprising to learn that the Neve Shalom Synagogue ( I am pretty sure that is the one) does not have dues but is supported by contributions. Mine told us a great deal of information about the Jewish Community (24,000 Jews) and 16 active Synagogues as well as about Istanbul itself especially since we had just arrived the day before. Be prepared to do some walking on cobblestone streets...some of the fun about this through streets with much to see en route.
THe security is very tight as we appreciated and as it is necessary so plan ahead to send your passport information at least a week or more ahead of your tour.
Marcia and Richard Schaefer Delmar (near Albany) New York
July 2015
Tour interesting. Guide knew his history of Istanbul. Knew a lot about the synagogues etc, but was not Jewish so perhaps we missed some of what life inTurkey was like before and after the fall of the Ottoman Empire.
February 2014
Wonderful tour guide, would definitely recommend her to other tourists. We got done a bit early, so she took us around a small market and towards the water.
Advertisement
Advertisement