Marvel at Istanbul's best Ottoman sites during this 4-hour private guided tour of the Hippodrome, Blue Mosque and Topkapi Palace. This tour captures the essence of why the Sultanahmet district is a UNESCO World Heritage site. You will learn about the history of Istanbul dating back to its former Ottoman days as Constantinople. Plus, hear old stories about the reign of sultans from your expert guide and admire architecture and ancient relics within each famous attraction.
Highlights
Private half-day tour of Istanbul's Ottoman landmarks
Explore three historical attractions around Sultanahmet, a UNESCO World Heritage site
Walk around Istanbul's Hippodrome and see the Obelisk of Theodosius
Visit the Blue Mosque and marvel at its colorful Iznik tiles and minarets
Explore Topkapi Palace while learning about the sultans and harems who once called the building home
Recent Photos of This Tour
What You Can Expect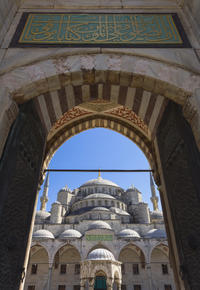 Meet your local guide at your Istanbul hotel (European side only) or at a central meeting point and hop into your air-conditioned minivan to begin your private tour of the Hippodrome, Blue Mosque and Topkapi Palace. Listen as your guide runs through the 4-hour tour itinerary, but note the order to visit each landmark is subject to change.
At last, set off towards the life blood of Istanbul - the Sultanahmet neighborhood. Stroll through this UNESCO World Heritage Site and discover the Hippodrome. Here, learn about day to day Ottoman-life in this extensive arena. Go back in time hundreds of years to feel the heartbeat of this ancient city's political gatherings, sports, and even riots! Next, listen as your guide explains how this area has become fun for both locals and visitors. Perhaps, bust a move for a photo in front of the ancient Obelisk of Theodosius which was brought over from Egypt in 390 AD by the Emperor.
Next, wander over to the Blue Mosque and stare up towards the six towering minarets. Then, quietly enter this house of worship and admire the thousands of detailed Iznik tiles that illuminate the dome's walls in a brilliant blue. See this perfect example of Ottoman architecture and learn why Sultan Ahmet, who ordered its construction, was adamant about building a place of worship to contend with the stunning beauty of neighboring Hagia Sophia.
After snapping photos and staring into the magnificent dome above, cruise to the final attraction Topkapi Palace. Explore this illustrious palace home to peculiar 15th-century sultans. Then, learn about day to day life of the palaces harems, princes, and eunuch servants. Now that Topkapi Palace has settled down into a fine museum, wander through its exhibits to see royal armor and weapons, ancient artifacts and read tales about the famous people who once resided in Istanbul's most opulent palace.
After exiting Topkapi Palace, walk along a tree-laden path with your guide to your minivan. Climb aboard and cruise back to your start point in central Istanbul or to your hotel on the European side.
Please note: on Fridays the Blue Mosque cannot be visited due to 2.30pm prayer, instead you will visit Rustem Pasha Mosque.
October 2015
We did a number of tours this trip through Viator and all of them were excellent. The best of all was this private tour in Instanbul. Our tour guide Tibet was first class. She was there on time and knew that we had very little time to see a lot. She quickly worked with us to priortize, figure out the timing so that we would be efficient and was just wonderful in not only getting us around to see the most important sites--but was a pleasure and a lot of fun to be with. She even gave us directions and ideas as to what to do later in the day on our own which worked out perfectly. Tibet made it for us!!!! She was so professional and personable and gave us a great sense of the culture in the city!!
Calitlin F USA
October 2015
This tour was a great way to kick off our few days in Istanbul, it gave us a nice kick start to the trip. Hakan was a knowledgeable and terrific guide. He knew the best times to arrive at each place and we covered a lot of territory and avoided a lot of lines in a half day with him. He then sent us off with recommendations and ideas for the rest of the day.
September 2015
The guide was very knowledgeable about the sites, and was flexible with his schedule to meet our needs.
May 2015
Often, it is all up to luck and who you get as a guide. In this case we scored and had a wonderful experience by a personable, informed, educated guide.

March 2015
We had a great time. Tibet was our guide and she was so thorough. She even gave us the bonus of visiting a rug maker she knows. She was completely knowledgable and spoke excellent English. She has a nice sense of humor. She gave us some free time to look at things on our own which was nice. I would definitely recommend this tour and feel Viator is the most reliable booking agency. We booked the private tour and were picked up at the door of our hotel. Our guide arrived promptly. Everything was very organized.
August 2014
my guide named Gualy (pronounced July) was fantastic. Blue Mosque was crazy busy that day so instead of waiting for hours she suggested to go to H. Sophia, which used our time much more efficiently. She was passionate about her city and shared her love of history and art with us.
March 2014
Amazing tour. Take comfortable shoes for walking.
January 2014
Our guide Mahmet was excellent and we enjoyed the day very much.
December 2013
Very interesting, great tour
June 2015
Knowledgeable and experienced guide As a result we wasted no time in getting into any of the sights. Both sights well worth visiting but needed more time at the Topkapi Palace so requested that we did not return to our hotel but rather stay on at the Palace.
Advertisement
Advertisement