Uncover ancient Greek mythology and the history of the Trojan War during this guided day trip to Troy from Istanbul. During a walking tour, learn about the famous archaeological site of Troy and see a replica statue of the Trojan Horse. Then, delve into the interesting era's of Troy and discover how this settlement transformed over time. Plus, enjoy a visit to the small coastal town of Eceabat for lunch.
Highlights
Day trip to Troy from Istanbul by luxury coach
Enjoy a seafood lunch in the coastal town of Eceabat
Travel by ferry from Eceabat to Canakkale, and then visit the UNESCO-listed archaeological site of Troy
Walk around the ruins of Troy with your guide and hear tales of the Trojan War
Visit the wooden Trojan Horse statue before returning to Istanbul
Recent Photos of This Tour
Troy Day Trip from Istanbul
What You Can Expect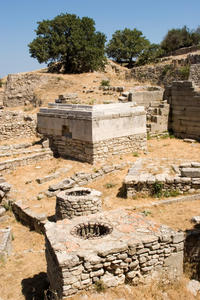 In the morning meet your guide at your Istanbul hotel for your day trip to Troy. Hop aboard an air-conditioned minivan and voyage to the legendary city of Troy. Travel most of the morning with a stop for breakfast in the town of Tekirdag (own expense). Afterwards, continue to Eceabat, an eastern town on the coast of the Dardanelles.
In Eceabat, stop for lunch at Liman and savor a delicious two-course seafood meal, one of the best in town. Then board a ferry and cross the Canakkale in about 20 minutes. Finally, take a short coach ride to the ancient city of Troy and admire this UNESCO World Heritage Site.
Explore Troy with your guide and learn about this city which existed nearly 4,000 years ago. Then, enjoy a 1-hour walking tour and gain insight about the history of one of the most popular archaeological sites. Hear how this it was the first link between Anatolia and the rest of the Mediterranean and started as settlements before becoming a kingdom. Then, learn how Troy evolved from the Bronze age, under Greek and Roman reign, and even as a small city in the Byzantine empire before collapsing.
Listen to lore of the Trojan War such as the mythological story about the Trojan prince (Paris) who stole Helen from her husband Menelaus, king of Sparta and was the catalyst for the 10-year Trojan War with the Achaeans (Greeks). Next, marvel at the at the wooden Trojan Horse whose iconic image defines this legendary war. Afterwards, hop back on your coach and journey back to your Istanbul hotel where your tour ends.
May 2016
Esra was a knowledgeable and really good guide. I appreciated her English skills.

April 2016
Brilliant, fantastic and all other positive adjectives you can think of. It was a very log trip and the other people I think did it a better way, by spreading two tours over two days based in Canakkale or Eceabat. They also tagged on the Gallipoli tour as well. Because of the small number there was only four of us on the tour, one got off in Eceabat to do the Gallipoli tour that afternoon and myself and an older couple did the Troy tour. Our guide Faruk, think that is how you say/spell his name, was fantastic there go those adjective's again as was our driver.
He was so informative and a great talker - not sure if he got the Kiwi humour though. We had a great day. After the tour the coupe were dropped off at their Hotel in Canakkale and it just left me for the ride back to Istanbul. The tour does not normally involve a stop to see the Brad Pitt Trogon Horse, the one picture in this picture in Canakkale, very misleading but we got there early Ferry and Faruk walked back with me to get pictures. Great day, great driver and guide, with good company.
Was a very long drive back on my own though.
Would recommend this tour to everyone.
March 2016
Being in Troy was special, the guide was friendly and knowledgeable.
November 2015
Very friendly and nice driver.
Very Informative and helpful tour guide.
nathan.mccarry United States of ...
November 2015
As the other reviews said, it is a long day but really worth it. The van driver and tour guide were both excellent. We learned so much history not just about Troy but about the site going back to BC times. We didn't realize until we had the tour that length of the history 8 layers of different times being built and more being found. The site is well laid out and easy to get around with amenities such as very clean restrooms and a gift shop. We would highly recommend devoting a day to going as you get to see so much of the Turkey outside Istabnbul and how people live.
July 2015
What a fabulous visit to Troy! The bus picked us up from our hotel on time, was very comfortable and the guide made time pass quickly. The lunch was delicious. Troy was spectacular though it really helped to have researched the site before visiting to make sense of the different levels. I've read about Hector, Achilles, Menelaus, Priam, Agamemnon and all the others from the Iliad and Odyssey all my life how amazing to see Troy and bring them to life! Only criticism is I wish our guide at Troy would have linked areas of the site to specific parts of the myth. I would definitely take other tours with Viator.
June 2015
Incredible tour, a little long if you only go for the day but well worth it. Would say to go early 2016 as they are currently building a huge meseum and are beginning to excavate again next year.
Such lovely tour guides too!
June 2015
Of great historical significance, expertly guided and explained!
April 2015
March 2015
The tour took 14 hours with about 1.5 or 2 hours at Troy. It was well worth it. The minibus was spacious and comfortable. The tour guide to troy picked us up before we boarded the ferry and brought us back to the minibus after the visit in Troy. The tour guide to Troy knew a lot about the dfferent archeological opinions concerning Troy, which was interesting and informative.
Advertisement
Advertisement