Deep cleanse your body and mind during a 2-hour traditional Turkish bath experience at Istanbul's Cagaloglu Hamami, a gorgeous 18th-century bath house. As authentic as cultural experiences get, a Turkish bath experience remains much the same now as it was during the Ottoman era. Relax on a marble slab in a steamy bath chamber, have a vigorous and exfoliating scrub to strip away dead skin cells, and then relax in a cooler room. Hotel pickup from hotels on the European side of Istanbul are also included.
Highlights
2-hour Turkish baths experience at Cagaloglu Hamami in Istanbul
Make the most of two hours of relaxation and cleansing inside the 18th-century hammam building
Lie on a hot marble slab that encourages the body to sweat and release toxins
Have a vigorous soapy scrub to remove dead skin cells and regulate blood circulation
Relax in a cooler room, enjoying the feel of your clean skin, softened from the steam
Enjoy a hassle-free hotel pickup service from the European side of Istanbul
Recent Photos of This Tour
Turkish Bath Experience in Istanbul
What You Can Expect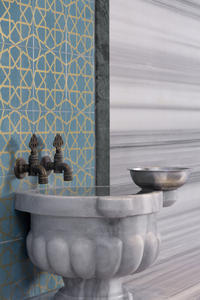 If your hotel is located on the European side of Istanbul, start your hammam experience with a hotel pickup. Alternatively, make your own way to Cagaloglu Hamami, the beautiful Turkish bath house that dates back to the 18th century, and head inside with your entrance ticket.

This is the last Hammam to be built in the Ottoman Empire. It was begun by one of the head architects of that time, Suleyman Aga, and finished by Abdullah Aga. Its elaborate interiors remain much the same as they were in the Ottoman days, and you'd be hard-pushed to find a more resplendent-looking place to while away a couple of hours.

Leave your coyness at the door and follow the locals' lead to strip off completely or alternatively, change into your bikini or swimming shorts if you want to reserve your modesty. Then slip on your peştamal (traditional cotton robe) and step inside the bath chamber where a heated marble platform covers the floor. Lie on the marble slab to encourage your body to sweat, and splash yourself with hot water from the bathing basins that line the edges of the room.

After roughly 45 minutes of relaxing and building up a sweat in the steamy bath chamber, one of the baths' attendants will exfoliate your body, scrubbing you down with a loofah mitten and hot, soapy water.

Rinse away the soapy suds with hot water from the bathing basins, put your peştamal back on and then visit one of the baths' cooler rooms to relax. The duration of each stage of your Turkish baths experience varies, but most people find 45 minutes on the marble slab, 15 minutes of exfoliation and an hour of relaxation time to be the norm.

Feeling relaxed and rejuvenated, return to the changing rooms to dress and then leave the bath house.
April 2015
July 2014
Just by entering the beautiful historical building, you feel in a different world. After we changed, we got into the hot Hammam area - it was not as hot as I thought it would. It's all white marble top to bottom, and very clean. We were first left to water ourselves down, then brought to the central marble piece, where we go the scrubbing. Be ready, this is quite surprising (and a bit hurtful) first but then you wonder how come you don't do that more often as you feel so clean and reinvigorated. We had upgraded to a massage as well while on site, and this really completed the experience perfectly. There were not that many people so it was a definite intimate experience, and from the majestic building to the full attention and treatment from our masseurs, it was perfect! You can't go to Istanbul and not have a Hamman, and Hamman Cagaloglu was the perfect choice!
Advertisement
Advertisement