Indulge in a steam, soap and scrub at an authentic hamam with this 2-hour Turkish bath experience in Istanbul, including hotel pick-up and drop-off. Head to the beautiful Cagaloglu Hamami, which dates back to Ottoman times, and learn about the ancient tradition that still remains popular today. Enjoy an invigorating body scrub that will leave your skin silky-soft and your whole body feeling completely relaxed and rejuvenated.
Highlights
2-hour Turkish baths experience at Cagaloglu Hamami in Istanbul
Make the most of two hours of relaxation and cleansing inside the 18th-century hammam building
Lie on a hot marble slab that encourages the body to sweat and release toxins
Have a vigorous soapy scrub to remove dead skin cells and regulate blood circulation
Relax in a cooler room, enjoying the feel of your clean skin, softened from the steam
Enjoy a hassle-free hotel pickup service from the European side of Istanbul
Recent Photos of This Tour
Turkish Bath Experience in Istanbul
What You Can Expect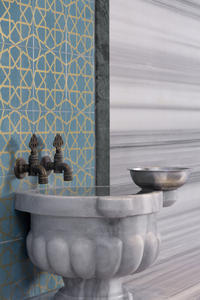 If your hotel is located on the European side of Istanbul, start your hammam experience with a hotel pickup. Alternatively, make your own way to Cagaloglu Hamami, the beautiful Turkish bath house that dates back to the 18th century, and head inside with your entrance ticket.

This is the last Hammam to be built in the Ottoman Empire. It was begun by one of the head architects of that time, Suleyman Aga, and finished by Abdullah Aga. Its elaborate interiors remain much the same as they were in the Ottoman days, and you'd be hard-pushed to find a more resplendent-looking place to while away a couple of hours.

Leave your coyness at the door and follow the locals' lead to strip off completely or alternatively, change into your bikini or swimming shorts if you want to reserve your modesty. Then slip on your peştamal (traditional cotton robe) and step inside the bath chamber where a heated marble platform covers the floor. Lie on the marble slab to encourage your body to sweat, and splash yourself with hot water from the bathing basins that line the edges of the room.

After roughly 45 minutes of relaxing and building up a sweat in the steamy bath chamber, one of the baths' attendants will exfoliate your body, scrubbing you down with a loofah mitten and hot, soapy water.

Rinse away the soapy suds with hot water from the bathing basins, put your peştamal back on and then visit one of the baths' cooler rooms to relax. The duration of each stage of your Turkish baths experience varies, but most people find 45 minutes on the marble slab, 15 minutes of exfoliation and an hour of relaxation time to be the norm.

Feeling relaxed and rejuvenated, return to the changing rooms to dress and then leave the bath house.
April 2015
This sure is an experience loved it
April 2015

July 2014
Just by entering the beautiful historical building, you feel in a different world. After we changed, we got into the hot Hammam area - it was not as hot as I thought it would. It's all white marble top to bottom, and very clean. We were first left to water ourselves down, then brought to the central marble piece, where we go the scrubbing. Be ready, this is quite surprising (and a bit hurtful) first but then you wonder how come you don't do that more often as you feel so clean and reinvigorated. We had upgraded to a massage as well while on site, and this really completed the experience perfectly. There were not that many people so it was a definite intimate experience, and from the majestic building to the full attention and treatment from our masseurs, it was perfect! You can't go to Istanbul and not have a Hamman, and Hamman Cagaloglu was the perfect choice!
Anonymous
July 2014
"What a surprise! I had a vague memory of a sauna back in France and this was a way different experience. After getting changed and wrapped in a towel, we were brought to a huge dome area, all in white marble. The temperature and humidity were quite high but total bearable, but get you ready for the next steps, sweating and all in the steamy bath chamber. A masseur then comes to give you a good exfoliating scrub and a good wash. One can use a small bucket to keep watering down, with cold or hot water. It was a nice moment, unexpected and relaxing. "
Naude M South Africa
September 2015

August 2015
I've had a Hammam experience before so my expectations were high. It was a good experience, clean facility, nice to get dropped off but definitely NOT worth the cost. The guy at the desk didn't even know what my voucher included so he gave us middle of the line when I was clearly supposed to get a premium package including massage. I could have booked this myself for 50 Euro but paid 2X by booking it through a site. I know for next time. Reviews online are questionable so I recommend you ask Friends and Family for their experience.
May 2015
Horrible experience. The person wispered in my ear that he would accept dollars as a tip. Kind of blows the whole experience.
October 2014
Overpriced. Admin staff rather rude. Do not recommend.
March 2014
The driver who picked us up did not know a word of English, dropped us in the middle of the road and left us right there. When we arrived at the reception we were told we did not pay for the bath! We had to wait for 30 mins until they finally decided to let us in. The bath was ok. Will not go again
March 2014
The bath was an interesting experience. It would have made me feel more comfortable if the ladies working there spoke English as it was hard to communicate.
Advertisement
Advertisement