Explore the best of Izmir on this day trip shore excursion to Ephesus and the House of Virgin Mary. After porting at Izmir, disembark your boat and set off to see ancient ruins and preserved Mediterranean cities. Learn about the fascinating story behind the Ephesus ruins and discover the intrigue of the house that Mary lived the end of her life in. Then, return to your port in time for your departure.
Highlights
Izmir shore excursion to Ephesus and House of the Virgin Mary

Guided tour of Ephesus' ancient sights

Explore the Temple of Artemis, one of the Seven Wonders of the Ancient World

Enjoy a lunch of authentic Turkish cuisine (included)

Transport by air-conditioned coach

English-speaking local tour guide

Covered by Viator's worry-free policy: guaranteed on-time return to your ship

Recent Photos of This Tour
Izmir Shore Excursion: Day Trip to Ephesus and House of Virgin Mary
What You Can Expect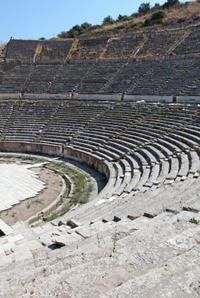 Your best-of-Izmir shore excursion kicks off as you disembark your boat and leave the port to meet your local guide. En route to the ancient ruins of Ephesus, make time for a pit stop at Johns Basilica. This historic building was erected to celebrate the saint who wrote his gospel atop the hill where the basilica stands. Inside the basilica, see the 4th century tomb where Saint John is said to be buried.
Next, stroll toward the historic Christian ruins of Ephesus, a highlight of Izmir. Ephesus has much historic importance in the Book of Revelation and as a city significant in the early days of Christianity. Once in Ephesus, explore the enchanting Temple of Artemis, one of the Seven Wonders of the Ancient World. Follow your guide to the Library of Celsus, the Great Theatre and fascinating temples.
Stop for a lunch break at a local Turkish restaurant, where you can indulge in local specialties and learn about cuisine in Turkey. Then, continue exploring Izmir with your expert guide. At the House of the Virgin Mary, see the building where this historical figure spent the remaining days of her life. After, make your way back along the scenic waterfront to your ship, where you'll board in time for your departure.
Worry-free Shore Excursion:

This trip ensures your on-time return to Izmir's port. It is unlikely, but should your ship depart before your return, transportation will be arranged to your next port. Your money will be refunded if your arrival to the port of Izmir is delayed. See the terms and conditions for details.

April 2015
The Tour guide spoke good English , was at the port on time and very professional . Would highly recommend it . The only thing is the a/c on the bus was not working well .
September 2014
This excursion was amazing. Visiting Ephesus wouldn't have been the same without our tour guide. She was able to give us so many insider bits that would have been overlooked otherwise. The lunch at the rug making school was incredible. Simply the best meal of our entire trip. The only negative would be after we watched the women work they took us into a room to sell us a rug. Showed us one for $450. My husband and I were really interested in purchasing one so one man took us to a back room showed us the one I was interested in and turned out to be $5000. Clearly out of our budget and not wanting to negotiate due to the simple fact that the rug was completely worth the money just out of our budget. So we tried to leave. The man kept trying to negotiate with us and wouldn't let us leave. Then he started getting hostile asking me why I was being so difficult etc. this put a slight damper on the whole experience, but as we were 1 of 3 other couples in the group it only happened to us so I'd assume this isn't common. Everything we saw made us want to go back. I'd definitely recommend this trip.
February 2014
The itinery was as advertised and there were only 4 of us on the tour. Our guide did an excellent job of explaining the sites. She was also informative about certain customs and nuances of Turkey and spoke very good English. Our lunch was also very good at our stopping place at Turkeman carpets ; however it was quite expensive because my wife Anne purshased handmade silk carpet !! Oh well, you can't take it with you!! All said, it was a greatly satisfying experience and we would definitely recommend it to anyone...Tom/Anne Winn
August 2013
The best excursion we have done in a long time. The guide was amazing, food was great, and all of the spots visited were worth seeing...although I don't know how we were able to do so much in just one day!!! We arrived in port and 2 people did not show so we waited an extra 20 mins for them. Our guide felt very bad that we had to leave and then later received a call from them...she made the right choice. This left us with a virtually private tour of 7 people for a much lower price then Carnival. The next port we scheduled a Carnival excursion and it was cancelled due to low interest...the "only" had 12 or 14 people according to the Carnival Excursions desk...I think I will be booking all excursions with Viator from now on.
June 2013
Very good tour
The tour young woman who was our guide was outstanding
The mini bus we went on was spotlessly clean and with only ten people in the group it felt like were at times getting one to one explanations on any questions we had
Lunch was good
I would from my experience recommend this tour
June 2013
My husband and I loved our guide Oya. I thought we would be on a large bus with many tourists but there were only 10 people on our tour. Oya is a wealth of information and she is beautiful and funny too. We had a delicious and healthy lunch in the middle of a grassy area at table under a canopy set with linens and dishes. We had a choice of wine and beer along with other drinks. Being inside the House of Mary was remarkable and Ephesus was breathtaking. I had never heard of it before my visit and now I know it was a magnificent Roman city visited by all the "Bible writers" John, Paul, Luke and Matthew. Cleopatra and Mark Anthony walked the same streets I did!!
April 2013
This was a trip of a lifetime. Our guide had a way of presenting historical, archeological and social information in a wonderful weave so that we could understand the times and places visited. She answered any questions we posed. The traditional Turkish meal served at noon between sites was excellent. We are still there in our minds.
April 2013
February 2013
If you are cruising, there is not a great way to get from the Izmir port to Ephesus. Cruise ships offer the same excursion, however, it is much more expensive - and instead of being in a small group, it is a very large group. Our tour with Viator only had about 15 people in it - the guide was great! Ephesus is a MUST-SEE in this area. The site is vast and really amazing. It is well worth the money!
December 2012
We did Ephesus in conjunction with visits to both Olympia and Athens, and this was - by far - the most impressive site. Viator did a fantastic job selecting our guide; we had Ms. Guler Aslan, whose knowledge of the sites and fantastic commentary really brought everything to life! A Must-See.
Advertisement
Advertisement