Travel back to Roman times with a private tour of one of Turkey's most impressive ancient cities, Ephesus, and enjoy the undivided attention of your guide as you explore the UNESCO Word Heritage site. Pose for photos by the grand Library of Celsius; walk through the Great Theatre, where St Paul once preached; and see the ruins of the Temple of Artemis, one of the Seven Wonders of the Ancient World. After lunch, pay a visit to St John's Basilica and the House of the Virgin Mary.
Highlights
Private Tour of the ruins of Ephesus and St. Mary's House from Izmir
Visit the final resting place of the Virgin Mary

Explore the Temple of Artemis, considered to be one of the Seven wonders of the Ancient World

Enjoy authentic Turkish cuisine

Transport by private vehicle

English-speaking local guide
What You Can Expect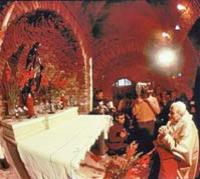 Visit the glorious Greco-Roman and Christian ruins of Ephesus, which is known to be Commercial, the Religious and Social Center of Antiquity, and one of the highlight of any visit to Turkey. Ephesus is probably the best combination of Greek, Roman and Byzantine civilizations.
With the mythological stories and spectacular ruins you will feel the life in ancient Ephesus. See the Fountains of Trojan, Polio, the Temples of Hadrian and Domition, Private House (Brothel), the Library of Celsius, Various and Scholastic Baths, Bouloterion and the Great Theatre with capacity of 24,000 spectators. Prepare the be amazed.
After enjoying some authentic Turkish cuisine at lunch, you will visit the House of Virgin Mary, where she spent the last days of her life. You will also visit the Archaeological Museum, Temple of Diana and St. John's Basilica where according to legend, he was buried.
October 2015
This is one of the most incredible days spent seeing sites that had such an impact on history. Ismail, our guide, was masterful in his knowledge of the areas and his desire to make the day so memorable--he is a true asset to the company. Ephesus in many ways exceeds the Forum in Rome in splendor and majesty---so much history over so many civilizations in one place. St Mary's tomb was moving. Whether you belive in a religion or not, the power of the location and simplicity cannot do anything other than to move you. What a day!
October 2013
We had a wonderful time in izmir our guide Philis was very patient and professional. There is a lot too learn
August 2013
Gülar was wonderful, very knowledgable and personable. The tour ran like clockwork and we all had a terrific time. Thanks!
March 2012
Friendly driver. Very knowledgable and open guide. Both were flexible and worked to make certain that we were able to see all of the highlights in a very short period of time. Of course, there was the obligatory lunch (which was excellant) coupled with a factory "tour" and sales pitch. (Rugs and jewelry.)
Nicholas P USA
September 2008
Our tour guide was wonderful. He was intelligent and extremely kind. We would recommend him again in a minute. Last year our daughter went on the same tour and she felt the same way about him.
Anonymous
August 2008
Our guide was great and the transportation was very good. We had bad weather, but the experience was fantastic in spite of it. It's a trip I would definitely recommend.
Monica M USA
August 2008
The Ephesus tour was fantastic, and we were done by noon. That would have been fine. However, we were then taken to a ceramic place where we had a demonstration of how traditional ceramics were made, and then we were taken to the store, where we felt compelled to buy something. After that, our lunch was at a carpet-making store. Apparently lunch was offered by the store. Then we were put in a room with closed doors and submitted to an hour and a half long presentation of carpets, and once again felt compelled to buy. We did not buy anything. The problem is that we were sold a full-day tour of Ephesus with a typical lunch, not a shopping trip for half a day.
October 2012
The pickup was confirmed at 7:00 am but the driver did not arrive until 7:30 with a dirty van, and went through 2 other pickups around Izmir. Finally the van seated a total of 10 passengers uncomfortably to Ephesus, we were seatd in a seat designated for 3 adults but 4 adults occupied the seat. We raised our concern with the driver who did not speak English, and was explained that we have to deal with his company upon arrival into Ephesus. Eventually, we were being dropped off in a local tour company around 10 am in Ephesus.
When we questioned the person in charge at the tour operator. He told us that the tour guide assigned to us, could not work as there was a death in his family. Instead this tour agency decided without our consultation or offer of reimbursement to put us into a group tour. Until we voiced our discontent, this tour agency had no intentions of honouring our private tour of Ephesus. As well, Neon made no attempts to intervene on our behalf when we phoned them and explained the situation. If I were to visit any area in Turkey other than Istanbul, I would not use this tour operator again. I hope Viator takes note of what we are reporting so a similar situation does not occur to other travelers who are willing to pay extra for private tours.
Advertisement
Advertisement