On this Grand Teton day trip from Jackson Hole, experience one of America's most astounding landscapes from the comfort of a coach vehicle. In between views of the jagged Teton Range and a visit to the shores of Jenny Lake, you'll learn the geology and history of the Tetons from your knowledgeable local guide. You'll also visit Menor's Ferry and Chapel of the Transfiguration — both are on the US National Register of Historic Places. Bonus: You could even spot moose, beavers, or eagles on a guided walk.
Highlights
Tour of Grand Teton National Park from Jackson
Soak up picture-perfect vistas of the Teton Mountain Range as you explore by comfortable coach
Visit historic sites including Maude Noble's Cabin, Menor's Ferry and the Chapel of the Transfiguration
Enjoy the pristine beauty of Jenny Lake and Jackson Lake
View wildlife around the Snake River, where moose, eagles and beavers are abundant
Learn about the area's history, geology and ecology from your naturalist guide
Recent Photos of This Tour
What You Can Expect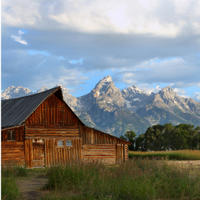 This tour begins at your Jackson hotel when you meet your professional guide, before boarding a comfortable, air-conditioned coach for the drive to Grand Teton National Park. After just a 30-minute drive north, through the valley of Jackson Hole, you'll arrive at this world-renowned national park just 10 miles (16km) south of Yellowstone.

As you approach Grand Teton National Park, the first thing you'll notice are the jagged peaks of Wyoming's Teton Range as they cut across the sky. Upon entering Grand Teton National Park (entrance fee not included), your first stop will be at the historic Chapel of the Transfiguration — a cabin built in 1925 that originally accommodated guests and staff from the handful of nearby dude ranches.

From here you'll continue to Menor's Ferry, an historic ferry service across the Snake River that's run since the late 1800s. It's here where you'll also see Maud Noble's Cabin, a homestead where your guide will explain the lives of Wyoming's early settlers.

With a healthy dose of Wyoming history now under your belt, you can really start to experience the legendary beauty that makes the national park famous. Stroll down the shores of Jenny Lake with its crystal-clear, alpine waters, and hear the stories of pioneering mountain men who crossed and conquered the Tetons.

You'll stop to eat at a comfortable lodge where you can choose from various lunch options (own expense), before venturing out to Jackson Lake to absorb the alpine scenery. While here, listen as your guide explains how the park has dozens of species of mammals, as well as 300 bird species, and 1,000 species of plants.

Before you return to your Jackson Hotel, you'll stop at the Colter Bay Visitor Center, where you can casually peruse a vast array of American Indian artifacts. On the drive back through Jackson Hole, keep your eyes peeled around the Oxbow Bend where it's common to spot moose or deer.


September 2015
We were lucky to have Jessie again as our guide for the Grand Teton National Park. The place is awesome!
September 2015
the tour we took of the Grand Tetons was wonderful. Our guide, Mark, was very knowledgable of the whole area and we learned a lot! We saw lots of wildlife and the weather was beautiful that day. I highly recommend it! Gretchen from PA
August 2015
I was part of a small group which gave us an opportunity to not only see the Grand Tetons, but also to get to know each other. Grant was our tour guide who was very knowledgeable about the area. He stopped at the most appropriate stops to take advantage of the nature in terms of the scenery and wild animals. Great tour!
August 2015
The tour was excellent! Our tour guide not only showed us the Tetons, but helped us appreciate the geology and history of the area as well as the wildlife and wildflowers that we were enjoying. I was somewhat limited in my mobility ,and he always got me to a place where I could enjoy the beautiful surroundings while they took their walks. This is an excellent way to get a overview of the park if you are staying for while or a great way to experience the park if your time or mobility is limited.
July 2015
We were able to book two tours. One of Yellowstone and one of the Grand Tetons. Both the areas and the tours were magnificent! I would highly recommend taking the tours. You are able to see so much more of the beauty of Yellowstone and the Tetons. Anyone who hasn't visited these areas is missing out on the experience of a lifetime.
twincities China
July 2015
We had a relatively not so good weather on our day to Grand Teton - the morning is lovely, but the afternoon is raining. But our guide Jeffery is super! His way of guiding us and introducing us the sights is simply calm but makes us more into the mother nature itself. Highly recommended!
July 2015
Excellent tour! Jeffrey picked us up promptly at our hotel, and the next 8 hours were filled with excitement. Jeffrey is an enthusiastic tour guide whose vast knowledge for exceeded our expectations. He drove us places that we wouldn't have found or dared to travel to on our own. We made many stops, and each time, Jeffrey was out of the van pointing out attractions and taking photographing us. We'll have lots of wonderful memories when we return home. Jane and David

Vicki L Singapore
July 2015
A good tour for a very affordable price - the tour meets all significant checkpoints of the Grand Teton National Park coupled with a myriad of tales and nuggets of information from the guide. Though I was told that the tour differs from tour guide to tour guide, the guide for this trip, Jeffrey, brought his zeal and personality to the trip - adding a tinge of the local spirit and gregarious attitude throughout the entire trip. Thematically-based facts and stories told by Jeffrey definitely added a local edge to this trip that would otherwise be a simple, lacklustre tour that could have been done by any random touring company. All in all, it was a short, fun trip filled with entertaining stories and tales to take home.
July 2015
Jeffrey was our guide for the Grand Teton tour. He was very knowledgeable and passionate about the area. The tour was a full 8 hour event that passed very quickly. Jeffrey made the day very enjoyable and memorable. We were shown beautiful sites and told interesting historical stories about the area. It was a great blend of riding in the van and getting out to experience and photograph the beautiful area. I defiantly recommend this awesome adventure.
July 2015
100 PURE AWESOMENESS!!!!! Thanks to the guide whose knowlege of the area took us to the hidden waterfalls, slightly off tour but we still got everything in AND we saw heaps of wildlife!
Advertisement
Advertisement