Location:

Jackson Hole, Wyoming

Duration:

3.5 hours
Take an exhilarating whitewater rafting trip down Wyoming's Snake River on this family-friendly tour from Jackson Hole. Learn how to paddle and stroke, and admire the breathtaking scenery of Snake River Canyon as your guide navigates the rapids. Sit in the back near your guide to stay drier or take a seat in front to get soaked by two of the biggest waves on the river -- nicknamed Big Kahuna and Lunchcounter! This 3.5-hour adventure — appropriate for both children and adults and all skill levels — includes equipment and hotel pickup.
Highlights
Whitewater rafting trip on Wyoming's Snake River in Jackson Hole

Choose your raft size and seat according to how wet you're willing to get!

Learn whitewater techniques such as an eddy stop and ferry from your expert guide

Experience two of the biggest waves on the Snake River — Kahuna and Lunchcounter

Marvel at the colorful rock formations in Snake River Canyon

Instruction, gear and safety equipment provided

Hotel pickup provided

What You Can Expect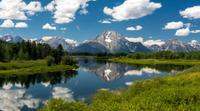 After pickup from your Jackson hotel, travel by coach 25 miles (40.23 km) to Wyoming's Snake River for some of the best whitewater rafting in the state. Board a larger or smaller raft — whichever you chose at the time of booking. Beginners are welcome on either but will have to paddle harder and will get wetter on the 8-person raft than on the bigger raft, which typically holds 10 to 14 people.

Your expert guide will make sure you have all your gear and safety equipment and will instruct you in how to sit in the raft and paddle and stroke down the river. As you travel 8 miles (13 km) down Snake River, you will paddle while your guide navigates the rapids. Learn important whitewater techniques including the eddy stop and ferry on your thrilling journey. Enjoy the ride as you encounter two of the biggest waves on the river, nicknamed Kahuna and Lunchcounter.

At the conclusion of your stimulating and scenic 3.5-hour tour, return to downtown Jackson.

16-Mile Whitewater Trip:
For 8 miles (13 km), float down the scenic section of the river, past osprey and bald eagle nesting spots. This is the calm portion where your guide points out different geological features and tells you stories about the area. Early morning is the best time to see wildlife like deer, elk and moose, so keep your eyes open!

Mid-morning, take a quick break at West Table on the bank of the river to get ready for the whitewater portion of your trip. This is when you'll begin your 8 miles of churning through rapids with names like Big Kahuna, Lunch Counter, Three Oar Deal, Ropes and Champagne. Listen to your guide tell you when and how to paddle to get through the exhilarating rapids safely.

After the whitewater section, take another break on the river to enjoy a deli lunch before being driven back to the original starting point.

21-mile Combo Trip (with bus ride between sections):
The first 13 miles (21 km) of scenic floating combine amazing views of the snow-capped Tetons with chances to spot local wildlife like moose drinking from the river or an osprey diving for fish. You'll also pass some of the best eagle-nesting sites in the continental US.

Listen to stories about the area and fun facts about the geological features of the river and the mountains from your guide as you make your way to South Park Bridge, where the first section of your trip ends. On dry land, take a short bus ride to West Table, where the whitewater portion begins.

Your exciting whitewater-rafting adventure takes you through 8 miles of rapids, including Big Kahuna, Lunch Counter, Three Oar Deal, Ropes and Champagne. At the end of the trip, enjoy a deli lunch on the bank of the river before being taken back to the original starting point.

See the Itinerary section below for details on the rapids and rafts.
Itinerary
Rapids, rafts and guides:
The rapids along the 8-mile portion of both tours are Class II-III (on a scale of I-VI) during normal water flow. Sometimes during the first weeks of June when water flow is heavier, rapids may go up to Class IV and the minimum age of participants may increase.

The standard raft holds between 10 and 16 people and is suitable for all levels of experience. If you want a front-row view of the rapids, sit in the front of the raft, or stay toward the back if you don't want to get quite as wet.

All river-rafting guides have completed a guide course that includes rigorous, hands-on river safety training. All guides are also schooled in river ecology and the local environment.
Advertisement
Advertisement