Embark on an exciting and therapeutic adventure with a visit to Arenal Volcano! Trek around the base of this very active crater, where you may be treated to a glimpse of sputtering smoke and lava. Unwind at one of the area's famous geothermal hot springs, where you can soak in pools of varying temperatures while surrounded by a lush tropical paradise. Hotel pickup and drop-off from Jaco plus breakfast and lunch are included on this full-day tour.
Highlights
Full day trip to Arenal volcano and hot springs
La Fortuna
Hotel pickup and dropoff
What You Can Expect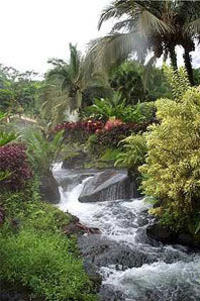 Discover what makes Arenal a favorite Costa Rican destination. After early morning pickup at your Jaco-area hotel, relax on the approximately 3.5-hour drive north to Arenal Volcano National Park. Breakfast will be provided along the way. Once you arrive at the park, take in breathtaking views of Arenal Volcano, which is one of the most active craters in the Western Hemisphere! Accompanied by your knowledgeable guide, explore the rocky lava beds and forested scenery at the base of the volcano.
Walk to viewing platforms for an unbeatable view of the peak, which reaches 5,436 feet (1,657 meters) above sea level. You may be able to see plumes of smoke and rivers of molten lava streaming from the active cauldron. Be assured that the volcano is carefully monitored for activity and trails are chosen for visitor safety.
After a lunch of typical Costa Rican cuisine, it's time to relax at one of the area's popular natural hot springs. Try out many geothermal pools of varying temperatures to find your favorite, and enjoy the beautiful tropical surroundings. From secluded pools to cascading waterfalls, soak up the restorative properties of volcanic mineral water and take in views of the sputtering volcano in the distance.
After several hours at the spa, bask in your newfound bliss on the return drive to Jaco, where you'll be dropped off back at your hotel in the evening.
January 2014
This tour was excellent! Be aware that it is about 4 hours to get there and another 4 back, and it's a winding ride (definitely not a good choice for those with motion sickness). The tour guide and driver were absolutely awesome. They were happy to answer any questions we had about Costa Rican culture, vegetation, economy, local festivals, and etc. The Baldi hot springs were amazing, and we had a good 4 hours to try out each of the beautifully landscaped pools ranging from cool to steamy warm.
January 2014
Wow! It is very difficult to put into words the experience we had at Arenal Volcano and Hot Springs. Anyone Visiting Costa Rica this a place to visit. Viator is the company to go with. Their drivers and guides go out of their way to make you feel comfortable and to explain the history and culture. Just what we were looking for, amazing! I HIGHLY RECOMMEND VIATOR
June 2012
The hot springs were amazing. The scenery was beautiful. It was like an escape to paradise.
Andrew L USA
July 2010
The resort where we spent the day in the hot springs was nice. It was fairly crowded, yet the scenery of the hot springs and beautiful flowers was wonderful and we had a nice, relaxing day there. The meals were also great. Our guide was extremely knowledgeable and made the drive to the volcano very nice, it was a complete tour of Costa Rica!
J.J. Canada
March 2014
It was interesting to discover the 5 stars hotel and spa for testing the hot spring! Nice moments of relaxation!!! But to be in a car 8 hours and never have a explanation about the places seen on the window, or history or culture about the country was rather disappointing. The guide was not able to have a discussion in English or Spanish and never was able to answer our questions about the region we visit!!!! The atitude was so strange, he told us at the bigining of the day that he is tired but he is happy to do this job beacause he can eat at 5 stars restaurant with tourists like us??!!!!! We saw the Arenal from far....The guide ask more money if we want to see a water fall who was 5 km further...we refused this "offer", but it was so strage,we've already payed a lot for this trip!
Advertisement
Advertisement