Prepare for an unforgettable experience as you join one of the most popular tours in Costa Rica. From Central Pacific, you'll explore two of Costa Rica's most visited attractions, the Arenal Volcano and natural hot springs nearby, you'll mix adrenaline with relaxation on this full-day Central American tour.
Highlights
Full day trip to Arenal volcano and hot springs
La Fortuna
Hotel pickup and dropoff
What You Can Expect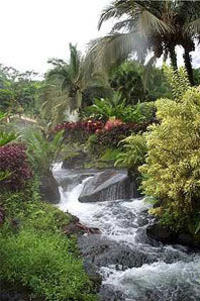 On your way to Arenal Volcano, you will travel through the picturesque town of La Fortuna.

Costa Rica's most active volcano periodically erupts, rumbling as it sends clouds of smoke and ash into the sky. You may have the chance to witness a small eruption, causing red lava to pour down the mountain as you unwind in the Baldi hot springs.
Return to your hotel after a day filled with excitement and tranquility, leaving you with an experience of a lifetime!
January 2014
This tour was excellent! Be aware that it is about 4 hours to get there and another 4 back, and it's a winding ride (definitely not a good choice for those with motion sickness). The tour guide and driver were absolutely awesome. They were happy to answer any questions we had about Costa Rican culture, vegetation, economy, local festivals, and etc. The Baldi hot springs were amazing, and we had a good 4 hours to try out each of the beautifully landscaped pools ranging from cool to steamy warm.
January 2014
Wow! It is very difficult to put into words the experience we had at Arenal Volcano and Hot Springs. Anyone Visiting Costa Rica this a place to visit. Viator is the company to go with. Their drivers and guides go out of their way to make you feel comfortable and to explain the history and culture. Just what we were looking for, amazing! I HIGHLY RECOMMEND VIATOR
June 2012
The hot springs were amazing. The scenery was beautiful. It was like an escape to paradise.
July 2010
The resort where we spent the day in the hot springs was nice. It was fairly crowded, yet the scenery of the hot springs and beautiful flowers was wonderful and we had a nice, relaxing day there. The meals were also great. Our guide was extremely knowledgeable and made the drive to the volcano very nice, it was a complete tour of Costa Rica!
March 2014
It was interesting to discover the 5 stars hotel and spa for testing the hot spring! Nice moments of relaxation!!! But to be in a car 8 hours and never have a explanation about the places seen on the window, or history or culture about the country was rather disappointing. The guide was not able to have a discussion in English or Spanish and never was able to answer our questions about the region we visit!!!! The atitude was so strange, he told us at the bigining of the day that he is tired but he is happy to do this job beacause he can eat at 5 stars restaurant with tourists like us??!!!!! We saw the Arenal from far....The guide ask more money if we want to see a water fall who was 5 km further...we refused this "offer", but it was so strage,we've already payed a lot for this trip!
Advertisement
Advertisement