Spend a day exploring one of Costa Rica's most beautiful attractions - Manuel Antonio National Park on a full day guided tour from Central Pacific. With a stunning combination of beach, tropical forest and an abundance of flora and fauna, there is plenty to do and see on this popular day trip.
Highlights
Full day visit to Manuel Antonio National Park
Beautiful coastline drive with photographic scenery
Beach, sunbathing and nature walks
Various species of wildlife
Cathedral Point
Hotel pickup and dropoff
What You Can Expect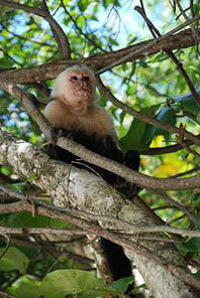 Manuel Antonio National Park is considered one of the most beautiful areas in Costa Rica. It combines a beach of crystal-clear waters with coral reefs, bordered by exuberant tropical vegetation and rainforest. Its beaches are counted among the best of the country, where snorkeling and the surfing are very popular.

On the way to Manuel Antonio National Park, you will cruise along the coastline enjoying scenic views and crossing plantations of African palms. You'll also travel past photogenic villages along the Pacific Coast, until you reach the port of Quepos and the National Park.
Since the park itself is closed to vehicles, you will hike to the preserve, crossing a creek. Once in the park, you can simply relax and enjoy the beach, sunbathe or join a nature walk along the park's trails, which will allow you to observe the park's abundant flora and fauna. In particular, several species of monkeys, iguanas, birds and possibly even the three-toed sloth can be seen. One of the trails borders Cathedral Point, from where the view of the park and the sea is spectacular.
Enjoy the perfect sunset on a scenic drive back to your Costa Rica hotel.
July 2013
If you want to see the national park and enjoy free time on the beach this is the tour for you. Our tour guy was very informative on all the animals we saw. The walk in the rain forest took an 1 hr. The walk is very easy to do. After day we had almost 3 hours to enjoy the private beaches.
October 2015
Great tour, but a long day. The hike through the park was not for the faint hearted, but I thoroughly enjoyed it and was pleased I opted for that option. We still had over an hour at the beach after the hike, but those who went straight to the beach had over 3 hours there. Lunch was good too.
March 2014
A very nice trip!! We saw a lot of animals and birds. The beach is wonderful. A lot of people with kids visit this park, but if you are lucky to be in a small group with the guide, you can see a lot....
June 2013
We loved the park and such great, great beaches. Don't go to Costa Rico with out seeing this park, but if you have a rental car, I would definitely do the park by ourselves! And you would see everything seen by people on tours. It took 2 to 3 hours longer than it should have taken for our group -- due to very slow walking pace (because guide had everyone look in his telescope for this and that). Then one couple on our tour wanted the group to be picked up an hour later than scheduled -- I wish I had objected! The tour bus picked us up 2 1/2 hours after the original time schedule! The lunch they include could be done on your own in the same nearby town. Everyone of us were weary and falling asleep waiting for the bus.
Advertisement
Advertisement