Tour code:
5353JAIPVTELEP
Get a true taste of India on this Jaipur private tour, which includes stops at architecturaland cultural destinations like the Amber Fort and City Palace that define the city. Experience the thrill of riding an elephant and make a stop at the UNESCO World-Heritage-listed Jantar Mantar. Keep hunger at bay with a traditional Indian lunch. Travel in the comfort of your own air-conditioned vehicle and spend enough time at each stop to take in all of the wonder.
Highlights
Full-day private sightseeing tour of Jaipur

Visit Jantar Mantar, a UNESCO World Heritage-listed astronomical observatory
Marvel at the architectural masterpieces of Amber Fort, Hawa Mahal and City Palace

Enjoy the one-of-a-kind cultural experience of riding an elephant!

Explore a bazaar and enjoy an authentic Indian lunch at a local restaurant

Hotel pickup and drop-off by private, air-conditioned vehicle included

What You Can Expect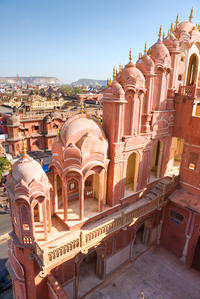 Meet your friendly guide in your Jaipur hotel lobby and head out in your private, air-conditioned vehicle to explore the magic of Jaipur. Travel atop a friendly elephant from the bottom of the hill at Maota Lake to the famed Amber Fort, where you'll follow your guide on an informative tour through the historic site.
Hit all the highlights, including the chamber of mirrors known as Jai Mandir, the Shila Devi Temple and the two monuments known as the Hall of Public and Private Audience. Take in the epic views of Jal Mahal, a castle at the center of Man Sarag Lake, before traveling by jeep back to your private vehicle.
Continue on your tour of the 'Pink City' with stops at Jantar Mantar, a UNESCO World Heritage-listed astronomical observatory. Explore iconic City Palace, Chandra Mahal and Mubarak Mahal palaces as part of this private Jaipur sightseeing tour.
Capture the breathtaking beautify of Hawa Mahal—the Palace of the winds—before combing through the stalls of Bapu Bazaar, where you'll find unique handmade items like mojari—handcrafted footwear that's popular among tourists.
Spend as much time as needed at each site—anywhere from 30 minutes to 1.5 hours—and enjoy a traditional Indian lunch at a local restaurant between stops. Return in air-conditioned comfort to your Jaipur hotel at the end of the this truly memorable day of exploring India's 'Pink City'.
April 2016
Excellent... All went according to plan, pick up / drop off all as advised. Our guide, Umesh Kumar Sharma was fantastic. REALLY genuinely nice guy that took so much care and interest in our family. I could not rate this highly enough...

Robert United Kingdom
December 2014
Full on day tour.. Straight to the fort to do the elephant ride and to avoid a long wait. Take good walking shoes though ! Lunch was buffet style at the Holiday Inn and fine. Inevitably you get taken to a jewellery shop and after lunch a textile shop .. Annoying but a fact of Indian life!
KJCh Poland
October 2014
Bardzo fajna i ciekawa wycieczka, przewodnik w porządku. Polecam
March 2013
The sights were great and the guide gave us an excellent tour
June 2015
The tour itself was amazing and enjoyed every minute, the guide although knowledgeable he rushed through it a little and we were not given time to do any shopping at the bazaar, we had to walk through and only look.
October 2014
the tour was very informative and I would recommend it over just going on your own and doing the walking tour at each site. I can say however you could hire some one locally to provide you a tour and cab ride for less money, we hired a cab and guide for the whole day the next day,for only thirty US dollars.
I also recommend you tell the tour operator up front if you don want to be taken to any of the sites where they will sell you stuff. They will push for it but if you are insistent they will not waste your time with those type side trips.
January 2014
We had a great time, the guides were well versed on the history and they went out of there way to ensure we had a great time, the one thing we all didnt like was the fact they tried to get us to go to places such as inlay stone factory, textile warehouses, gem stone factorys, waste of time, very expensive, hard sell, then not happy when we didnt buy stuff, not impressed, if we wanted to go to places like that we would ask for it, it isnt in the itinerary either.
Sarnata R USA
December 2013
The tour was thorough and the guide was well informed. He explained in detail all the interesting facts about the sights we seen. We enjoyed and were very happy with the tour and guide but we told our guide often that we did not want to be taken to jewellers, ceramic or carpet manufacturers because at our age we do not need more of those items. I asked to be taken to a store that sells ready made sarees but he took us to a store that demonstrates carpet making as well as fabric and ceramic demonstrations. He wasted our time, the demonstraters time and the tour time. We did buy some things that we didn't want and it spoiled the tour for us and I believe these forced demonstrations spoil the tour for many other tourists also.
October 2013
I had a great guide - Sunil. He really made the tour quite enjoyable.
November 2013
The elephant ride was definitely worth the long line. The guide was very knowledgeable about the Amber Fort and Jantar Mantar. However, we did not actually tour the City Palace, which was listed on the Viator itinerary. The guide instead took us to a local handicrafts co-op (total tourist trap). Both my father and I ended up getting sick after eating the provided lunch. Further, after confirming the tour via email, the local tour company called our hotel at nearly 11pm to confirm. A call that late was not appreciated!
Overall, the sites we did see were great and the guide was friendly and informative. However, the tour provided was different than the itinerary listed on Viator.
Advertisement
Advertisement