Be captivated by the Columbia Icefields view Glacier-fed rivers and streams, majestic peaks, peaceful lakes and broad-reaching valleys combine to create not only a harmonious blend of scenic wonders for you, but also a protected habitat for Canadian Rockies wildlife. Return to Jasper late in the afternoon, and reminisce about today's alpine experience!
What You Can Expect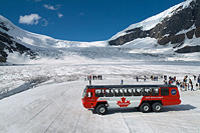 This full day excursion follows the famous Icefields Parkway to the Columbia Icefield Centre. View scenic rocky mountain vistas and local wildlife along the way, with a photo stop at Athabasca Falls. Upon arrival at the Columbia Icefield, ride the Ice Explorer onto the Athabasca glacier. The connection back to Jasper will depart at approximately 1:30pm.
This tour is seasonal and only operates from May through to October.
July 2013
Sundog was not doing a tour the day we were going they were so nice and called Brewsters and made arrangements for them to take us our tour guide was Mike he was very good
July 2012
Misunderstanding on the pickup point meant the day didn't start well but thanks to Mike and Michelle from Brewsters, we caught up with our tour at the Athabasca waterfall. Fantastic weather meant that the parkway was absolutely stunning. Arrived at Brewster Icefield Centre which was busy but well maintained. Choice of food and beverages good. You have to take a transfer coach from the centre to a staging point to board a Snow Coach (about 10 minutes) - take warm clothes as glaciere is cool even on sunny days! Journey on Snow Coach is amazing as is the purported cost of $1,200,000 each! Once you get to the glaciere terminus, you can't even see the Brewset Centre but the views are tremendous. We where the only customers returning to Jasper so once again, Brewsters came up trumps by providing us with our own personal minibus transfer - the driver went out of his way to make sure we saw plenty of widlife on the trip back.
Advertisement
Advertisement