Take an outdoor-lover's odyssey along Alberta's famous Columbia Icefields Parkway, stopping to enjoy incredible scenery and a ride on the Athabasca glacier, during this 5.5-hour excursion from Jasper. Drive along this incredible roadway, set among two incredible national parks, admiring glacier-fed streams, iconic mountains and local wildlife as you go. Then make a stop for a ride aboard the all-terrain Ice Explorer on the surface of the Athabasca glacier. This Columbia Icefields excursion also includes admission to the Glacier Skywalk attraction, buffet lunch and round-trip transport from select hotels in Jasper.
What You Can Expect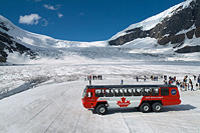 Sample all that the Canadian Rockies have to offer as you travel along the province's majestic Icefields Parkway, stopping to admire the incredible natural scenery, drive on top of a glacier and admire local wildlife. It's a great way to get a taste for this area's many stunning natural wonders.
Begin your day with pickup from select Jasper hotels. Check with your tour operator for the exact pickup schedule. Then continue on a scenic drive by comfortable coach, the road set among the majestic scenery of Alberta. Along the way you'll make a number of stops for sightseeing, including at the picturesque Athabasca Falls, the Glacier Skywalk and at the Columbia Icefield Centre. You'll also have time stop for a tasty hot buffet lunch.
Finish your day with a ride aboard the all-terrain Ice Explorer, which will take you out onto the surface of the majestic Athabasca glacier, admiring the icy surface dotted with thick patches of snow and shimmering ice formations.
After your Ice Explorer ride, you'll head back to connect with your ride back to your hotel in Jasper.
Please note: this tour is seasonal and only runs April through October
October 2015
It was an amazing tour - even though I wasn't so lucky with the weather - The guide was very nice and competent. For me, it was a great opportunity to see the countryside, get around easily, and learn a lot about the area. Many thanks for enriching my Canada experiences!

Paul W Canada
July 2015
This was awesome! The bus driver was very knowledgeable about the area and history, it was very organized and we didn't feel rushed at all. Both the ice fields and the skywalk we great as well. We would highly recommend it
June 2015
We had an excellent tour guide -Alistair?,who gave us lots of information and his instructions were very clear. Impressive! Thank you
July 2013
Sundog was not doing a tour the day we were going they were so nice and called Brewsters and made arrangements for them to take us our tour guide was Mike he was very good
July 2012
Misunderstanding on the pickup point meant the day didn't start well but thanks to Mike and Michelle from Brewsters, we caught up with our tour at the Athabasca waterfall. Fantastic weather meant that the parkway was absolutely stunning. Arrived at Brewster Icefield Centre which was busy but well maintained. Choice of food and beverages good. You have to take a transfer coach from the centre to a staging point to board a Snow Coach (about 10 minutes) - take warm clothes as glaciere is cool even on sunny days! Journey on Snow Coach is amazing as is the purported cost of $1,200,000 each! Once you get to the glaciere terminus, you can't even see the Brewset Centre but the views are tremendous. We where the only customers returning to Jasper so once again, Brewsters came up trumps by providing us with our own personal minibus transfer - the driver went out of his way to make sure we saw plenty of widlife on the trip back.
Anna D United Kingdom
July 2010
A brilliant day out, got to see the sights, enjoy the glaciers and even experienced a snow storm whilst on top of the glaciers! Would highly recommend for all those who want to see a different side to the Rockies! Wrap up warm!
Anonymous
July 2010
Four of us waited outside our hotel for the bus to pick us up on time. The bus was very comfortable with ample room. At Athabasca Falls we were allowed some time to explore the canyon and photograph the falls. We stopped when it was safe to view a bear feeding beside the road. We were delivered to the Icefields Centre and were given clear instructions on what time and where our next bus would be leaving from. It is a very busy place and we were treated well. Our next diver told us a lot about the icefields. Once at the icefields we had to board the Ice Explorer to take us onto the glacier itself. We had plenty of time to experience this wonder. Then it was back to the Icefields Center, where we had more time to visit the interpretive centre and eat lunch before boarding the bus to return to our hotel. We were lucky enough to see another bear so we stopped for more photos. The whole experience was well worth the money. Thank you to all those involved.
September 2015
I loved this trip. We had a great day and the weather was beautiful. The stop at Athabasca Falls was really special, then to go out on the Columbia Icefield on the arctic tractor was fun. What an Experience! The skywalk was a wonderful way to feel part of the environment. Then it snowed.... As an Australian, the snow experience was an added extra.
Great day
September 2015
Great day..enjoyed this tour...
September 2015
nice tour with the most famous spots, but time is a bit limited.
Advertisement
Advertisement