Be captivated by the Columbia Icefields view Glacier-fed rivers and streams, majestic peaks, peaceful lakes and broad-reaching valleys combine to create not only a harmonious blend of scenic wonders for you, but also a protected habitat for Canadian Rockies wildlife. Return to Jasper late in the afternoon, and reminisce about today's alpine experience!
What You Can Expect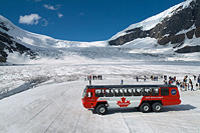 This full day excursion follows the famous Icefields Parkway to the Columbia Icefield Centre. View scenic rocky mountain vistas and local wildlife along the way, with a photo stop at Athabasca Falls. Upon arrival at the Columbia Icefield, ride the Ice Explorer onto the Athabasca glacier. The connection back to Jasper will depart at approximately 1:30pm.
This tour is seasonal and only operates from May through to October.
June 2015
We had an excellent tour guide -Alistair?,who gave us lots of information and his instructions were very clear. Impressive! Thank you
July 2013
Sundog was not doing a tour the day we were going they were so nice and called Brewsters and made arrangements for them to take us our tour guide was Mike he was very good
Advertisement
Advertisement