Experience the most incredible sights in Jasper National Park's Maligne Valley during this 6-hour guided excursion to the region's most scenic lakes and majestic canyons. Check out Medicine Lake, Maligne Canyon and Maligne Lake during your trip, keeping your eyes out for area wildlife, and learning about the unique natural history (and more recent human settlement) of the Canadian Rockies. Over the course of the day you'll also get to enjoy short walks through the beautiful scenery, and choose between a boat ride or guided hike at Maligne Lake. Your Maligne Valley trip also includes round-trip transport from your Jasper hotel.
Highlights
6-hour tour of Maligne Valley, from Jasper

See the stunning limestone gorge and waterfalls in Maligne Canyon
Find out from your expert guide why the Medicine Lake appears to vanish every year

Choose from a boat cruise on Maligne Lake to Spirit Island or a guided hike along the lakeshore and forest trails
Look for abundant wildlife in Jasper National Park, including bears, caribou, wolves, and bighorn sheep
Enjoy several stops for short walks to stunning viewpoints and photo ops
What You Can Expect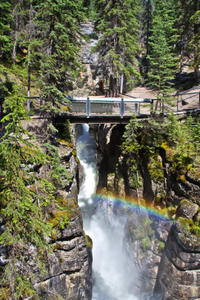 Discover some of the most spectacular scenery in the Canadian Rockies, enjoying fun hikes and wildlife spotting on the way, during this 6-hour excursion to the Maligne Valley in Jasper National Park. This spectacular national park offers a jaw-dropping range of natural scenery that has to be seen to be believed.
Start with a pickup from your Jasper hotel in the morning, traveling by air-conditioned coach with your guide into the beautiful surroundings of Jasper National Park. Make your visit stop of the day at Maligne Canyon, proceeding on an easy walk over two bridges that traverse 165-foot (50-meter) deep gorge etched into the area's limestone. Admire the incredible views as cascades of water pour into the canyon, and join your guide for a short explanation of the area's wildlife and geology.
Board your coach and drive next to Medicine Lake, tracing the path of a scenic highway as it snakes through the nearby forests and mountains. Arrive at this beautiful alpine body of water, learning about its mysterious "disappearance" every summer, which is caused by the water's retreat into an extensive network of underground karsts (among the biggest in the world).
Continue from Medicine Lake on to your next stop to Maligne Lake, taking time on its shores to enjoy a boat ride to the postcard-perfect Spirit Island or a nature walk for 2 miles (3.2 kilometers) along an easy trail. Those who select the hike will trace the Mary Schaffer Loop trail, proceeding along the banks of Maligne Lake with a gorgeous lookout. The site offers a variety of benches and interpretive signage, allowing you to take a rest before continuing back to your starting point.
Those on the boat cruise will climb aboard their vessel, complete with enclosed cabin and extra-large viewing windows, as they travel across this incredibly scenic body of water. Make a brief landing at the pine-tree covered Spirit Island, enjoying a chance to take a few photos and wander around before returning to the boat and back to shore.
As you proceed through the course of your day's activities, listen to interesting commentary about the human and natural history of the region. You'll also want to keep your eyes peeled for the abundant wildlife known to frequent the area, which includes caribou, wolves, deer, bear, bald eagles, osprey, bighorn sheep and moose.
Finish your day's activity with a drop-off back at your Jasper hotel.
June 2016
Absolutely breathtaking. The tour itself takes in some amazing sights. Well worth the money. Our tour guide was a real treasure. She was very knowledgeable about the Jasper region. You could tell that she really had a passion for Jasper, and was not simply spouting off lines from a script. Definitely pleased.
December 2015
The tour guides were most informative and very knowledgeable. Photos do not really capture how beautiful Spirit Island and Medicine Lake are, they are both breathtaking. It is a trip that will be remembered for a very long time. Our friends and family are enjoying the photos we were able to capture. It is truly one of the highlights of my life.
October 2015
Loved it. Nice guide. Pick up at hotel and drop off a real convenience. Had a spot of bother printing up the ticket off email as I am on hotmail and as I was not in my home I was barred access to my account. Perhaps you could put in place something to help people like me who get stuck. I cant remember how we got the ticket printed up but I do remember it was one hell of a mission.
October 2015
September 2015
We were picked up on time and had a brilliant day. Our guide Fred was hugely knowledgeable and we thoroughly enjoyed the boat trip.
September 2015
September 2015
Highly recommend this tour, the sights are fabulous
September 2015
This was a once in a lifetime tour for our family. Our tour guide, Fred, was most interesting and gave us the history and facts along each stop which made the trip even more memorable. The scenery is not to be believed and the courtesy and care we were given was wonderful. Thank you for a great day in Jasper National Park!

August 2015
Our guide Kevin was excellent and the overall support from the group at Sundogs Tour was great. The Boat trip to Spirit Island was awesome and should not be missed. I would recommend dropping the hike option on that tour.
July 2015
We loved the tour, the bus was there on time to pick us up at the Hotel, the tour guide on the bus was excellent as well as the guide on the cruise to Spirit Island. We enjoyed every minute.
Advertisement
Advertisement