10 Reviews
Location:

Jerusalem, Israel

Duration:

2 days

(approx.)
Indulge both body and soul on the 2-Day Best of Israel Tour. After an action-packed day exploring the ancient biblical cities of Jerusalem and Bethlehem, spend your second day relaxing and taking in the sights at Masada before a spot of Dead Sea pampering.
Highlights
2-Day Best of Israel Tour

Professionally guided tours of Old Jerusalem and Bethlehem
Garden of Gethsemane and Western Wall

Enjoy views of the Dome of the Rock - an iconic Jerusalem landmark

Cable-car ride to Masada
Dead Sea Scrolls at Qumran
Relaxing visit to the Dead Sea
Hotel pick-up and drop-off
What You Can Expect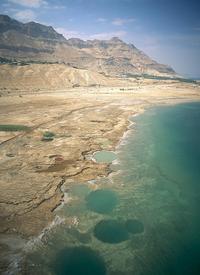 Highlights of your 2-Day Best of Israel tour includes full-day guided tours to the Old City of Jerusalem and Bethlehem, where you will see attractions such as the Garden of Gethsemane, the Dome of the Rock (for external views), Western Wall (Wailing Wall), the Via Dolorosa (Stations of the Cross), Manger Square and the Milk Grotto.

Visit Masada by cable-car, and see the ruins of King Herod's mansion, followed by an overview of the Dead Sea Scrolls at the Qumran caves. The tour concludes at the Dead Sea, where you will have time to relax on the mineral beach and float in the salt-rich sea before heading back to Jerusalem.
Itinerary
Day 1
Departing from Jerusalem in your air-conditioned coach, stop at the Mount of Olives for scenic views of the Dome of the Rock at the Temple Mount Esplanade in Old Jerusalem.
Pass the Garden of Gethsemane before continuing into the Old City. See the famous Western Wall (Wailing Wall) which functions as an open-air synagogue, before walking the pilgrimage route of the Via Dolorosa. Look out for the 14 Stations of the Cross as you trace Jesus' steps to the site of his crucifixion at the Church of the Holy Sepulchre.
A short 6-mile coach journey takes you to Bethlehem, where you will see the Manger Square - flanked by the Church of the Nativity and also the Mosque of Oman. From here you will go on to explore the Milk Grotto (where Mary was said to feed the baby Jesus) before visiting the Shepherd Fields where the 'shepherds watched their flocks by night'. You will then be driven to your overnight accommodation at the following hotel (or one of a similiar tourist grade standard):
Park Plaza Hotel, Jerusalem
Day 2
After breakfast the next morning, you wil set off through the Judean desert before arriving at the cable car which will take you to the mountaintop site of Masada. It was here that King Herod built two fortified palaces over 2,000 years ago.
Continue to the Dead Sea past the Ein Gedi oasis to the ancient caves of Qumran where you will see the fabled Dead Sea Scrolls.
Final stop is the Dead Sea, where you'll have approximately two hours to relax on the mineral beach and opportunity to float in the salt-rich water, 400m (1,312 ft) below sea level! Don't miss the chance to have a mud bath in the world's richest source of natural salts.
The drive back to Jerusalem and see the ancient city of Jericho, referred to in the Hebrew Bible as the 'City of Palm Trees' from the distance, before your multi-day tour concludes in the early evening.
March 2015
Masada and the Dead Sea were stunning and our tour guide was knowledgeable, classy, and experienced. She did a great job bringing it all together.
As for Jerusalem, unbelievable tour guide Amir Call Or. His charisma, sense of humor and vast amounts of knowledge were humbling and enriching at the same time. He helped me realize how much more there is to see about this amazing country where so much of world's history was made. I highly recommend the tour, which while fast paced you can't pretend to cover a good amount of Jerusalem in a day without unfortunately having to rush, and a tour guide that runs a tight ship, it gives you a great tease/taste of such a historical city. And Amir made it so much more interesting and stimulating.
February 2014
It was absolutely fantastic, guides were great and tour small enough to enjoy with the guide, would recommend to anyone, and will probably use them again for a different tour of Israel
August 2013
We had a great time, tour guide were nice, overall a great experience !
June 2015
The tour was fun and tour guides we very knowledgable. I felt that there could have been clearer information as to pick up and choice / location of overnight hotel.
July 2014
Day One tour of Jerusalem and Bethlehem was great with excellent guides in both places.
Day Two going to Masada and the Dead Sea was interesting but the tour leader was poor! She catered
to the Spanish speaking people, which only made up 1/4 of the bus. The worst part was that in the
Cable car she pushed one of our group aside to make room for one of her Spanish friends. My opinion
Is that she is not fit to lead tours.
October 2012
The tour of the Old City, Masada and Bethlehem were great. Our tour guide with Bein Harim (his name is Aharon Yahav) did a fantastic job. HOWEVER, I sent a email to support@viator.com on October 8 (enquiry #4082080) and a follow up email on October 13 (enquiry # 4092121) about an issue that needs to be resolved. You can call me at 480-239-6721. Thank you, Jeffrey Sloan
June 2014
Tour guides seemed knowledgeable but were trying to make us but from the stores they got some sort of kick back from
August 2013
Good tour of Jerusalem. Well balanced with Old City and the other sites (Masada, Dead Sea). Really enjoyed the Old City experience, Masada was incredible, and Dead Sea was great to float around in. Not as much to see in Bethlehem. This was my least favorite portion. Tour guides were good. Only downside was the hotel which was very poor quality. Would recommend booking on your own.
June 2013
Our tour guide to Old Jerusalem lost 2 people at our first stop. He told them to meet us at a place in 15 minutes. Then he stood right where he was and talked for 20 minutes. He would go very long distances and/or leave without checking to make sure we were all with him. The lost ones eventually caught up with us, but it was not due to the guide's efforts....he seemed quite disinterested in their well being. Overall, the Bien Harim morning was pretty disorganized and chaotic.
May 2011
Many parts were fabulous-Jerusalem with the Wailing Wall etc, and the trip to the Dead Sea and Masada.--and a great guide-Osi
However we were promised a visit to the Milk Grotto and Shepherds Fields and only went to the Church of the Nativity and a gift shop! We stood in line for over an hour in the church and this time could have been used for touring. This was very disappointing. I asked our guide and he assured me that extra places were only included in the morning tour.
I signed up and paid for everything. I am not sure I will use you again
Advertisement
Advertisement