Enjoy a therapeutic swim to rejuvenate the mind and body on this guided, full-day Dead Sea Spa and Wellness trip from Jerusalem. Feel and look years younger after applying mineral-rich black mud and floating or swimming in the ultra-salty lake water. It's an experience unlike any other in the world. Additional natural wellness and massage treatments are also available for a fee. Transport from Jerusalem hotels included.

Highlights
Relaxing day trip from Jerusalem to the Dead Sea
Float on the salt-rich Dead Sea water
Experience the therapeutic qualities of the Dead Sea mud
Indulge in wellness treatments for an additional cost
Transport by air-conditioned coach
Hotel pick-up and drop-off
Recent Photos of This Tour
Dead Sea Spa and Wellness Trip from Jerusalem
What You Can Expect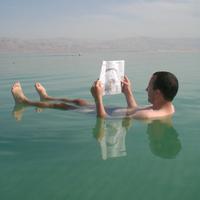 This relaxing, full-day (10 hours) spa tour begins with a Jerusalem hotel pickup in an air-conditioned coach. Travel from Jerusalem, through the wilderness of the Judean Desert, to the Dead Sea.

Make a brief stop at the roadside 'sea level' marker where the city of Jericho, the oldest city in the world, can be seen from a distance.

Upon arrival, change into a swimsuit and head to the Dead Sea. At 1,312 feet (400 meters) below sea level, this is the lowest place on earth. In fact, it's so low that any cancerous sun rays are filtered out. After applying a covering of mineral-rich black mud, wash it off in a sulphur pool. Then, it's time for a therapeutic swim or float in the Dead Sea. The salt level here is almost 35 percent, so those who can't swim can easily float.

After your rejuvenating treatment, see the mountains of Moab along the eastern shore of the Dead Sea reflecting off the water. Also, witness the roadside caves of Qumran on the northwest shore where the Dead Sea Scrolls were discovered.

Additional natural wellness and massage treatments will be available for purchase throughout the day.

August 2014
Wonderful, Masada very interesting I was worried my 80 yr old mother wouldn't be able to climb up but the guide was very considerate and she really enjoyed it. The dead sea is something I am glad I have experienced.
June 2014
January 2013
November 2013
This time guide was a lot better than on trip on October 12. But still I think we spend to much time in Ahava factory that we went just to shop almost 2 hours. This time could be spent on the beach or in Masada. Because of that time at mineral beach was cut short 30 minutes by the guide.

lazycat Italy
June 2013
everything was as I imagined. Great day!
November 2013
It was the nice trip. Guide was not as good as I wish it would be. Also trip to Ahava factory is too long we spend there 1 hour and another 30 minutes in the bus just to wait for the people to come back from shopping.
March 2014
Nothing special. It is not a spa; just a day at the beach. No one is available to assist. Just a place to buy souvenirs.
October 2012
I am very disappointed with our tour of the Dead Sea, which I booked through Viator. The tour took place on Saturday, October 20th.
To start, I was told via email when I confirmed our reservation that our pick up from Dan Panorama Hotel would be at 8am. When no one showed up, I called and was told this was a mistake--that Jerusalem pick ups started at 8:30am. At 8:45am, we were picked up and brought to Mount Scopus hotel, and told to wait in the lobby. It was completely confusing--I had no idea that we would be brought to a separate location. I called you again, and was told that our guide would come in to the lobby at Mount Scopus Hotel and call us by name when our tour bus was ready.
Instead, our tour guide (Elia was her name, if I remember correctly) came in and yelled "Dead Sea/Masada!". Since we booked for the Dead Sea "wellness" trip, I did not think this referred to my mom and I, but after a while, we were two of the few people left in the lobby, so I went to her to ask. Turns out that she had my mother's name on her list--not mine, even though I was the primary traveler---and that we were supposed to go on her bus. She never came into the lobby to call us by name, nor did she say "Dead Sea only" until I had already gone up to her to ask if her group was the one my mom and I were supposed to travel with. It was a very frustrating and disorganized start to the day.
After stopping at Sea Level, we visited the Ahava factory--another unexpected part of the trip. When we finally made it to the Dead Sea at Mineral Beach (until that point I had no idea where at the Dead Sea we would be heading), I finally started to relax and enjoy myself. My mom and I were ready to board the bus again at 4pm, because Elia told us that's when we would depart, but instead she found us at 3:45pm and said that the rest of the group who had gone on to Masada had come back late and that we would leave at 4:45pm instead. In reality, we left a half hour later than that, and 5:15pm.
At this point I was frustrated because I felt the Tour Operator (and/or Viator, with whom I made my booking) should have told me that the initial pick up would take us to Mount Scopus, where we would have to wait; our group would be included with a group going to Masada as well, instead of just the Dead Sea as I had booked; the tour would stop at Ahava; the Dead Sea portion would be at Mineral Beach, while the rest of the tour went to Masada; there would be a risk of a late return to Jerusalem if the Masada group got delayed, etc etc. None of these elements of the tour were communicated ahead of time.
All of that was annoying, but as my mother and I are part Palestinian, I was outraged and deeply offended when Elia, our tour guide, told our group how Arabs were responsible for all of Israel's problems, and how "anti-Israelism" is a politically correct front for anti-Semitism, how we shouldn't believe what we read in media about Israel because it doesn't reflect reality, etc etc. She is certainly entitled to her opinion, but I thought that was very inappropriate and highly unprofessional to introduce her own personal views--completely unprompted--to a tour group.
I will never use your tour company again after such a poor performance. I am very disappointed.
Advertisement
Advertisement