Gain a better understanding of the conflict between Israel and Palestine on this dual-guided, full-day tour of Hebron in the West Bank. The city is divided into two sectors: one is controlled by the Palestinian National Authority and the other by Israel. Explore both, first with an Israeli-Jewish guide, then with a Palestinian guide. Learn about the struggles in this Middle Eastern city. Visit the Tomb of the Patriarchs, the world's most ancient Jewish site, explore various neighborhoods, speak with locals and enjoy lunch at a Palestinian family's home.
Highlights
Full-day Hebron tour from Jerusalem
Tour the Israeli and Palestinian sectors of Hebron, a major holy city in the West Bank
Hear both sides of Israeli–Palestinian conflict from two guides, an Israeli Jew and a Palestinian
Visit the major Jewish and Islamic sites including the Tomb of the Patriarchs
Speak with local residents and shop owners living in this divided city
Why Our Insiders Chose This Tour
We are sensitive to the issues and concerns that surround this topic, and we understand that this tour may not be suitable for everyone. We strongly believe that the purpose of this tour is to educate people on the Israeli-Palestinian conflict with firsthand knowledge from the local guides.
What You Can Expect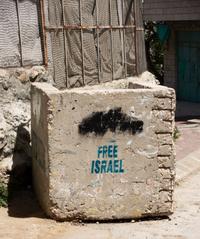 Jewish and Arabic national movements have struggled to gain authority for their people in this region of the Middle East for many years. Hebron's population is split between Palestinians and Israelis that live in two separate sectors: H1, which is controlled by the Palestine National Authority and H2, by Israel.

Your tour into this region begins with meeting your guide, who takes you on public transport for about two hours to the city of Hebron, located in the heart of the Judean mountains.

Start on the Israeli side of Hebron with an Israeli-Jewish guide who will speak of the variety of tensions that exist from his people's perspective. Take a bulletproof bus to the Tomb of the Patriarchs, the world's most ancient Jewish site and the second holiest place for the Jewish people, after Temple Mount in Jerusalem. Explore Jewish settlements and visit landmarks like Tel Rumeida, an agricultural and residential area believed to be the location of biblical Hebron and others.

Then, travel into the H1 sector to meet with a Palestinian guide for the second half of the tour. Enjoy an optional lunch at a Palestinian family's home followed by a tour of the main part of the city. Talk with local residents about the difficulties of living in this volatile region and visit the Muslim side of the Tomb of the Patriarchs, also known as the Ibrahimi Mosque.

Your full-day (11 hour) tour concludes here with transportation back to Jerusalem.
Advertisement
Advertisement