Special Offer
Book this Jerusalem Super Saver and save 12% compared to booking the two tours separately
Save by booking two popular day tours and experience the best of Jerusalem, Bethlehem and the City of David. See the top sites in Jerusalem and Bethlehem on the first day, recounting Jesus' life from birth to death, plus so much more. On the other day tour, discover the archaeological finds and underground tunnels in the City of David. Hotel transport is available for both days.
Highlights
Enjoy two popular day tours for a discounted price with this Super Saver combo
Experience a full-day tour of Jerusalem and Bethlehem followed by a full-day tour of the City of David and underground Jerusalem
Explore the iconic sights of Jerusalem and Bethlehem, including the Western Wall, Via Dolorosa and Church of the Nativity
View the landmarks of ancient Jerusalem, including the Tomb of King David, old Jewish quarter and the City of David
Enjoy convenient hotel pickups and drop-offs on both tours
Travel on an air-conditioned coach
What You Can Expect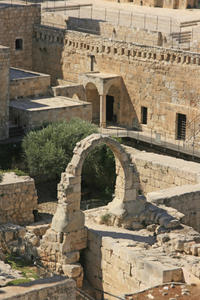 Day Tour of Jerusalem and Bethlehem
After pickup from your Jerusalem hotel by air-conditioned coach, visit the Mount of Olives for a scenic overview of the entire city of Jerusalem. Continue past the Garden of Gethsemane, where it is believed that Jesus prayed on the night he was arrested by Roman soldiers, and then head to the walls of the Old City of Jerusalem and see the famous Western Wall, the holiest of Jewish sites. In the Christian Quarter, walk along the Via Dolorosa, the street that Jesus traveled on the way to his crucifixion. Look for the 14 stations of the cross while retracing Jesus' steps to the Hill of Calvary, now the Church of the Holy Sepulchre.

In Bethlehem, explore the Church of the Nativity, where the birth of Jesus of Nazareth is said to have occurred, plus Manger Square and the Mosque of Omar, the oldest and only mosque in the old city of Bethlehem. Stop by the Greek and Catholic churches here before boarding the coach for a return trip to the Jerusalem hotels.

City of David and Underground Jerusalem Day Tour
After hotel pickup, you'll make a brief stop at the Mount of Olives before continuing to Mount Zion. See David's Tomb and the Last Supper Room, where Jesus shared the Last Supper with his disciples. Pass through the Jewish cemetery in Kidron Valley and into the Old City's Jewish Quarter through Zion's Gate, also known as David's Gate, to explore the Four Sephardic Synagogues.

Finally, arrive at the City of David. Above ground, it's a hub of activity, but here in underground Jerusalem, recent excavations reveal the most exciting archaeological finds of the ancient world.

This City of David tour concludes here, with a return trip by coach to your Jerusalem hotel.


Special Offer
$193.00 Save $19.30
Advertisement
Advertisement