Forget about fighting traffic and looking for a parking spot at the Ben Gurion Airport. Skip all the headaches associated with getting to the airport and travel with confidence by scheduling a private vehicle. Then sit back and relax as a professional chauffeur drives from your Jerusalem accommodation to catch any Tel Aviv airport departure, 24 hours a day, seven days a week.
Highlights
Private door-door transfer between your centrally located Jerusalem hotel and Tel Aviv Airport

Comfortable seats with generous legroom, air conditioning and luggage storage
Enjoy smooth, friendly and hassle-free transfer service
Meet and greet by a professional driver
Private transfers operate 24 hours, 7 days a week
What You Can Expect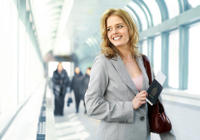 Getting to the airport can be a frustrating and stressful event. If simply dealing with traffic wasn't enough, there's also the chore of trying to find a parking spot at the airport.

Find a parking spot at the airport? That's a lot easier said than done. Ask anyone who has tried. It has become one of the most annoying elements of air travel. And if time is of the essence, that just adds to the stress and confusion.

The whole process can be fixed by scheduling a private vehicle with a professional chauffeur. Simply purchase, confirm, and meet the driver. It's that simple. Enjoy comfortable seating with plenty of legroom, plus air conditioning and an ample luggage storage area.

Service from any Jerusalem accommodation to the Ben Gurion Airport is available 24 hours a day, seven days a week, so it doesn't matter when the flight is leaving. This ultra-convenient form of transportation will always be ready to roll when the Tel Aviv airport departures are.

Price is per person, based on seven passengers per vehicle.

January 2016
Excellent!! Igal was a very nice person, picked me up on time, the car was comfortable :
November 2014
Very friendly taxi driver...very helpful and informative
October 2014
Excellent thank you. Personal service.
June 2014
The whole trip was perfect. The driver was exactly on time. The vehicle was spotlessly clean. There were no hassles and we got to the airport in plenty of time to check in. The driver had a pleasant personality. He was in no way "pushy" like a lot of drivers we have found around Jerusalem. Could you please pass on our warm thanks?
May 2014
The driver was quite friendly and helpful. He explained the sites on the way to the airport which was nice of him.
January 2014
Very prompt and very courteous driver
JASe USA
December 2013
I especially recommend this transfer, as the ride from Jerusalem to Ben Gurion is a fair distance.
You also get a polite, English speaking driver, that knows Israel. That is reassuring!
November 2013
Our driver was on time and we had a smooth and easy drive to Ben Gurion airport. Many thanks
June 2013
This trip was okay after a long telephone call trying to explain that we wanted to leave our hotel on 4/23 @ 8:30 PM - - not 7:30AM on the 24th. My fault as I was not aware that our plane left at 12:40 AM on the 24th.
June 2012
Once we found our driver it was smooth sailing from there. Our driver was very accommodating and gave his card in case in we needed him for anything else. We used our driver to take us to a couple place in one day which was very nice - like having your own driver. Recommend
Advertisement
Advertisement