156 Reviews
Location:

Jerusalem, Israel

Duration:

9 hours

(approx.)
Discover two of Israel's must-see sights on this memorable day trip from Jerusalem. You'll explore the legendary ruins of Masada and King Herod's palaces, and enjoy a therapeutic visit to the famous Dead Sea. This unforgettable day trip also passes the setting of one of the New Testament's most famous parables, the Good Samaritan.
Highlights
Full day trip from Jerusalem to Masada and the Dead Sea
Guided tour of the popular Holy Land sights by local experts
Ascend to the top of Masada by cable car
Float in the famous salt-rich waters of the Dead Sea
Transport by air-conditioned coach
Hotel pick up and drop-off
Recent Photos of This Tour
Masada and the Dead Sea Day Trip from Jerusalem
What You Can Expect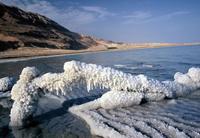 Your day tour begins with a descent into the Judean desert, a barren wilderness in the heart of the Holy Land. En-route, you will pass the Inn of the Good Samaritan, before ascending by cable car to reach the mountaintop site of Masada. The cliff's remoteness and difficult approach made it a perfect fortress, and it was here that King Herod built two fortified palaces over 2,000 years ago.

After exploring the archeological ruins of Masada with your guide, you will continue to the Dead Sea past the Ein Gedi oasis and the ancient settlement of Qumran. Here you'll have the opportunity to view the many caves where approximately 900 parchment documents of religious significance were discovered - the fabled Dead Sea Scrolls.

The Dead Sea is the next stop, where you'll have approximately two hours to relax on the mineral beach and enjoy the surreal experience of floating in the salt-rich water, 400m (1,312 ft) below sea level! Don't miss the chance to have a mud bath in the world's richest source of natural salts. You will also have the opportunity to purchase Dead Sea skin care products at duty-free prices from the famous Ahava laboratory.

The drive back to Jerusalem along the Old Roman road which links Jerusalem and Jericho, and see Jericho from the distance.

Combining ancient and natural wonders, Israel's top day trip is not to be missed!
November 2015
We did 4 tours with Bein Harim during our honeymoon in Israel, and this was by far our favorite! Masada is absolutely stunning, and it was great having some time to float in the Dead Sea. The tour took about 12 hours from pick up to drop off. Ozzy was our tour guide - he conducted the tour in German and in English and did a fantastic job. He was funny, and full of great information. The bus was large and very comfortable, and made plenty of bathroom stops! Lunch at Masada was delicious and inexpensive. Having done a few of these tours, it seems to all be in the tour guide Masada and the Dead Sea are of course so beautiful, they speak for themselves. Ozzy was organized and had great time management, we felt we had enough time places and didn't feel too rushed though I would have preferred less time at Ahava and more time at the Dead Sea - but others might have wanted to shop, like we did on some of the other tours maybe because the other tours had more stops?. We would definitely recommend this tour and Ozzy, and would go again!
October 2015
The trip was great. Went to Masada and then the Dead Sea. Was a beautiful day and the guide on the bus kept us informed of what was where and interesting tid-bits. Glad we did the trip!
October 2015
Sooo hot but we enjoyed the trip.
October 2015
Very good tour and guide! Highly recommend and well worth it.
September 2015
I would definitely recommend this tour to everyone who comes to visit Israel. I love the history behind it all and being able to see these places in person makes it a million times better in my opinion. Driving through the Judean desert and seeing Jericho from afar was beautiful and hearing the stories made it even more interesting. You're at sea level and even below sea level which was pretty awesome... Then you make your way to Masada which is really hot, but i mean what do you expect, you're in the desert! It was such a beautiful place to be at. That high up and pretty much nothing around you except the desert and being able to see the Dead sea up there was an unforgettable view. Ma'ayan was a great tour guide. She was very knowledgeable, informative, funny, and well organized and I would love to have her as my tour guide again since she knows what she is doing. Keep up the great work Ma'ayan! :
September 2015
Excellent tour - would definitely recommend. Really appreciated the personal perspectives and stories from the outstanding tour guide.
September 2015
July 2015
July 2015
A great tour. The guide was very knowledgeable about the sites and he was ready to answer to any request from us. Masada is a place that should not be missed during a visit to Israel.
June 2015
Incredibly beautiful area! A don't miss if you are in Israel!
Advertisement
Advertisement