Spend two nights in South Africa's famous Kruger National Park on this 3-day safari tour from Johannesburg. Go out on three open-vehicle game drives with expert guides to look for Africa's 'Big Five.' Enjoy luxurious lodging at one of four possible options — Imbali Safari Lodge, Hamiltons Tented Camp, Hoyo-Hoyo Tsonga Lodge or Makalali Private Game Reserve. Indulge in fantastic food. Watch for wildlife near the lodges.
Highlights
3-day Kruger National Park tour with luxury accommodation

Spend two nights at Hoyo-Hoyo

Tsonga

Lodge,

Imbali Safari Lodge,

Hamiltons Tented Camp or

Makalali Private Game Reserve

Enjoy three Big Five game drives in Kruger National Park with an expert safari guide
See wild animals like lions, elephants and zebras flourishing in their natural environment
Round-trip transport from Johannesburg included
Recent Photos of This Tour
What You Can Expect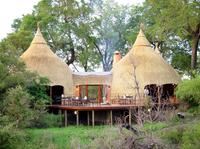 Get out of Johannesburg for a 3-day safari trip, during which you'll spend two nights at one of the following luxurious lodges, depending on availability — Makalali Private Game Reserve, Imbali Safari Lodge, Hamltons Tented Camp or Hoyo-Hoyo Tsonga Lodge. All four potential lodges are inside South Africa's enormous Kruger National Park.
During your stay, enjoy three safari drives to look for the African 'Big Five' — lions, leopards, elephants, rhinos and Cape buffaloes. Revive with sumptuous meals and the serene beauty of Kruger National Park surrounding you.
Itinerary
Day 1: Johannesburg – Kruger National Park (D)
Leave Johannesburg early in the morning by air-conditioned minivan, and travel out of the city to Kruger National Park. After a journey of roughly eight hours, arrive at your luxury lodge, check in and refuel with a lavish high tea that's ready and waiting for you.
In the mid-afternoon, head out on a Big Five game drive around the national park with your safari driver. Traveling by open-roofed vehicle, watch out for African elephants, Cape buffaloes, lions, leopards and rhinos, all of which roam freely around the park. The term 'Big Five' was coined by big game hunters who used it to refer to the most difficult animals to hunt on foot; today, it represents some of the most elusive and exciting animals to see on safari.
Return to your lodge in time for your sumptuous dinner and spend the evening at leisure.
Day 2: Kruger National Park (B, L, D)
Rise early and enjoy a hot drink at the lodge before meeting your driver for a sunrise Big Five game drive. The early hours of the morning are best for spotting the more elusive of Kruger's wild animals. Watch the bush come alive as the park's predators finish their nighttime hunting and gazelles and antelopes head to the river to drink. Have your camera ready to capture photos of Kruger's rare birdlife as you pass alongside the Sabi River, and marvel at the untamed open plains, where zebras and wildebeest roam wild.
Return to your lodge for a late breakfast and relax at leisure until the early afternoon. Enjoy lunch, and then head back out into the park for your third and final game drive of the trip.
Head back to your lodge in time for dinner and enjoy your last night at leisure.

Day 3: Kruger National Park – Johannesburg (B)
Check out of your lodge after breakfast and return to Johannesburg by minivan. Your 3-day tour then concludes upon arrival at your Johannesburg hotel at approximately 7pm
Please note: Accommodation allocation is dependent on dates and availability.
JAMES S Canada
August 2015
I completely enjoyed my stay at Kruger Park. The accommodations were excellent and the game drives did not disappoint. I highly recommend this tour.
June 2015
I have to give this visit a low score. First, the title is inaccurate. The accommodations were not in Kruger Park. Second, the transport to and from Johannesburg and lodge was definitely not luxurious. Makalali game reserve deserves four-plus stars. It is a small boutique lodge, with three camps each hosting maximum perhaps 12 guests with accommodating and courteous staff, great food, and knowledgeable safari guides. The game contributed their part too, and I saw many animals. I would call the accommodations not luxurious but something more along the lines of refined but rustic. A toilet in a room with no heat when the outside temperature is five degrees is not my definition of luxury. Still, on the whole, an excellent stay. My biggest complaint was the lengthy, uncomfortable and tiring five-plus hour ride from Johannesburg to the lodge and the return. In sum, four-plus stars for Makilali lodge and its services but one to one plus stars for the tour organizers because of the misleading title and the lengthy and uncomfortable trips.
March 2014
Unfortunately Kruger was washed out and we didn't get the whole experience we had hoped for. We were placed at Drifters Lodge in lieu of Hoyo Hoyo Lodge. Drifters was okay but not what we had paid for as we had paid for luxury accommodation and we were disappointed. The staff were all fine and we had an okay time but really feel we missed out with the numbers of animals we saw. We had been to Pumba private reserve and saw so many animals but thought Kruger would be even better. We saw a few at Drifters but not in the numbers we had expected as per discussions with friends who had been to Kruger previously. We realise there wasn't a lot that could be done because of the floods but when you are on holiday that really isn't any consolation as we may never get back that way again.
Advertisement
Advertisement