Explore Africa's flagship game reserve – stunning Kruger National Park – on a 3-day safari trip from Johannesburg. Traveling by luxury coach, you'll venture through the breathtakingly beautiful Mpumalanga province before discovering the delights of Kruger National Park. See the incredible Big Five animals in their natural habitats on two game drives, discover the charming town of Graskop and relax at Pretoriuskop Rest Camp located inside Kruger National Park.
Highlights
3-day Kruger National Park tour from Johannesburg
See the Big Five animals – buffalos, cheetahs, elephants, lions and rhinos – in their natural habitats
Explore one of Africa's largest reserves on two comprehensive game drives

Take in stunning Mpumalanga scenery and pass through quaint towns like Pilgrim's Rest and White River
What You Can Expect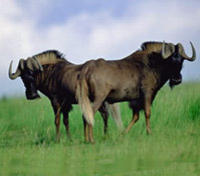 Day 1: Johannesburg – Kruger National Park – Hazyview (D)
After a pickup from your central Johannesburg hotel, leave the city lights behind and set off through South Africa's Mpumalanga province. Traveling by air-conditioned vehicle, you'll pass by spectacular scenery and captivating little towns like Nelspruit, White River and Hazyview. (Lunch is for guests own account) After freshening up at your Safari Lodge, enter the World Famous Kruger Park National Park for your closed vehicle Game Drive with your guide and driver. In the early evening, your guide will drive you to your safari hotel in Hazyview,- where you'll have Dinner (included).

Overnight: Pretoriuskop Rest Camp, Kruger National Park

Day 2: Kruger National Park (B, D)
After breakfast, head back into Kruger National Park for a full day of closed vehicle game viewing. Watch for the legendary Big Five animals -- buffaloes, cheetahs, elephants, lions and rhinos – and the birdlife for which the park is famous. In the middle of your day, stop for lunch at one of the reserve's rest camps (own expense). Finish your day with a relaxing dinner back at your hotel in Hazyview.

Overnight: Pretoriuskop Rest Camp, Kruger National Park

Day 3: Kruger National Park -- Johannesburg (B)
Spend your morning at leisure in Hazyview before traveling to the charming town of Graskop for lunch (own expense). From here, you'll start your journey back to Johannesburg by Air-conditioned vehicle, passing through Mpumalanga's scenic countryside and interesting little towns. Drive along Kowyn's Pass and the pretty mining village of Pilgrim's Rest-before traveling through Lydenburg, Dullstroom and Belfast. Arrive back in Johannesburg in the early evening.
September 2015
We realize that we were extremely lucky and it certainly doesn't happen most of the time, but we saw all five of Africa's Big 5 on the same day! Thanks to our fantastic guide, Phineas, we spotted lions, rhinos, elephants, buffalo, and a leopard all on the second game drive of our three day tour. The other days were also exciting as we observed a myriad of birds, along with hippos, baboons, zebras, impalas, giraffes, crocodiles, warthogs, and much more, all while taking in an amazing amount of history and landscape. What an incredible three days!
June 2015
It was all about our guide, Tiki. Great knowledge of the country - wonderful communicator - chose beautiful and diverse routes to and from Kruger - amazing eye for spotting animals and birds - top notch cook. 25 Rhinos along with the other 4 of the big 5! What's not to like?
September 2014
EXCELLENT!! THE TOUR LEADER WAS THE MOST INFORMED LEADER IN ALL MY TRAVELS. MADE MY TOUR A HIGH LIGHT OF MY SIX WEEK TRAVEL THROUGH SOUTH AND WEST AFRICA. WILL RECOMMED THIS TOUR AND TOUR LEADER VERY HIGHLY. P.ROQUEMORE
September 2014
Great value for money. Our guide Gerhard was very friendly, knowledgeable and helpful. It ended up just being us and another couple, making the group an intimate 5 people including the guide. This made for a more personalised tour with opportunities to spend more time game driving, which we were there for! Accommodation in the National Park and transportation by air conditioned van were very good. Food at the National Park was a bit to be desired, but that was beyond the control of the tour operator! Highly recommended.
April 2010
Worst part of the tour was the 5 hour car ride from Johannesburg. After arriving, the arrangements were on time for everything and very acceptable. The accommodations were very good and the guides very professional.
April 2009
The hotel was excellent with few details overlooked. Although it was a lovely hotel they could use a good exterminator for the roach problem. I saw them in the bedroom, bathroom, and other areas. They really do make a superior effort. On the return trip, we did get stopped for a traffic check. I was a bit shaky when the police threatened to impound the vehicle because there was no tourist passenger insurance on the vehicle. Begging from the front office on the phone helped!
July 2013
Kruger is a beautiful place to visit and I would recommend it to anyone. However, based on my recent experiences with the tour agency/s I would not recommend this tour to anyone. If you want to go to Kruger, you are better off looking for options like self driving and then taking an open jeep safari, or look for another travel company. We had a horrible driver/guide who practically refused to provide us with the promised closed safari in an attempt to 'hard sell' the open jeep safari. This was a classic case of 'bait and switch'. Once we were at the park the first day, she refused to look for animals on the pretext that she cannot drive and look for game at the same time and that she was afraid to take the vehicle to the gravel roads! After hearing her outburst, I informed her that we just had a closed vehicle trip in Pilanesberg and that our driver/guide for that trip drove slowly and spotted all the animals for us and took his vehicle to the gravel roads as well. To this she responded with a very rude remark. She said and I quote, " OK, I will find the animals if you do the driving. I cannot do both". I was very insulted and taken aback, because isn't the job of an 'expert game ranger' to drive and help customers spot animals? If I had to drive and my husband were to spot the animals why did we pay to take the help of a so called expert?
Since she was obviously not going to help us spot any animals, we tried to do that on our own. However, it became very difficult since she was driving very fast. My husband requested her to slow down so that we could better spot the animals. To this she responded again in a very rude tone," I am following the speed limit and I am allowed to go at 50kmph".
The point is that in the tour brochure the open safari is given as an option, but if the closed safari driver refuses to provide us with the services as promised, then it is really not an option, is it? We feel thoroughly cheated.
Advertisement
Advertisement