Enjoy a true Alaskan adventure as you pan and mine for gold along Gold Creek and Last Chance Basin, near Juneau! With your guide, learn how to pan for gold, and keep what you find when you're done! Your guide, dressed in traditional 19th-century attire, will take you to a secluded location along Gold Creek, only accessible with a special permit, and show you what it was like during the Gold Rush for the thousands of gold-seekers who flocked to the region. You have the choice to pan in the creek or enter the water in the demonstration trough – either way, you're guaranteed to find gold!
Highlights
Gold mining and panning tour to Gold Creek and Last Chance Basin from Juneau
Keep all the gold you find!
Start your adventure with a tour of Juneau and the Alaska State Capitol building
Receive an Orelove Brothers Gold Claim Certificate for the gold you find
Hotel pickup and drop-off
What You Can Expect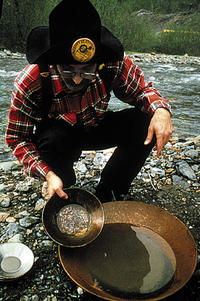 Start your unforgettable Alaskan experience with a historical tour of Alaska's capital city -- Juneau. From Juneau, head with your guide to Gold Creek and the adjacent Last Chance Basin Mine – the place where Joe Juneau and Richard Harris struck gold in 1880.

Learn how to pan for gold and hear why thousands of people hurried to the region to strike it rich during the Gold Rush of the late 1800s. Get the hang of it with help from your guide, and then try it yourself! You can either pan for gold in the creek or go in the waist-high water in the demonstration trough. During your search, you'll be surrounded by the building remnants of the Alaska-Juneau Mining Company, which closed in 1944 due to the WWII labor shortage.

End your day of gold mining with an appreciation of one of Alaska's most important events, as well as all the gold you find and an Orelove Brothers Gold Claim Certificate!
September 2015
So much fun in the pouring rain. It was fabulous panning for gold and catching the fever. We laughed and thought tour guide was fun. We'd do it again.
Thanks!
August 2015
I lived in Juneau for 14 years in the 50s. I never really knew how to pan for gold until your tour. It piqued my interest so I went to the City of Juneau Museum and pursued the subject, learning that creeks were quickly, ten or so years, cleared of gold, which led to the greater mining industry. My dad and some of his friends used to golf on the tailings of the A-J Mine. They called it their million dollar golf course.
September 2014
Loved panning for gold and Eric had fun stories and advice. Would recommend this to others. Thanks for the fun adventure! Finding gold in the bottom of my pan was exactly as discribed...says my husband!
July 2015
We had a very good time gold panning. Wish we could have found more gold. Our guide was very good and we enjoyed him.
June 2014
Great tour guide. He actually born and raised in Alaska!
August 2013
If you get a very active guide, makes it more fun.
November 2015
Guide was good but it was very hurried and not enough time and cost too much for what we got
August 2012
Juneau was a little disappointing. The town is smaller and not as interesting as the other towns. Our guide for the gold mining was 20 minutes late cutting our 90 minute tour short. The gold panning and site were fun and we were able to come home with a few gold flecks, but I wished the time there was longer.
Advertisement
Advertisement