When your ship is docked in Juneau, soak up Alaskan beauty and wilderness on this combo tour — a Viator Exclusive that is available nowhere else. A comfortable coach whisks you around the landmarks of Juneau city, including the Capitol Building and Red Dog Saloon, and then drops you off at Auke Bay for a 2-hour whale-watching cruise. Get your pics of humpbacks and orcas, and then independently explore Mendenhall Glacier before hopping on a shuttle back to port.
Highlights
Enjoy three fantastic Juneau experiences with this Viator Exclusive shore excursion
See top Juneau sites including the historic Red Dog Saloon and Juneau Capitol Building on a sightseeing coach tour

Spot whales and other native wildlife on a 2-hour whale-watching cruise
Enjoy free time to explore Mendenhall Glacier at your own pace
Admire views of Mendenhall Glacier from several perspectives and learn about glacier formation at the visitor's center
Recent Photos of This Tour
Juneau Shore Excursion: Mendenhall Glacier, Whale-Watching Cruise and City Tour
What You Can Expect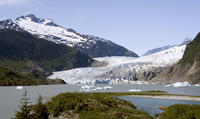 Begin your Viator Exclusive Juneau shore excursion with a city tour aboard a comfy coach. Travel from the vibrant port, with views of beautiful mountains and waterways along the way, and pass popular sites including the Juneau Capitol Building, the Governor's Mansion, Douglas Island and the Red Dog Saloon. Hear about their colorful history from the informative commentary on board.

Next, it's time to hit the waters. Board a boat from Auke Bay for your 2-hour whale-watching cruise and delight in seeing an array of wildlife, including seals, sea lions, bald eagles and black bears. When humpback whales and orcas are sighted, the boat will slow down so that you can capture the perfect action shot. Hungry or thirsty in between sightings? No problem, snacks and beverages are available on board.

Then, you'll be driven to Mendenhall Glacier, one of 38 glaciers flowing from the massive 1,500-square-mile (3,885-sq-km) ice field. The shuttle back to Juneau port leaves every 30 minutes, giving you flexibility to get to know the glacier at your own pace.

You may want to walk along Nugget Creek Falls or Photo Point Trail, which winds along Mendenhall Lake and provides clear views of the glacier. Interested in knowing more about the glacier's formation? Discover interactive geological exhibits at the Mendenhall Glacier Visitor Center.

When you're ready to leave, hop on the shuttle to return to Juneau port.

Please note: This excursion is not covered by our worry-free policy. This tour provides about 30 minutes to 45 minutes at Mendenhall Glacier. Plan your time accordingly at the glacier and ensure your timely return to the port. If you would like to stay longer, you may have to skip the city tour.

Viator Exclusives combine unique experiences and great deals — from traditional tours to once-in-a-lifetime experiences — and are not available from other 3rd-party online sellers.
June 2016
Wonderful mix of majestic sites all in one enjoyable day. Good deal, knowledgeable staff.
June 2016
Excellent excursion. The whale watching crew was outstanding.
June 2016
We had a fantastic time on this excursion. Both of our bus drivers were knowledgeable and gave us lots of great information about Juneau and the wildlife. The crew on the ship were fun and worked really hard to make sure we got to see whales. We really enjoyed this outing!
June 2016
John Jason and Olivia on the Whale Watch were great. Our bus driver she went back to Mendenhall Glacier is to pick up a lost bag!! Wonderful time all around! Female bus drivers where the best!!!
June 2016
We started with a bus to the Juneau Whale watching tour,,the driver, Brandy was excellent, and the tour was awesome! Emily and Kelly were great as was the skipper. We saw a ton of whales no pun intended.
Brandy then took us to Medenhall glacier where we toured around and then Lonnie took us back to town. Great guy as well. Only down side was our city tour was overbooked-and the driver was rather surly with us. The shore guy got us on another tour be we had the same surly driver..oh well. All in all it was a great day with good value and lots of great sites!
June 2016
It was a great experience and the first time I had seen whales in the wild. The guides on board were very knowledgeable and just as excited as we were for us to see the whales.

June 2016
All of the guides we encountered on this trip were outstanding. We enjoyed the information and context for what we were seeing. Ben and Captain Nick on the whale watching segment were particularly great.
May 2016
Great Tour! The city tour is brief but the city is small..no big deal. The trip to the glacier provided plenty of time to view and take photos. The best part is the Whale watching. The ship captain and crew really cared about our experience. We viewed a number of animals and enjoyed seeing the whales up close. The crew provided great narration on the area, wildlife, safety, and shared snacks. Would recommend to anyone visiting the area!
May 2016
Amazing time, just beautiful! Well organized and on time.
September 2015
It was a great experience - we started with the city tour then Mendenhall Glacier, I believe doing it this way we had plenty of time to follow all the trails , one to the shore line of the glacier and the other to Nugget falls, it was a long trail but a surprising end for it took you directly in front of the falls where you can take pictures and view the scenic beauty. After the falls we went on the whale watch portion of the tour - that was a spine jarring choppy ride out to see them, once there we saw a pod of about 6 whales - they were not close but we were able to see them and take some pics, what a great experience we had and we enjoyed ourselves - the Juneau Tour company was on time, scheduled and did a great job for their customers
Advertisement
Advertisement