250 Reviews
Location:

Juneau, Alaska

Duration:

4.5 hours
Make the most of your time in port in Juneau by getting out into the Alaskan wilderness on a small-group whale-watching and Mendenhall Glacier shore excursion. This is your chance to see humpback whales, bald eagles, seals and sea lions on an amazing 2-hour cruise in the waters surrounding Juneau. Then, visit the stunning Mendenhall Glacier for an unforgettable tour.

Each boat is fully enclosed and heated with a marine restroom on board; capacity is limited to 50 passengers per boat. The small groups create a great environment for wildlife viewing in this incredible environment. Your captain is specifically trained to follow federal viewing guidelines from a safe distance.
Highlights
Alaskan whale-watching and Mendenhall Glacier adventure from Juneau
Travel through Auke Bay, Favorite Channel, Stephens Passage, or Lynn Canal
Use of binoculars included

Covered by Viator's worry-free policy: guaranteed on-time return to your ship

Recent Photos of This Tour
Juneau Shore Excursion: Whale-Watching Adventure with Mendenhall Glacier Tour
What You Can Expect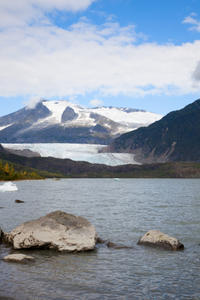 The Great Outdoors is at its best in Alaska, where whales, seals and other marine life roam free. While you're in port in Juneau, hop-on a whale-watching adventure for the ultimate Alaskan shore excursion. The boat captain will take you on a search for whales in Auke Bay, Favorite Channel, Stephens Passage, Lynn Canal or Saginaw Channel, while onboard naturalists tell you about the marine life. Binoculars are provided for your added viewing pleasure.
Sightings of all marine life are a joy, but you'll gasp the loudest when you see humpback whales, which feed in the nutrient- rich Alaskan waters. When a whale is spotted, your captain will slow down to allow you to go outside on the viewing decks for excellent photo opportunities and an up- close experience. In addition, hydrophones may be lowered into the water to allow you to hear the whales communicate with each other.
Following the scenic 2-hour cruise, visit the impressive Mendenhall Glacier, an amazing sight to behold. The glacier is located in the center of the Mendenhall Valley, which is located between Downtown Juneau and Auke Bay. You will have approximately 45 to 60 minutes near Mendenhall Glacier, where you may enjoy the scenery or take a stroll on one of the numerous trails. While you visit the glacier, you may take photos or search for different types of wildlife. Choosing the Mendenhall Glacier and the whale-watching adventure as a combo will allow you to make the most of your short time in Juneau.
Worry-free Shore Excursion:
We will ensure your timely return back to the ship in Juneau for this activity. If your ship is delayed and you are unable attend this activity, your money will be refunded. See our terms and conditions for full details.
Itinerary
Whale sightings guaranteed! If no whale is sighted on the tour, you will be given a refund of USD$100.00 per adult and USD$50.00 per child.

Which animals may be sighted on the Juneau Whale Watching Adventure?

Humpback Whales (Megaptera novaeangliae)
During the season humpback whales are spotted on more than 99% of tours. There are many humpback whales that feed, socialize and play in the waters near Juneau from mid-April through October. Humpbacks are among the most playful whales, and often breach (leap from the water), bubble net feed and slap their tails. Humpback whales are seen more often than any other mammal. Most of the humpback whales here in Juneau spend their winter in Hawaii. There are a few humpback whales that can be found here year round. Length up to 56 feet (17 meters).

Orca (Orcinus orca)
Orca whales, also known as "killer" whales, can be seen any day of the year in the Juneau area. These hunters search for salmon and small marine mammals over a large area. A pod of orcas is spotted every five to 15 days during the summer, as they hunt nearby. Orcas are active and fast-moving, and stay in tight family groups for their entire lives. The family pod will travel together, with the dominate males traveling in a separate group nearby. The orcas can be seen with their fins rising out of the water – the alpha male with the tallest of the group. Length up to 30 feet (9.1 meters).

Dall's Porpoise (Phocoenoides dalli)
The strikingly marked, fast-swimming porpoises love to ride the bow wave of a boat. They are very playful and will often jump out of the water, delighting passengers. These animals are seen on most trips until July, and then occasionally through September. These fun playful creatures are a wonderful addition to any trip. Length up to 6.5 feet (2 meters).

Harbor Porpoise (Phocoena phocoena)
These quiet, shy animals are hard to spot and rarely surface more than once near boats. They are occasionally seen in passing. Length up to 6 feet (1.8 meters).

Steller Sea Lions (Eumetopias jubatus)
Steller sea lions are curious and often approach the boat singly or in groups. Occasionally, these animals are known to steal fish from your fishing line. They can be seen hauled out on channel markers or rocks from April through September and can be heard grunting continually while they sun themselves. Hundreds live near Juneau. Endangered with a declining population in western Alaska, they doing better in southeast Alaska. Length up to 10.5 feet (3.2 meters).

Harbor Seals (Phoca vitulina)
Harbor seals are common, but shy and reclusive. These animals often haul out on rocks or blocks of ice. They can be seen as their small round heads bob in and out of the water. Seals exhale as they dive and can reach great depths. Hundreds live near Juneau and are seen on many tours. These cute creatures are a favorite photo opportunity for many passengers. Length up to 5 feet (1.5 meters).
deano
United States of America
August 2015
Very good experience. The captain female - forgot name and deck mate female - forgot name - one of them was Amy were wonderful. Saw at least 8 whales. Saw 4 of them breach. The boat was comfortable. The bagel with salmon creme cheese spread was great. Also had hot chocolate. The deck mate was pleasant and seemed very knowledgeable about whales. We spent about 45 minutes at the Glacier, which was sufficient to view the glacier and the info center. A 15 minute movie was playing but I missed it twice my fault. A similar excursion was 65 more thru the cruise ship.
August 2015
my only complaint is that the meeting place was said to be at the pier where the ship docked but actually it was at the tramway so i missed my 11:30 trip but caught the 1:00 but i was lucky that there was a vacancy at 1:00
August 2015
Whale watching awesome with a great Skipper and Mate. Trip ran like clockwork but totally relaxed.
August 2015
Lots of whales and friendly guides on a small but comfortable boat that made for easy viewing.
August 2015
unbelievable. multiple whales, breaching and bubble feeding. very knowledgeable, efficient, and nice tour guides. do not hesitate to book!!!!!!
August 2015
Troy and Captain Amy were fantastic. Very informative and saw lots of whales.
August 2015
A very nice tour to get the most out of a visit to Juneau. The guides are very knowledgable and really knew what they were doing.
August 2015
A great value! Highly recommended. Beat cruise ship prices by far.
August 2015
Perfect. Best excursion of out cruise.
August 2015
the ship captain Amyshe is from ocean springs MS, anf Tyler, going to school in Belligham? for graphic design made it great. give them huge raises
Advertisement
Advertisement