93 Reviews
Location:

Juneau, Alaska

Duration:

3 hours (approx.)
Escape to the Alaskan Wilderness on a small group Whale Watching Adventure from Juneau. This is your chance to see humpback whales, bald eagles, seals and sea lions on an amazing 2-hour cruise on Auke Bay. Afterwards, spend 40-60 minutes exploring impressive Mendenhall Glacier.

Highlights
Whale watching adventure from Juneau
Travel through Favorite Channel, Stephens Passage and Lynn Canal
Animal spotting including the humpback whale, bald eagles and seals
Use of binoculars
Recent Photos of This Tour
Juneau Whale Watching Adventure and Mendenhall Glacier Tour
What You Can Expect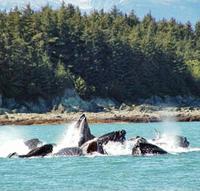 The captain and naturalists will take you on a search for whales in Favorite Channel, Stephens Passage, Lynn Canal or Saginaw Channel. Binoculars are provided for your added viewing pleasure.

However the highlight of this 2-hour Whale Watching Adventure is seeing the humpback whales which are feeding in the nutrient rich Alaskan waters. Once a whale is spotted your captain will slow down to allow you outside on the viewing decks for excellent picture opportunities and an up close experience. In addition, hydrophones may be lowered into the water to allow you to hear the whales communicate with each other.

Each boat is fully enclosed and heated with a marine restroom on board and capacity is kept to under 50 passengers per boat. The small groups create a great environment for wildlife viewing in the great Alaskan outdoors. Your captain is specifically trained to follow federal viewing guidelines from a safe distance.
After, you can experience the amazing Mendenhall Glacier. The glacier is located in the center of the Mendenhall Valley, which is located between Downtown Juneau and Auke Bay. You will have approximately 45 to 60 minutes near Mendenhall Glacier where you may enjoy the scenery or take a stroll on one of the numerous trails. While you visit the glacier you may take photos and searching for different types of wildlife.

Please note: You will not physically stand on the glacier. You will be approximately 1 mile (1.6km) away.

Whale Sightings guaranteed! If no whale is sighted on the tour, you will be given a refund of $100.00 per adult/$50.00 per child.
Itinerary
Which animals may be sighted on the Juneau Whale Watching Adventure?

Humpback Whales (Megaptera novaeangliae)
During the season Humpback Whales are spotted on more than 99% of tours. There are many humpback whales that feed, socialize and play in the waters near Juneau from mid-April through October. Humpbacks are among the most playful whales, and often breach (leap from the water), bubble net feed, and slap their tails. Humpback whales are seen more often than any other mammal. Most of the humpback whales here in Juneau spend their winter in Hawaii. There are a few humpback whales that can be found here year around.

Orca (Orcinus orca)
Orca whales, also known as "Killer" Whales, can be seen any day of the year in the Juneau area. These hunters search for salmon and small marine mammals over a large area. A "pod" of Orca are spotted about every 5 to 15 days during the summer, as they hunt nearby. Orca whales are active and fast moving, and stay in tight family groups for their entire lives. The family pod will travel together with the dominate males traveling in a separate group nearby. The orca whales can be seen with their fins rising out of the water. The alpha male of the group will have the tallest fin, sometime up to 6 ft. out of the water. These whales are found in all oceans over the world. Length up to 30 ft. (9.1 meters).

Dall's Porpoise (Phocoenoides dalli)
This strikingly marked, fast swimming porpoise loves to ride the bow wave of a boat...sometimes. They are very playful and will often jump out of the water. These animals are seen on most trips until July, and then occasionally through September. These fun playful animals are a wonderful addition to any trip. Length up to 6.5 ft. (2 meters).

Harbor Porpoise (Phocoena phocoena)
These quiet, shy animals are hard to spot and rarely surface more than once near boats. Occasionally seen in passing. Length up to 6 ft. (1.8 meters).

Steller Sea Lions (Eumetopias jubatus)
Steller Sea Lions are curious and often approach the boat singly or in groups. Occasionally, these animals are known to steal fish from your fishing line. These animals can be seen hauled out on channel markers or rocks from April through September. In addition, these animals can be herd grunting continually while they sun themselves on the haul outs. Hundreds live near Juneau. Endangered and population declining in western Alaska, but they are doing better in Southeast Alaska. Males are up to 10.5 ft. (3.2 meters), Females are up to 7 ft. (2.1 meters).

Harbor Seals (Phoca vitulina)
Harbor Seals are common, but shy and reclusive. These animals often haul out on rocks or blocks of ice. They can be seen as their small round heads bob in and out of the water. Seals exhale as they dive and can reach great depths. Hundreds live near Juneau and are seen on many of our tours. These cute little animals are a favorite picture opportunity for many passengers on tour. Length up to 5 ft. (1.5 meters).
July 2015
The trip was fantastic. Well organized and the drivers were wonderful and fun.
July 2015
a whale jumped WAY out of the water just feet from the boat! Need I say more?
July 2015
we saw many whales and it was fairly close up. we love the mendenhall glacier, it's so beautiful, the only down side of this tour is no have enough time at the mendenhall glacier, 45 min. is too short for such a beautiful place.
July 2015
Our bus driver Alicia gave us tons of information. Then we saw sooooo many whales. Our naturalist Ashley and captain Amy on the ravens journey were terrific. We lucked out with stunning weather. But also with a very personal experience because the boat only holds 30.
July 2015
Amazing!!!! Capt. Amy and Naturalist Troy made it a truly wonderful trip. Boat was great and the sightings were too! The last whale we saw came within yards of the boat...I have the video to prove it !!
July 2015
We had a great experience. Very easy to meet up with tour employees at the port. Mendenhall Glacier is really beautiful. We saw about 10 humpback whales and both the captain and guide were informative.
July 2015
It was fantastic! Captain Amy and Chelsea did a wonderful job to make the trip interesting and unforgettable. They are very knowledgable and did their best to make everyone happy.
July 2015
Weather was perfect, staff were very knowledgeable, and the whales were very impressive!!
June 2015
This trip was everything we could have asked for. It was a deeply moving experience seeing the whales and other wildlife. Thanks for an incredible experience.
June 2015
We were very pleased with our tour in Juneau. Everyone was very friendly and helpful from the bus drivers to the boat captain. We saw a large group of whales feeding together and it was very exciting to see them come out of the water and flap their tails! The boat captain did a good job getting us as close as allowed and set up for picture taking. It was a beautiful and day we enjoyed our brief visit to the glacier as well.
Advertisement
Advertisement