Go deep in the Alaskan wilderness on this Mendenhall Glacier trek. Professional guides help you navigate challenging terrain during an 8-mile (13-km) hike that rewards you with incredible views of Mendenhall Lake, rain forest, and otherworldly glacial formations. All adventurous types are welcome on this unique experience, limited to 12 people, but hikers need to be in shape. A highlight: The chance to explore ice caves and surrounding features created by ice flow.
Highlights
Trekking adventure on Mendenhall Glacier
Visit and learn about various habitats including rainforest and rocky terrain
Hike around ice caves, streams and crevasses
Hotel pickup and drop-off is included
Recent Photos of This Tour
Mendenhall Glacier Trek and Climb
What You Can Expect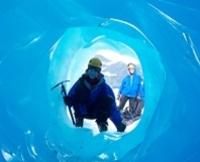 The Mendenhall Glacier trek and climb is suitable for most ages and abilities, but you need to be in shape: the trek lasts up to 6.5 hours, and covers about 8 miles (12.8 km) total. You'll wear a backpack weighing up to 15 pounds (7 kg) that is equipped with mountaineering gear, snacks, water, and any extra clothing you bring. Professional guides will be present the entire journey to make sure you remain safe and enjoy your time exploring the glacier.

The day begins with pickup from your Juneau hotel or the port. When you arrive at the trailhead for the Mendenhall Glacier, follow your guides on a 3.5-mile (6-km) trail through the rain forest along Mendenhall Lake. While the first mile is on a well-maintained path with a few switchbacks, the rest of the trail involves hiking on bedrock and rock scrambling in steep areas.

When you reach the glacier, you'll be outfitted in trekking gear and receive a safety briefing. You'll use crampons to make your way across glacial terrain that overlooks Mendenhall Lake. It may be the most physically challenging part of the hike, but it's an unforgettable experience. Climb down to explore ice caves, and soak up great views of crevasses, streams, and other breathtaking glacial formations.

Afterward, head back down the trail and enjoy a relaxing ride back to your drop-off location.
June 2016
Kate and Jessica were exceptional guides. Trek is not for the faint of heart. I am 62 and thought I was in pretty good shape. The 9 mile trek left me aching for two days, but hiking on the glacier and exploring the ice cave was truly the highlight of our cruise. A bucket list experience!
June 2016
Amazing!!! Elliot and Brad were fantastic guides and the Ice caves under the glacier was incredible!!
Highly recommend this company and trip
September 2015
Great guides who made the trip lots of fun, despite the steady all-day rain. This is not a trip for the out-of-shape.
August 2015
This trip was the highlight of our Alaska and BC trip. Thanks to our wonderful guides Kirstin and Sam. The hike to the glacier, onto the glacier and under the glacier ice caves was great, especially the ice caves. Well worth doing.
You really do need to be in good shape to do this hike.
Eric Prydatok
July 2015
Awesome hike. Got to see some amazing ice caves and our guide Corey was the best.
July 2015
I indeed wanted to let you know that this trip was amazingly awesome and this has been one of my most wonderful trip to the Mendenhall Glacier.
The day was completely awesome without much rain and sun with a lot of hiking in a green rain-forest which was very fantastic and post that we had spectacular views of the Glacier mountain which is out of the world experience. I would definitely recommend this trip to others. Also, if you can please pass on the comments to our Guide Hanna - Above and Beyond Travels who has been cordial and very patient to travel along with us and made this trip an amazing one. We had got in a great information while trekking to the Glacier and had a great summary of rain-forest along with the Glacier with the amazing Ice Caves views that was spectacular and an unforgettable experience.
Thanks again.
June 2012
Unbelievable! My wife and I took a 7 day Inside Passage cruise and this was by far the best experience of our trip. Climbing down into a cave under the Mendenhall glacier was something unexpected and was the best part of the trek. The hike to and from the glacier is no joke so be prepared for a very challenging day. I have climbed many mountains in Colorado and this was as difficult as any of the climbs I have done.
September 2009
This trip is definitely for people who are in good shape and not afraid of hiking in a little rain. The day we spent in Juneau was very wet, but the experience of climbing on a glacier was worth the discomfort. The guides were experienced and enthusiastic. Make sure you bring comfortable hiking boots, it's best if they are waterproof.
September 2009
The best excursion in Alaska! We have been on 8 cruises and always book excursions and this was without a doubt the best. You definitely need to be in shape as it is challenging.
Advertisement
Advertisement