Cycle through the scenic countryside just outside Kathmandu, exploring charming Nepalese villages and scenic roadways, during this half-day, small-group mountain bike excursion. Pedal to the historic towns of Kirtipur and Chobar, exploring their intimate side streets flanked by ancient stone structures. As you continue your ride, you'll cycle along beautiful roads offering incredible views of the Himalayas and learn about the area's Newari traditions. This small-group ride, limited to 12 guests, also includes lunch, a guide, bike rental and safety equipment.
Highlights
Half day mountain bike tour to Chobar and Kirtipur from Kathmandu
Bike along the beautiful Chobar Gorge and Bagmati River

Explore ancient villages in Nepal and learn about local culture from your expert guide

Check out the renowned woodcarving, weaving and pottery of the Newari people
Enjoy a traditional Newari lunch at a local restaurant

Take in the fresh air and breathtaking scenery on the outskirts of busy Kathmandu
Small-group tour limited to 12 people ensures a more personalized experience
Why Our Insiders Chose This Tour
The ride along the bumpy path to rustic Kirtipur was definitely worth it – we loved getting awesome views of Kathmandu Valley and checking out the the Newari handicrafts!
What You Can Expect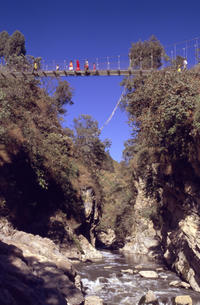 See a different side to Kathmandu as you explore the idyllic towns and incredible scenery just outside of town by bike on this half-day tour. It's a great way to escape the chaos and noise of the city center to experience a more laid-back side of life in Nepal.
Begin your trip in the morning at the Kathmandu Guest House in the Thamel section of town, where you'll meet your guide. Select a mountain bike that works for your height and preferences, and grab some safety gear to ensure a trouble-free ride.
Then climb onto your bike and proceed with your guide on a 5.5-mile (9-kilometer) ride to the village Chobar. This visually striking hamlet, complete with a collection of ancient stone structures, is located on a green hill near the Chobar Gorge. As local legend would have it, the gorge was formed by the Bodhisattva Manjushri, who wielded a giant sword and chopped through the hillside, draining an ancient lake and creating the Kathmandu Valley.
Admire the suspension bridge that swings above the gorge. The structure was brought through the mountains from India more than 100 years ago. Running through the canyon is the Bagmati River, flanked on its banks by ghats, where locals sometimes perform ritual ablutions and cremations.
Continue your ride to Kirtipur, one of the oldest areas in the Kathmandu Valley. The timeless atmosphere of this historic village owes to its beautiful location, situated on a ridge with dramatic views of the far-off Himalayas. Most of the town locals are weavers, and you're likely to spot dyed yarn dangling in windows and hear the clanking sound of looms busy at work.
Pedal through the village on your bike, learning from your guide about its architecture, handicrafts and temples. You'll also have a chance to familiarize yourself with the culture of the Newari, a group of people who have lived in the urban centers of Nepal for countless years. The group is known for its top-notch craft skills, which include beautiful woodwork and pottery, along with delicious cooking.
After a few hours of cycling you've likely worked up a decent hunger, so have a seat at a local restaurant to enjoy an authentic meal in traditional Nepalese style. Grab a seat on a straw mat and use your fingers to eat the tasty Newari cuisine laid before you. After savoring your delicious meal, rest for a bit before heading back to Kathmandu by bike with your guide.
Please note: The excursion involves a rigorous amount of cycling, so please ensure you are in good physical shape to enjoy it.
December 2014
Great scenery, good guide, challenging level of difficulty resulting in a good riding workout.
April 2015
definitely not for the unfit..which I was! Didn't think I would make the 29km but I did... .good look at the country side too.
January 2015
This is not a tour for the inexperienced biker. I am a very fit person, walking and swimming miles each day. But I had never gone mountain biking before. The description doesn't accurately portray how difficult it will be for the novice mountain biker. This is not a leisurely ride through the country! Steep hills, rocky terrain, dogs running after you. I struggled most of the way, but made it through! The bikes are not good quality either, so be sure to bring gloves and padding if you have them, otherwise you will be very sore! But the views were stunning! You get to see a side of Kathmandu that you wouldn't get to see otherwise. The guide was kind and always made sure to stop when I was falling behind. We had a nice lunch on a hill that consisted of sandwiches, juice, and a candy bar. Also make sure to plan nothing for the following day as you will want to recover!
Advertisement
Advertisement