Combine visits to two of Nepal's most fascinating Buddhist and Hindu religious sites with a moderate woodlands hike during this 6- to 7- day trip from Kathmandu. Travel to Budhanilkantha, where you'll visit the sacred site of sleeping Hindu deity Vishnu. Then take a moderate hike through the idyllic woodlands of Shivapuri National Park to Nagi Gompa. This Buddhist monastery sits astride a majestic hilltop location, offering magnificent views of Kathmandu Valley below. End your day by checking out a local market in Sundarijal. Your day trip also includes a guide, round-trip local transport fare and admission fees.
Highlights
Day trip from Kathmandu to two interesting religious sites

Travel aboard a local bus to Budhanilkantha, the site of the sleeping Hindu god Vishnu

Enjoy a moderate hike through Shivapuri National Park with your guide

Follow a hidden path to Nagi Gompa, a hilltop Buddhist monastery offering gorgeous views of the Kathmandu valley

Visit a local bazaar in Sundarijal

Small-group tour limited to 12 people ensures a more personalized experience

What You Can Expect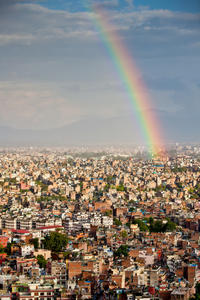 Explore both the deep religious traditions and gorgeous outdoor scenery of Nepal during this 6- to 7-hour day trip from Kathmandu. During the course of your day you'll explore beautiful Hindu and Buddhist religious complexes, while also enjoying a laid-back hike through a nearby national park.
Start your trip in the morning, leaving from the courtyard of the Kathmandu Guest House in the city's Thamel district. You'll continue with your guide about 15 minutes by foot to the nearest bus stop, where you'll climb aboard and travel like a local to your day's first stop at Budhanilkantha.
This Hindu religious site pays homage to sleeping Vishnu, the religion's god of preservation. Admire the elegantly carved stone statue of Vishnu visible from the outer periphery of the complex's pond (non-Hindus are not permitted inside), a visual trick that makes the god appear to float above the water's surface. Snap a few pictures of this striking religious center while your guide explains the background of this unique Hindu figure.
Then lace up your hiking shoes for a 9-mile (15-kilometer) hike into the nearby farmlands, leading into the forest reserve at Shivapuri National Park. Register at the park gate before spending the next 2.5 hours strolling through the gorgeous woods, heading to the Buddhist monastery at Nagi Gompa.
Your walk slowly becomes more steep as you proceed uphill for around 2.5 miles (4 kilometers) to arrive at the Buddhist complex, enjoying beautiful views of Kathmandu Valley below as you climb. The area has earned a reputation as a great spot for bird watching, so keep your eyes peeled as you proceed. You may even be able to spot the snow-covered Himalayas far off in the distance. Take a break for exploring, eating and resting when you reach the monastery. Snacks are available for purchase, or you may bring along your own lunch.
After getting your fill of this remarkable Buddhist sanctuary, head back downhill for another hour through the forest, proceeding past some beautiful waterfalls as you head back into the area of Sundarijal, where you'll have time to explore the local market. At the conclusion of your shopping, hop aboard another local bus for the 1-hour trip back to your starting point in Kathmandu.
September 2013
Nice and close to the city. Monastery is cool!
December 2014
Lovely hike, quite steep in parts, started at a Hindu temple with large reclining goddess in a pond, ascended through beautiful mostly unspoilt rainforest to Buddhist monastery at the peak, with monks praying and chanting, and later served us an authentic lunch, then down through more open forest with goats, monkeys etc to a couple more buddhist monasteries; our guide was a genuine Sherpa; an enjoyable day out
December 2014
Pleasant hike to somewhat interesting places.

October 2013
A nice hike through the Shivapuri national park, to reach the beautiful monastery Nagi Gumba near the peak of Shivapuri hill. A hike down from the other side of the mountain. I went mid-October it was very sunny, remember to get some sunscreen. Guide was definitely an expert knowing the path very well. Prepare for the local transport to and fro it is a bit crammy. All in all worth doing if you haven't got too many days to do a proper trek.
February 2015
We wouldn't recomme this trip. The hiking was boring due to the pollution and fog with no scenery to see. Please be aware that there is no local transportation provided and we were not interested in getting on buses crowded with locals. We ended up to pay ourselves for the taxi ride.
The tour guide however is very nice and helpful.
Advertisement
Advertisement