Explore the religious traditions of Kathmandu during this 4.5-hour visit to two UNESCO World Heritage sites, including Pashupatinath, a renowned Hindu temple, and the Tibetan Buddhist site at Bodnath Stupa. Join your knowledgeable guide at these two iconic spiritual centers, witnessing the hum of daily activity and learning about Buddhism and Hinduism along the way. Want to earn some extra karma? Visit a well-known Nepali astrologer for an optional reading. This small group visit, limited to just 12 guests, also includes site entrance fees.
Highlights
Cultural and spiritual tour of Kathmandu holy shrines that are listed as UNESCO World Heritage Sites
Enter Pashupatinath temple, an important destination where Hindus pay respects to the god Shiva
Learn about the beliefs and customs of the colorfully dressed Sadhus

Visit

Bodhnath

, one of the world's largest stupas

Speak with the monks at

Bodhnath

about Tibetan Buddhist traditions
Enjoy lunch at a rooftop restaurant overlooking the

Bodhnath

stupa
Small-group tour limited to 12 people ensures a personalized experience with your guide
Why Our Insiders Chose This Tour
You can experience two of the holiest Hindu and Buddhist sites in Nepal in one day. Opt to have one of Nepal's most revered astrologers unlock the secrets of your future!
What You Can Expect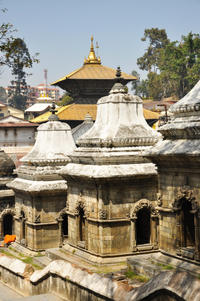 Learn about the practices of Buddhism and Hindusim in Nepal as you discover two UNESCO World Heritage-listed spiritual sites on this 4.5-hour day trip near Kathmandu. It's a sublime opportunity to immerse yourself in the longstanding traditions and beautiful temple architecture of these two ancient religions.
Start your trip in the afternoon, leaving from Kathmandu Guest House on a local bus, eventually arriving at the Hindu site of Pashupatinath, a 17th century temple dedicated to the god Shiva. During your visit, your guide will share details about Hindu beliefs and explain the religion's emphasis on the cycle of birth and death. You'll also witness the colorful garb worn by the site's Sadhu monks. Hear an explanation from your guide about the monk's beliefs, which focus on sacrificing material possessions to profess their religious devotion.
Just outside the entrance to Pashupathinath is the location of cremation ceremonies which take place along the edge of the Bagmati River. Out of respect for the mourning families, please refrain taking photos or watching these rituals.
Continue your trip by local transport to Bodhnath, an important spiritual center for devotees of Tibetan Buddhism. In fact, the site is one of a handful in the world where you can observe the daily rituals of Tibetan monks. Admire the gigantic stupa at the site, one of the largest in the world, and learn about the geographic significance of the temple, which sits along an ancient trade route stretching across India, Nepal, Tibet and Lhasa. Religious adherents still visit Bodhnath to offer their prayers before beginning any long journey such as climbing the Himalayas.
You'll also learn about Tibetan religious practices, observing pilgrims as circle the stupa, pushing the rotating prayer wheels as they go. Your guide will also introduce you to the site's resident monks, who will share their thoughts about Buddhism and traditions of Bodhnath.
When you finish your time at Bodhnath, proceed to a nearby restaurant for lunch (at your expense) in its rooftop dining area overlooking the huge stupa. If you're interested in further exploring the spiritual practices of Nepal, add an optional trip to a famous local astrologer, who can read your charts (at your own expense). End the day with a drop-off at your local hotel.
January 2015
This tour was excellent. When I think of all the things we did while in Kathmandu, the images from this tour are the ones I remember first. Walking the streets and taking a local "bus taxi", took us out of our comfort zone and gave us an incredible insight to what a day in the life of a local is. Pashupatinath Temple with the Sadhu monks and the cremations across river, are both unforgettable visions. Because it was a holiday, there was lots of activity at the Bodhnath stupa. No matter where you looked it was a scene worthy of a postcard. High recommend this tour.
October 2014
The Bodnath Stupa is really worth visiting!
August 2014
Exceptional tour. I had a very knowleageable guide all to myself. I was the only one tourist that day. We actually went for plam reading on top of the program.
April 2014
Nice friendly local guide. Be prepared for a lot of walking. You also catch a local taxi but which is an experience in itself. You get a good over view of each of the temples. Its not a huge group of people on the tour just how many you book with so it is very personal. The guide was willing to answer any questions.
Advertisement
Advertisement