Kayak, hike and canoe through the heart of Kauai's lush jungles on a 4.5-hour adventure to Hidden Valley Falls. Paddle past trailing vines and enjoy sweeping views of the Haupu Mountains as you explore the Hule'ia River by kayak, then follow a shady .75-mile (1.2-km) forest trail to a backcountry waterfall. Cool off in a swimming hole beneath the falls, listen to the jungle chorus of tropical birds, then board a motorized, twin-hulled Hawaiian canoe to retrace your path down the tranquil Hule'ia.
Highlights
Kayak and hike adventure on the Hule'ia River

Short scenic hike through tropical rainforest
Visit waterfalls and swimming holes
Kayak through Hule'ia National Wildlife Refuge

Powered canoe ride
Learn about the natural history of Kauai

Picnic lunch
Snacks and beverages
What You Can Expect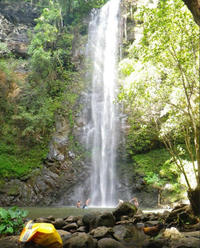 Meet up with your guide and group at a pre-arranged departure point for your 4.5-hour kayaking and trekking adventure.

Get outfitted with safety equipment and a kayak, then push off to explore the Hule'ia National Wildlife Refuge, dedicated to the preservation of Hawaiian water birds. Float past the the Alekoko (Menehune) Fishpond, a living archaeological site that shows the aquaculture methods of the ancient peoples. Get views of the Haupu Mountain Range, a 2000-foot (600-meter) shield volcano looming over the river.

Stash your kayaks and set out on foot for a 1.5-mile (2.4-km) nature walk through the pristine rainforest. At your destination, called Hidden Falls, explore the series of pool-drop waterfalls and the swimming hole. Hear the legends of supernatural beings who inhabit this area and the movies that have been filmed in this scenic location. Enjoy some snacks and cold drinks while enjoying the scenery before heading back down to the river for a fun trip back in a double-hulled powered canoe.

Please note: Participants should be comfortable with a 60- to 90-minute kayaking journey and a 1.5-mile (2.4-km) hike.

June 2016
We had a great time on this tour! I really need to tell you how great Ari, Kelly and Julio are! They really make the trip fun. Bring bug spray and hiking shoes. Love the kayaking. Thank you Ari for your help, I would have had a hard time with out you
Terry Grandma
July 2011
Trevor our guide was great we had a fun day with a few laughs, I thought I would find it a bit strenuous but it was very relaxing and enjoyable
Gregg S USA
July 2010
We had a blast. Good job.
March 2011
We had a great time hiking and kayaking. Very relaxing and at our own pace. Two thumbs up!!
March 2011
This is an extremely casual trip. i expected the waterfall at the end of the hike to really be something special but it was not really a waterfall at all it was a stream rolling over a few higher rocks, certainly not what one thinks of when you think of a waterfall or see them in the pictures of others on Kauai. Lunch was a C-. The guide was a pretty cool, fun kid and very knowledgeable. But overall the trip was just "OK" and definitely over-priced
January 2012
Definitely not a 'water fall'. More like a stream.
Advertisement
Advertisement