Embark into the heart of the Kauai jungle on a kayaking and hiking adventure. You'll paddle along the Wailua River, then continue another mile on foot to a spectacular 100-foot-tall waterfall. A picnic lunch awaits you, as well as ample time to cool off in a local swimming hole and savor the surrounding valley's lush rainforest scenery, such as tropical plants and streams. Your guide will offer plenty of details about the Wailua Valley, including its unique botanical offerings and the ancient cultures who thrived here, throughout the day.
Highlights
Kayak and hike adventure on the Wailua River

Short hike in the breathtaking tropical rainforest surrounds
100 foot waterfall
History of Kauai
Stunning tropical scenery and views
Learn about the natural history of Kauai

Close encounters with birds and aquatic life
Lunch, snacks and beverages
Knowledgeable guide
What You Can Expect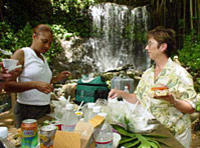 Paddle deep into the heart of the island on this kayaking Kauai adventure, all the way to the shadow of Mt Wai'ale'ale. After an easy paddle upstream, you'll tie your kayaks to a tree and take a somewhat rugged and very beautiful 1 mile (1.6km) hike to a dramatic 100' (30 meter) waterfall. Sit on some big basalt boulders at the bottom of the pool and savor a delicious picnic lunch while enjoying the stunning scenery that surrounds you. Then, hike back down to the ruddered tandem open cockpit kayaks for some more fun paddling!

As you pass through this spectacular and interesting valley by kayak and on foot, your guide will be sharing the mana'o (knowledge) of the island. You'll be filled in on the history of ancient Kauai and how the Ali'i (royalty) and Maka'ainana (common people) lived and played here long ago. You'll learn about the unique and unusual medicinal and food plants that inhabit Kauai's Wailua River Valley, as well as identifying many beautiful ornamental plants, both native and introduced. All this will take place as you get to know each other and have some laughs in this incredible setting.

The return part of this kayaking Kauai tour is downstream, but into the trade winds, giving you a bit of a workout on this leg of the journey. If you don't mind a bit of exercise, this tour will be the one for you! With swimming holes and native exotic botanical wonders, the Wailua truly is a fantasy world of Hawaiian deep jungle scenery.
May 2016
Great Kayak down a beautiful river with a nice cool dip at Kauai's secret waterfall over packed lunch. The paddle home was pretty strenuous for us against the current and wind, but everybody made it safely.
March 2016
Breathtaking! Elvis was great, we traveled as a family...kids still saying, well...Elvis said....
June 2015
Loved this tour!!! Relaxing yet adventurous!
May 2015
This tandom kayaking and hike trip up the Wailua River and the Valley of the Kings was very enjoyable and quite stunning. The guide was very informative regarding the extended history of the Hawaiin people and their habitation of the area.The adventurous walk on the jungle path was beautiful.
June 2013
January 2011
We were picked up at our Hotel by our guide Kevin. He had lunches and extra drinks packed in waterproof bags as advertised. THe trip was great! Kayak trip was about 2 miles, very pleasant. The hike to waterfall was only a couple of miles as well. Kevin was very knowledgeable about local flora and history. Waterfall was gorgeous. Trip out was great too. We did not need our bug spray, Overall trip rating 5 stars!
January 2012
We had a great time! Great tour by Adam! The company was very friendly and accommodating. I gave it 4 stars instead of 5 because there were so many other groups going to the waterfall at the same time. It was overcrowded when we arrived and paddling back. Overall a great tour.
Eric R USA
July 2010
Our tour guide was amazing! His personality made the whole day fun! My wife and I have never kayaked before, and this first experience was awesome. Food was great. The guide made this adventure an educational experience and also took out time with each couple.
Advertisement
Advertisement