Want to learn to surf at pristine Kauai North Shore beaches with the luxury of your own Kauai surfing lesson instructor? Discover why Hanalei Bay has the best beaches in Kauai and get personal instruction as you have private surf lesson Kauai style from your expert instructor who is a local big wave surfer.
Highlights
2-hour private or semi-private surf lesson on Kauai
Small group ensuring personal guidance
Certified professional instructor
Top of the line surf equipment
What You Can Expect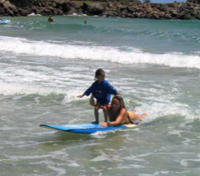 Hit the waves and take part in one of Hawaii's favorite pastimes with the guidance of your own personal surf instructor! Learn to surf, understand the ocean's movements and gain an insight into surfing culture on a fun-filled 2-hour private or semi-private Kauai surfing lesson.

A private Kauai surfing lesson ensures personal guidance and instruction for your party, whether learning on your own or with a friend. Soft-top boards are used for beginners for the safest possible learning environment. Your surfing instructor will be a local Hawaiian who has dedicated their life to surfing. As a professional surf instructor, your teacher is highly qualified to instruct you in all aspects of the sport of surfing.

The surf on the North Shore of Kauai is perfect all year long for lessons. In Hawaii every day there are wave reports. From huge waves to flat, 98.50% of the time the waves are perfect for lessons at places along Hanalei Bay. During a day or two of totally flat or stormy conditions there are other areas close by that you'll be taken to. There is always somewhere to surf in Kauai!

A private Kauai surfing lesson will involve 1 instructor per participant, or a semi-private lesson will involve one instructor for a group of 2 or 3 participants.
Itinerary
First 30 minutes:
Learn to watch the ocean and the waves together and talk about ocean safety
Learn how to paddle and positioning yourself on the board.
Learn to start reading the waves
Second 30 minutes:
Lessons begin in the ocean and learn to stand up
Learn about the world of surfing and some basic rules when surfing
Time for questions!
The final 30 - 60 minutes:
Use the board and practice on your own
September 2013
We had an excellent surfing lesson with a young instructor named Evan. Having had one lesson already with another company (we were somewhat unhappy) we were amazed at how technically astute Evan was, and how patient he was getting us up on the surfboards. There was just the right amount of on-shore instruction, then plenty of time out in the water. The beach town of Hanelei was beautiful and serene, making this one of the most perfect days of our vacation. We could not have been happier! And we surfed until we couldn't surf any more!
Theresa V USA
August 2008
The bay was beautiful, waves perfect to learn on, and the instructor was kind and knowledgeable. I had fun and would highly recommend this to others.
August 2008
This was one of the most fabulous adventures we had! We had so much fun learning to surf. We had an excellent instructor and made it seem less like a class and more like an afternoon of friends catching some waves. By the end of the day we were way past the beginners stage and we had made a great local friend.
December 2014
I had a rough start but I enjoyed my experance
Advertisement
Advertisement