16 Reviews
Location:

Kauai, Hawaii

Duration:

4 hours 30 minutes

(approx.)
This fun and exciting Kauai biking tour is a cruise through Koke'e State Park and Waimea Canyon State Park. You'll be Kauai mountain biking from the rim of the famed Waimea Canyon (elevation 3600 feet or 1100 meters) down 12 miles (19km) of smooth winding blacktop all the way to the shore of the blue Pacific. It's 100% downhill, and 100% fun!
Highlights
Downhill bicycle tour through Waimea Canyon State Park on Kauai

Cycle through Koke'e State Park
Wildlife spotting
Snacks and refreshments
Knowledgeable guides
Comprehensive narration
Choice of sunrise or afternoon tours

Recent Photos of This Tour
What You Can Expect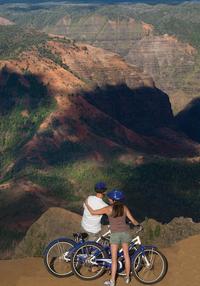 You can coast at the crack of dawn, or, cruise it at the end of the day. The early birds will be blessed with soft low angled light that draws out the colors of the spectacular canyon. You won't be snoozin' - you'll be cruisin'! An "in-flight" beverage service of fresh-brewed Kauai Coffee and blueberry muffins hot out of the oven is included as you ride up in the van to begin your Kauai biking tour.

If you're not into the early bird thing, try the late afternoon tour. You'll still enjoy the same low angled light for accentuation of the canyon's rugged terrain, only from the west rather than the east. Shadows and colors jump out with soft, brilliant greens, reds and purple highlights. In addition, the forbidden Island of Niihau is visible off to the west. Cold soft drinks, spring water and Kauai cookies will be served on the afternoon tour.

Comfortable helmets and safe operating procedures make for a ride that's safe and controlled, but still fun and exciting. You'll be riding through one of the most beautiful and interesting places on the planet, so of course, you'll stop along the way for photos and narrative on history, culture, folklore and legends. You'll get hands-on and identify native plants, birds and trees. You'll be able to quiz your guides about the best Kauai hiking trails located in Koke'e State Park and Waimea Canyon State Park while you're in the area. As well as having a fun ride in a beautiful place, you'll learn about what makes Kauai special!
August 2015
This was AWESOME!! Our guides were fun, energetic, knowledgable, engaging and witty...we laughed the entire time. My boyfriend and I made some life long friends as well...
July 2015
Great at to spend the early morning. Beautiful sights, Blake and Dan were awesome guides. Very personable. Lots of fun.
May 2015
They took us to an outlook, and the view is breathtaking. Then we started biking. The guys were really friendly and showed us all the sights and told us about plants and Hawaiian legends. The ride down was fun and not difficult at all. I liked the bikes too. They were comfortable and appropriate for this ride.
December 2014
This was an awesome tour! Really enjoyed this activity. Scenery is breathtaking and bikes very comfy. Aaron, our tour guide, was very informative and gave us so much history. Our driver and Aaron made sure we had a safe and fun ride. Morning coffee, muffins and cookies were scrumtious. We saw so many rainbows, including double rainbows. I would do this again in a heartbeat!
August 2014
This was such a rush. The guides were wonderful and the trip was super safe and exiciting.
July 2014
Guides were fun and energetic. I appreciated the explanation of the demise of the sugar plantations and what has transpired since. Very knowledgeable of local fauna and flora, very safety conscious, and covered our backs (the van follows after the last rider and kept cars away). Nice views of the canyon - exhilarating ride! No pedaling! Excellent equipment.
June 2014
A must tour for the family.
May 2014
This was a great tour. Downhill 12 mile ride. Scenery was stunning. The tour guides, Nick and Harold were absolutely great. Informative, funny and very professional at the same time. We loved it so much, we signed up for their zip lining tour two days later. A++++
April 2014
This was a trip we will always remember. The beauty of the canyon was breathtaking. Our guides made sure that safety was paramount. Our group was diverse with ages and we all had a great time together. The information our guides told us of the area and island was so interesting. We will always have fond memories of our ride down the mountain. It was exhilerating and a lot of fun. Mahalo
September 2013
Hadn't rode a bike in 50 years so was a little apprehensive about going on this tour. We have our son with us on this trip and this was his choice of things to do. It was fantastic. Harold and Travis were so friendly and nice and put safety first. I was the last in the group when they finally said we could go as fast as we wanted but I was thinking of getting to the bottom in one piece so they all left me in the dust (with Harold following behind me in the van). I would highly recommend this tour - especially if you want to get up close with the canyon. Well worth the money.
Advertisement
Advertisement