Find out what life is like as a commercial fisherman in Alaska on this Bering Sea fisherman's tour from Ketchikan! On board the Aleutian Ballad, a commercial fishing boat that was featured on the Discovery Channel's popular TV show Deadliest Catch, you'll cruise through the calm, protected waterways of the Inside Passage with an expert fishing crew, watching as marine creatures of all kinds are caught in barrel pots and hauled up on deck. You'll see king crab, box crab, octopus, rockfish, eel and more, plus catch sight of other local wildlife like sea lions, porpoises and eagles.
Highlights
3.5-hour Alaskan fishing cruise from Ketchikan
Travel through the beautiful Inside Passage aboard the Aleutian Ballad
Watch the crew prepare long-line barrel pots and 700-pound king crab pots
See king crab, box crab, prawns, rockfish, eel, octopus and more as they're hauled on deck

Look for other wildlife like whales, sea lions and eagles

Listen to amazing stories about life as a commercial fisherman in the wild waters of Alaska
Choose one of several departure times, from early morning to mid-afternoon

What You Can Expect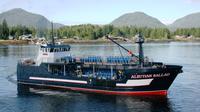 At your pre-selected departure time, meet your ship's crew members at the main cruise ship dock in Ketchikan, and follow them the short distance to the Aleutian Ballad, the 107-foot (33-meter) ocean-going vessel that will maneuver you through the waterways of the Inside Passage.

Once you're on board, have a seat in the heated and sheltered amphitheater on the lower deck, or take advantage of the views from the open-air upper deck. Your crew will then 'tie loose' and head away from the dock. While you make your way to the fishing grounds, stay warm with a cup of provided coffee, tea or hot chocolate, and learn a bit about the Aleutian Ballad's history as a commercial fishing boat, including how it became famous on season two of Deadliest Catch, when the boat was hit by a 60-foot (18-meter) rogue wave and lived to tell the tale.

As the boat pulls up to the fishing station, watch the crew go to work baiting the fishing gear with salmon and squid and throwing the long-line barrel pots overboard. Then stare in wonder as sea creatures of all kinds are hauled up from the water and onto the deck of the boat: rockfish, gray cod, ratfish, wolf eel, Dungeness crab, box crab, octopus, prawn and more. Bering Sea king crab will also be hauled up in 700-pound (320-kg) crab pots.

After the crew expertly sorts through the catch, the fish and other marine life will be placed in a tank on the deck for your observation. Take photos and even touch some of them before they are released back into the water.

In addition to what comes up on board, other native wildlife may also be in the area — keep your eyes peeled for whales, porpoises, sea lions and eagles. After the crew has stowed all the fishing equipment, feel free to ask any questions while you head back to the dock — the crew loves to share stories about life at sea!
September 2015
Excellent experience. Fun and informative.
July 2015
Loved it. The guys were entertaining and informative. We also got a kick out of the hands-on part where we got to touch some different sea critters and take pictures. It was a really fun time.
June 2015
Great trip.Excellent info and the presenters did an outstanding job.we were lucky to have excellent weather. Having being able to sea all the eagles and crabs and the octopus.
June 2015
Enjoyed the trip, the stories and the catch. I was concerned about getting seasick, as I am very susceptible, but no problem at all.
June 2014
Nice experience for us. I am into fishing and a fan of this boat! There were plenty of seats and heaters above. Plenty of time to experience and see all they had to offer. We took great pictures and the staff was friendly, they told great stories and gave opportunity to hold live crab, fish, and snails. The girls were friendly too. If you are a fisherman or woman you will enjoy it.
August 2015
Disappointing. We saw a couple of eagles up in the trees, touched a king crab and held a snow crab. Lasted 2 1/2 hours, not worth the price!!
Advertisement
Advertisement