Cozy up to the ghosts and vampires of Key West's Old Town on 1.5-hour evening walking tour. Your guide will share first-hand stories of local haunts and legends as you wander the island city's dimly-lit streets and explore such places as Marrero's Geust Mansion and Captain Tony's Saloon, where ghouls are known to frequent. This easy, lantern-lit stroll is a wonderful way to learn some history on Key West's infamous cast of characters.
Highlights
Ghost walking tour on Key West

Discover the haunted side of the island paradise on a guided walk
Hear facts and first-hand stories of Key West's most infamous haunted locations

Explore the dwelling places of ghosts and ghouls

What You Can Expect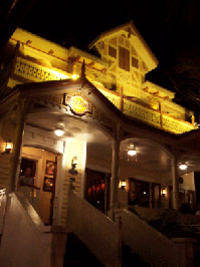 Florida's Key West has a history full of pirates, wreckers, smugglers and other sinister characters. On this nighttime ghost walking tour, explore Key West's haunted side with your expert guide and prepare to be spooked!

As you wander down dimly lit streets and eerie alleys, listen as your guide tells first-hand stories and legends of Key West's most infamous haunted places. Learn of ghosts and ghouls as you visit the Hard Rock Cafe, Banyan Resort, Eaton Lodge, Captain Tony's Saloon, Marrero's Guest Mansion, St Paul's Episcopal Church and more
November 2012
This tour was informative, entertaining and lots of fun. It was our first night in Key West and we heard lots of good stories about the places we visited the next day. There were a few places we added to our travels after hearing the history and relevance. We highly recommend this to others.
Mark N United Kingdom
November 2011
great fun tour that really makes you think
October 2011
I enjoyed the tour ias i prmary booked on to find out a bit more of Key west and its chareters ad history and it seved its perpose.
Pity it was raining but thats luck of the draw when travelling.
May 2011
Awesome walk, not verying tiring if your not a walker. Very entertaining and fun. You'll have a great time.
Edward G USA
August 2008
We had a blast. We took pictures on the walking tour and our camera totally quit working when it came to the house where one ghost lived. All else worked accordingly.
August 2013
This is a fun way to learn a little about the history of a place you visit. I would do this again!

January 2012
This tour was ok but prob wouldn't do it again. Our guide was entertaining but it was more about who got murdered and slaughtered where and not so much about ghosts. We did however snap a pic with about 30 orbs in it which was amazing. I would still recommend this tour to others as Key West is so quaint and it's a good way to hear about some of this towns history. Cheers Janeane
Klaus R Germany
January 2010
The tour was exciting.
Anne W USA
August 2008
Fun, entertaining and educational. We thoroughly enjoyed the tour!!!
April 2015
This ghost tour was o.k. I would give it a 2.5. I did enjoy the history that was given. I wish we could have went through the actually buildings that the tour was about.
Advertisement
Advertisement