Discover some of Key West's deepest, darkest secrets on a 90-minute ghost-themed trolley tour. The Trolley of the Doomed explores the darker side of one of the most haunted cities in the country. Experience Key West's frightening past while traveling down the narrow, dark streets of Old Town, lined with 19th-century wooden houses that still bear the secrets of their former inhabitants. This tour is narrated by a 17th-century gravedigger guide who's almost as scary as the stories being shared.
Highlights
Ghost and gravestone tour of Key West
Step aboard the Trolley of the Doomed with your guide, dressed as a 17th-century grave digger
Hear eerie tales about Key West's dark, supernatural history
Gain exclusive nighttime entry into one of the island's haunted Civil War forts
See why Key West is considered one of the top ten most haunted cities in America!
What You Can Expect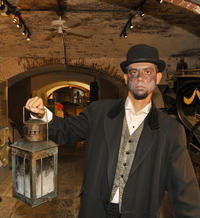 Key West's original "frightseeing" tour is an evening of fear and fun. It's a chance to travel back in time to another era. This shadowy, sinister tour departs nightly from the Front Street Depot at the corner of Front and Duval Streets.

Climb aboard the Trolley of the Doomed for an experience unlike any other. Uncover Key West's darkest secrets and hear the stories of those lost souls who many locals believe still wander the streets of this historic island town.

Visit one of the island's haunted Civil War forts, once a barracks that was quarantined for suffering soldiers left to die from yellow fever. See the Artist House, home to Robert the Doll. It has been said that this doll is possessed by spirits and has a reputation that can only be described as terrifying. Robert was the inspiration for Chucky, the character in the 1988 horror film Child's Play.

Come with an open mind and see if any ghosts appear on this frightful, fun ghost tour. It's a ride on the dark side.
January 2016
Very good, our tour guide was great Sorry, can't remember his name. Yes, we are the doomed! :-

March 2014
Fun way to see Key West and learn of it's scary past.
February 2014
Wonderful tour- guides were good and we did get spheres on some of our pictures.
March 2013
All I can say is AMAZING! Especially the fort. OMG - even I became scared at this point. TAKE IT! TAKE IT! TAKE IT!
February 2016
We were doomed. Fun and informative Robert thank you
October 2015
the tour guide was very knowledgeable and made the tour not only fun but very informative. we had the oppourtunity to learn a lot about the history of key west and all the spirits that reside there. we enjoyed the tour and would do it again.
November 2012
This was a fun night and what I would say is not really scary but good for a laugh. It was interesting to hear about the history of Key West and the resulting ghosts who seek revenge. I would say that I was a little scared at one point when we visited the old fort due to it being very dark and the narratation firing up my imagination!!
It was also interesting to meet Robert the doll and again the tale behind it.
If you want a little fun and expect a laugh with some interestings facts, not fears, then this trip is okay.

August 2015
It was an alright tour. Saw some interesting sights, heard some interesting stories.
April 2016
Advertisement
Advertisement