Enjoy a day of fun in the sun on the Island T'ing adventure off the coast of Key West. Sail away from the island city of Key West to the beautiful blue waters of the Gulf of Mexico on a large catamaran. Hop in a kayak and enjoy a paddle around a natural stand of mangrove. Snorkel above a coral reef. Look for dolphins, stingrays, sea turtles, manatees and more on this guided, 6-hour adventure. A full breakfast and buffet lunch, plus beer, wine, soft drinks and homemade sangria are included.

Highlights
Key West Island T'ing adventure

Sail on a catamaran through the Gulf of Mexico
Kayak around a natural backcountry mangrove island
Snorkel above a coral reef
Stay fueled with a full breakfast and buffet lunch!
Beer, wine, soft drinks and homemade sangria included
Recent Photos of This Tour
What You Can Expect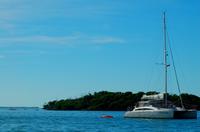 Spend a day off the shore of Key West, in the blue waters of the Gulf of Mexico, on the Island T'ing adventure.
Begin with a 1-hour sail through the sparkling waters of the Florida Keys, where the Atlantic Ocean meets the Gulf of Mexico. Look for wildlife like dolphins, stingrays, sea turtles, manatees and more alongside the boat. Enjoy a breakfast of quiche, muffins, fresh fruit and juice. Then it's time for some fun in the sun.

After finding a great spot in the Florida Reef, join in on an optional 1-hour kayaking journey around a natural mangrove island. Glide across the warm, tropical water and enjoy the unique plants, marine life and birds that inhabit this area. Then try a 1-hour snorkeling session above a coral reef, the only living coral barrier reef in the continental United States. See more than 600 species of colorful fish, coral and other sea life. Otherwise, take a refreshing dip in the crystal blue water or simply relax on the boat and enjoy the sun and scenery.

A buffet lunch including fried chicken, steamed shrimp and ready-to-make sandwiches with various salads is included. Beer, wine, soft drinks and homemade sangria are also included. Bring a sense of adventure, plus a swimsuit, towel, sunglasses, sunscreen and a hat.
Itinerary
Sample Breakfast and Lunch Menu (subject to change): Breakfast:
Breakfast Quiche
Muffins
Fresh Fruit
Juice
Lunch:
Golden-fried chicken
Steamed shrimp
Deli meat platter
Variety of breads
Cole slaw
Potato salad
Condiments
Beverages
May 2016
This was a great all day tour made exceptional by the Captain Sweeney and his crew Morgan and Gabby! Those guys know how to give you a fantastic sampling of activity and fun on the beautiful waters around Key West. This is a very professional tour with great food/drink with safety first! Thank you!
May 2016
Great time even in windy conditions. Steve, Mitch and Carrie were wonderful. Amazing day on the water. Food and drinks were better than expected. Couldn't have asked for a better day!
May 2016
These folks were fantastic. They were fun and informative. One of the crew noticed I had a bad sunburn and he gave me his long sleeve shirt to wear. Talk about giving me the shirt off his back! We had a blast.
May 2016
wonderful....do it....I would certainly go again!
May 2016
We had such a great time! If you're visiting Key West for the first time or anytime I would highly recommend doing a guided tour like this. The crew was awesome and very friendly, not to mention you really get the best bang for your buck on this excursion.
May 2016
First off. We left at 10am and returned at 4 pm so Expect a long full day of fun. Crew was excellent and would do anything to make your trip better. Would recommend to everyone.
May 2016
AMAZING EXPERIENCE! Booked the Sail, Snorkel and Kayak Adventure on April 27th. Our party was a decent size and the crew made an extra effort to engage us for the entire duration of the trip. The food and drinks included with the trip were great! What made the experience the worth 5 stars is definitely the crew members I don't remember their names, I'm very bad with names!
On our way back to Key West my hat flew off the boat due to the wind. The staff member immediately stopped the boat and turned around to retrieve it after I said it was O.K. to leave the hat behind. However, they insisted and recovered my hat!
The experience as a whole was INCREDIBLE!
April 2016
My wife and I had great time, The trip more than met our expectations, we would do it again.
April 2016
Excellent tour on the Pelican. The crew was amazing and loved the fact that it was a small group. Ps, the food and drink was plentiful and awesome too!
April 2016
My wife and I were in Key West the week of 3/28/16. We took this tour and it was the highlight of our vacation. The captain and crew -- Lanear, Mitchell, and Tim -- were awesome! We saw many fish, several rays, and a stone crab while snorkeling along the coral reef. The kayak trip around the mangroves was fun and the views were great -- we saw a baby nurse shark, a ray, great herons, and many other birds. We would definitely recommend this trip.
Advertisement
Advertisement