When you arrive in port in Key West, take the Conch Tour Train shore excursion; you'll see the best of Key West on the tour that's been entertaining visitors to the Island City since 1958. You'll hear legends and lore of this charming tropical paradise like stories about Henry Flagler's railroad, which arrived in Key West September 22, 1912, and forever changed the Island City.
Highlights
Key West shore excursion on the Conch Tour Train

Travel through the island's golden age of settlement, through the exciting railroad days, Great Depression and WWII
Enjoy this tropical island, and discover the charm of one of the most unique architectural cities in the US
What You Can Expect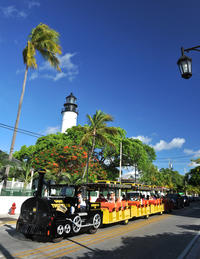 While you're in port in Key West, hop on the Conch Tour Train for a trip around the southernmost island in the archipelago that is one of America's finest jewels. The train will take you on a ride through Key West's past – go back to the days before civilization, when fierce Native Americans left their enemy's bones to bleach in a tropical wilderness, naming the island Bone Key.

Hear about bold Spanish explorers, brave "wreckers," great cigar barons and sponge magnets. Get to know characters like John James Audubon, Ernest Hemingway and Harry S Truman and, like them, become captivated by Key West's magic.

Please note:
This excursion is located within a 10-minute walk to the cruise port so you determine the time you return to your ship in Key West. Please allow yourself ample time to enjoy the excursion and ensure your timely return to the port. This excursion is not covered by our Worry-free policy.
February 2013
Tour was great but there was a ton of confusion in trying to get on the train. We pre-purchased tickets and were told to stand in line to get the actual ticket. Got in line and then got pulled out and told to wait for someone to bring us tickets. We waited about 15 minutes and then had to go find the person. Took about 20 minutes to get on a train.
January 2015
The tour was very thorough and provided a lot of interesting information. I enjoyed that aspect of it. On the other hand, we found the tour operators to be very rude beforehand. I was not greeted at all, and when I had to get them to interact with me to ask a question, they were curt and unwelcoming. That is very uncommon for tour operators. I've been on several, and they were the rudest I've ever encountered. Additionally, even though the viator purchase states you can provide a paper ticket or an e-ticket, we experienced a great deal of trouble presenting our e-ticket to the counter. At first, they were refusing to honor our e-tickets, and therefore, did not intend to let us ride. Obviously, that was not going to be an option, and we had to help them troubleshoot the obvious. We should not have had to do that. This particular team needs a lot of work in the customer service department.
Advertisement
Advertisement