Have fun in the sun off the coast of Key West on this 3.5-hour ultimate water adventure. This guided tour packs a lot into a short period of time. Climb on board a 65-foot sailing catamaran and head out to the crystal clear waters above the Florida Reef, the only living coral reef in the United States. Try swimming, parasailing, jet skiing, reef snorkeling and kayaking. Plus, there's also a giant water trampoline and floating rock wall. Snacks and refreshments are included on this entertaining voyage.
Highlights
Enjoy 3.5 hours of water activities

Swim in the warm, pristine waters and participate in parasailing, jet skiing, or other activities

Snack on several provided treats such as hummus and pita chips

Use of water equipment included

What You Can Expect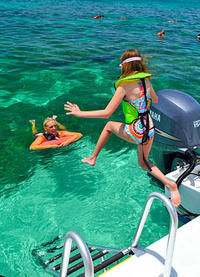 Water sports enthusiasts will love this ultimate adventure to the Gulf of Mexico for reef snorkeling, parasailing, jet skiing, kayaking and more. Be sure to bring a swimsuit, towel, sun protection, jacket and camera and get ready for adventure.
The day begins with a seven-mile sail on board a 65-foot catamaran to the Florida Reef, the only living coral reef in North America. Enjoy the scenery while relaxing or sunbathing on the spacious deck.
Out on the water, pick from any number of fun activities. There's something for everyone. Try snorkeling (instructions and equipment included) for an hour or enjoy a guided, 30-minute jet ski tour. Take to the skies high above the water on a parasailing flight. Hop in a kayak and paddle around the catamaran. Or just grab a float and relax in the water. There are also a number of water toys to play with, like a floating trampoline or rock wall.
When hunger strikes, select from a veggie, fruit and cheese platter, or try hummus with pita chips, tuna fish dip with tortilla chips, and classic peanut butter and jelly sandwiches. Beverages include soda and water, or purchase beer and wine from the onboard concession area.
April 2015
Everything advertised and more. I highly recommend this adventure. Lots of activites for the price and very froendly staff.
June 2011
Really enjoyed the trip...crew were friendly and fun, we went to 2 different reefs and saw all kinds of fish and corals and we even got a peak at couple of lobsters!
May 2011
Wonderful trip, love the coral reefs, Staff friendly and helpful and very knowledgeable.
July 2015

Giovanna I USA
July 2012
The tour was great, easy to find, the staff was extremely helpful and nice. We had an awesome time!
October 2011
Despite the waters being a bit rough (wave swells and some good rolls as well as some wind) during our trip the experience was a great one. It was kinda challengeing to snorkel with the swells but we still saw some marine life..I think if the seas had been a bit calmer we would have seen a lot more, but it was still definitely worth going!! The staff/crew were absolutely wonderful with my children. going above and beyond to ensure their first snorkeling experience was a positive one..The crew really made our day!!
The only reason I am not giving it 5 starrs is because the copious amounts of free beer and margaritas on the way back into shore led to a rather rowdy crowd of adults...my children kept asking why people were acting so funny/badly, and I wish the alcohol could have been either absent or limited so that that scene did not unfold..maybe if you take an early morning trip (we did the midday one) the alcohol would be less prevalent? Overall, a great deal as it was inexpensive and provided my kids with a wonderful opportunity to experience something new!! Oh, and the crew were very safety conscious with the kids too!!
Mark M USA
November 2011
The service of the crew was excellent! But we didn't see as much as we thought we would. Seas were rough with 6 foot swells that made snorkeling difficult and visibility was poor.
Advertisement
Advertisement