Experience one of southern India's most unique cities on this private tour of Kochi, which showcases its captivating history and colorful culture. Wander through the Fort Kochi neighborhood with your guide, who will explain the city's role in the spice trade. Settle in for a riveting performance by the local Kathakali dance troupe and witness the dramatic costumes, bright makeup and lively music of this17th-century classical dance form that originated in Kerala.
Highlights
Private walking tour of Fort Kochi

Visit Saint Francis Church, one of the oldest European churches in India
Admire the architecture of Santa Cruz Basilica

See the murals illustrating Hindu legends at Mattancherry Palace

Go behind the scenes and watch Kathakali actors prepare for their show
Enjoy a theatrical Kathakali dance performance

What You Can Expect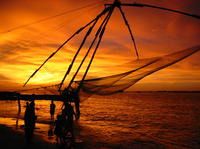 Start your day with a walking tour of Fort Kochi. This historical coastal neighborhood showcases its colonial influence around every turn. Check out the impressive Chinese fishing nets that were gifted to local fishermen during the reign of Kublai Khan. These elaborate tools are an iconic part of the Kochi coastal life.
Wander through Saint Francis Church, which is one of the oldest European churches in the country. Built by the Portuguese in 1503, it offers travelers a true taste of outside influences on local architecture. Afterwards, admire the whitewashed exterior of the Catholic church of Santa Cruz Basilica and the head to Mattancherry Palace to check out the beautifully detailed murals that tell stories of ancient Hindu legends.
Finish your private Kochi City Tour with a night of entertainment. Watch Kathakali performers paint their faces with colorful makeup and put on brilliant costumes and elaborate headpieces before taking to the stage. Settle into theater seats for an extravagant performance that is unique to Kerala before traveling with your guide back to your hotel.

June 2016
My wife and I booked 2 excursions for our first day in Kochi while taking a cruise. This was the second tour of the day and it turns out was pretty much exactly the same as the one we booked through the cruise line. Oops! Turns out it didn't matter. Our guide Aram I think that's how it's spelled picked us up as we were departing the coach from our morning tour and sat us in a very comfortable car to begin our tour. He asked us a little bit about where we were from and what we'd like to get out of this tour, and proceeded to customize the tour to our needs and desires. Instead of just taking us to each site and allowing us to wander around on our own for a few minutes, Aram took us to a silk shop to purchase a custom sari and kurta a wonderful restaurant for some authentic continental Indian food spice markets and the original Jewish Synagogue in Jew Town, among other sites.
The Kathakali dance performance was very interesting and a worthwhile final stop on our tour. If I'm ever in Kochi again, I would book this tour again in a heartbeat.
January 2014
The city is a nice place to be in and I enjoyed it a lot. Also the Kathakali Dance performance was so nice and I enjoyed the performance of the actors.Bravo
Advertisement
Advertisement